Club Sports staffer coaches varsity baseball
For Steven Karasewski, sports have become an all-encompassing part of his life. As the coordinator of Club Sports at the University of Michigan, Karasewski helps organize and handle the 31 club teams on campus through working with their student leaders.
"A lot of it is risk management and safety," he says. "We make sure that when students are at practice or traveling to games that they are being safe and following university procedures."
Karasewski especially values mentoring students.
"I get to work with student leaders and helping them develop their leadership skills, but also to help them develop their clubs into what they want their clubs to look like. So, if they want to travel more, if they want to fundraise more, I help guide that," he says.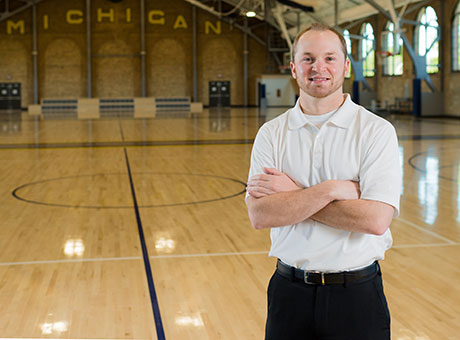 Steven Karasewski, coordinator of Club Sports at the University of Michigan, enjoys mentoring students. (Photo by Scott Soderberg, Michigan Photography)
When Karasewski is not at work, he coaches varsity baseball at Whitmore Lake High School. His desire to coach stemmed from a life dedicated to baseball.
"Growing up, my dad coached college baseball so I was always around him coaching. Then I played through high school and college, which certainly helped push me toward coaching as well. So, I have a passion for coaching and you can even say the job here — which is advising — is coaching in a way," he says.
Although Karasewski has only been with his team for two years, the transition to his leadership of the team has been smooth. His approach to coaching carries over into his job as well.
"Right away it's about establishing trust by showing you're knowledgeable in what you're doing. Like advising a student group on how they should be traveling or fundraising — if I sound like I don't know what I'm talking about, then they lose faith in me," he says, "It's the same with coaching. I was really intentional in how I was building trust with them and communicating with them."
When Karasewski is on the field with his team he is sure to foster their competitive drive to get them excited for games.
"I am all about competitiveness. I think if you're competitive, and you don't accept anything less than what you're giving, I think that can take you a long way," he says.
Karasewski says coaching satisfies his competitive side, as well.
"For me it's all about the players. I love to see them rise up to the challenge," he says.
The weekly Spotlight features faculty and staff members at the university. To nominate a candidate, email the Record staff at urecord@umich.edu.
When coaching, Karasewski says he loves seeing his players on the field enjoying the sport.
"I really enjoy managing the situations and the players," he says. "The number one thing is watching the players perform — seeing all of their hard work they've been putting in throughout the year pay off in those 30 or so games we end up playing."
However, there's another side to coaching his team that Karasewski enjoys as well.
"I'd be lying if I said I didn't love matching wits with the other coach," he says. "I think feeling a game situation is something that has always come easily to me. So, I think being in games is kind of my comfort zone."