Cellular coverage improves at Big House, Ann Arbor campus
In early August 2014, Michigan Stadium hosted the International Champions Cup between Manchester United and Real Madrid, setting attendance records for a soccer match in the United States with more than 109,000 on hand.
This highly touted event also was a pivotal point for cellular coverage in the Big House, as AT&T was allowed to install temporary antenna towers on the rooftop, directing its network coverage down through the bowl.
The towers were deemed unsightly, but effective, and U-M worked with AT&T to deliver a more aesthetically pleasing solution.
Three years later, after many hours of planning, design, testing, reviewing and gaining approval for the new solution, the temporary antennas no longer jut above the renowned venue's skyline.
AT&T, working with Facilities and Operations, Information and Technology Services and numerous contractors, delivered "stealth" antennas that not only restored the beauty of the skyline, but improved network capacity.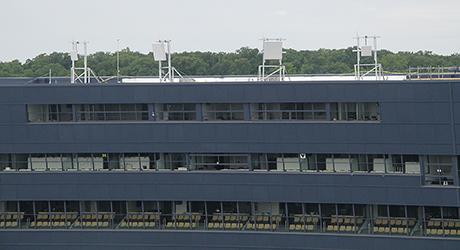 These temporary antenna towers have been removed from Michigan Stadium and replaced by a less-obtrusive system. (Photo courtesy of Information & Technology Services)
The new antennas are hidden behind the parapet wall and the original glass panels were re-fabricated to allow the radio frequency signals to penetrate into the bowl.
There is a significant conflict between cellular communication function and aesthetics in signature buildings, explains Doug Hanna, the university architect when the the Big House underwent its recent renovations.
"Many stadiums around the country are populated with unsightly antennas that need to be visible to do their work," says Hanna. "Due to the perseverance of a few key university personnel and the creativity and commitment of AT&T, the unsightly temporary rooftop antennas have been replaced with major antennas hidden from sight. Michigan Stadium may be the only stadium in the country with such a clever installation."
Cellular service has become essential to life safety, communications and all types of entertainment media. Not visible to most, the efforts and coordination between ITS and internal and external partners continues to improve the user experience.
"Ensuring our fans not only have a good 'game day' experience, but also ensuring public safety is a high priority to University of Michigan Athletics," says Robert Rademacher, executive senior associate director and chief operating officer. "Cellular has become an important element to achieving both of those objectives."
Still having trouble getting a cellular signal? Many carriers are now offering WiFi calling. With the significant upgrades to wireless networks provided by the Campus WiFi Upgrade project, using WiFi to improve telephone service is a great option for many.
AT&T users attending games could see the difference, with a 30 percent increase in data usage during this year's football home opener against Cincinnati. Not only was the new technology more aesthetically pleasing, but cellular performance was significantly improved.
The Big House is not the only venue where cellular service is being improved and expanded. Additional projects taking place over the summer included a 5G trial with Verizon.
The intent of this trial is to gather data and assess possible uses of super-fast speeds for transmitting content wirelessly. Many believe 5G will be a technology that continues to transform teaching, learning and research.
The Ann Arbor campus is one of 11 locations in the United States that are piloting this technology with Verizon. The 5G pilot project is occurring at five locations on campus.
"We're pleased to have an early installation of 5G. It will provide our researchers with extra possibilities and also enable U-M to connect at high speed to our smaller, distributed locations around Ann Arbor," said Andy Palms, executive director of infrastructure for ITS.
AT&T cellular coverage also is being enhanced on North Campus, where a new macro antenna is being installed on the Electrical Engineering and Computer Science Building. This AT&T antenna will improve cellular coverage for more than a 1-mile radius for individuals who use that service and have experienced poor signal strength in the past.