CAPS psychologist works at summer camp for kids with disabilities
Since she was 16 years old, Karin Arizala has volunteered at summer camps. Most recently, however, she has worked at camps for kids with special needs.
With her partner, Scott Arizala, Karin has helped run camp programs that open up the summer camp experience to kids with disabilities, including autism, hemophilia, sickle cell disease and 22Q Deletion Syndrome.
"Especially working with people with autism, I get to see the world in a different way and with very unique perspectives, by pushing myself to put myself in their shoes," said Arizala, staff psychologist at Counseling and Psychological Services.
Arizala's path to psychology began her first semester as an undergraduate at Cornell University. She took an introductory psychology class and got the worst grade of her academic career. She decided instead to major in women's studies and government, and after graduating taught outdoor education at Frost Valley YMCA in the Catskill Mountains of New York.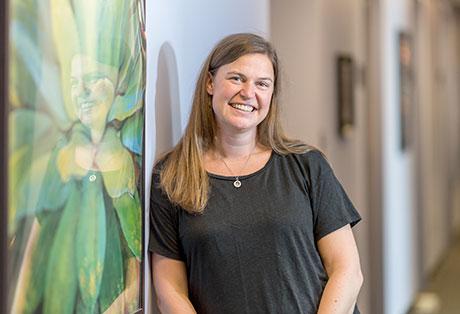 Karin Arizala and her partner, Scott Arizala, run summer camp programs for kids with disabilities, including autism, hemophilia, sickle cell disease and 22Q Deletion Syndrome. (Photo by Scott C. Soderberg, Michigan Photography)
Her interest in psychology was revitalized while later working as a nanny for two families in Seattle.
"I just got really interested in child development and the effects of parenting styles on development, so that's what sparked my interest in going to graduate school for psychology," she said.
She earned her master's degree and Ph.D. in counseling psychology from the University of Oregon, and conducted post-doctoral study at Stanford focused on gender and sexual identities. It was a perfect fit for an open position at CAPS.
"They were looking for both specialties (LGBTQ and autism), so it was really my dream job," she said.
Arizala's work at CAPS is mostly individual therapy, supervising trainees and crisis intervention. She also helps organize campuswide outreach events, such as the Mindful Minute and Play Day. Her favorite part of her job is working with the students, and she's glad she can work with students who otherwise wouldn't have access to counseling services.
"There's a really strong social justice orientation in the college counseling field, valuing diversity, multicultural competency and 'walking the walk,' living that. That's an important value in my work," she said.
Arizala continues her social justice work at summer camp. Summer camp is a valuable cultural institution, she said, and opening up that opportunity to more kids who wouldn't otherwise be able to go makes her work worth it. She currently volunteers at Camp Tall Tree in Michigan, which has programs for both kids and young adults with autism.
"For kids with autism, sometimes they had never spent a night away from their parents, so this really deepens the meaning of the summer camp experience. Plus, there was such a huge need in the autism community, and we've had such a positive response from parents and families. Kids have really succeeded," she said.
The weekly Spotlight features faculty and staff members at the university. To nominate a candidate, email the Record staff at urecord@umich.edu.
In 2009, Arizala helped start the program for kids with autism at Dragonfly Forest, a summer camp outside of Philadelphia focused on children with medical needs. This experience led to her partner Scott founding Camp Tall Tree in Michigan when the Arizalas moved to Ann Arbor in fall of 2013. In the summer of 2014 they hosted their first session of camp in Fenton, Michigan.
At both camps, Arizala has been more of a consultant than therapist. She helps both campers and college-aged camp counselors if they face any psychological distress, however she also likes the kayaking, swimming and archery, anything that brings people together to just have fun.
While summer camp is a big part of Arizala's life, what drives her in both her camp volunteering and her job is a sense of connection and social justice. Whether she's creating an accessible environment that allows campers with hemophilia to zip line, or helping students explore their gender identity, connecting with a range of people who are diverse in abilities, backgrounds and identities is important to her.
"It's just my passion to work with young people, so I knew this would be my career path," she said.