Campus gathers to celebrate the presidency of Mary Sue Coleman
President Mary Sue Coleman, who will retire July 1 after leading U-M for the past 12 years, was introduced by actor Jeff Daniels to a rousing reception from faculty, staff and students Friday at a campuswide celebration in her honor.
Coleman praised the "spectacular" executive officers, deans and directors she worked with, but took time to read the names of her office staff "who make every day both productive and fun."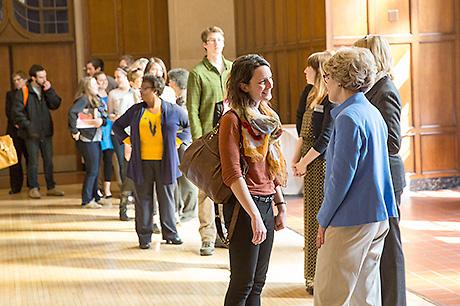 Students, staff and faculty lined up to offer their best wishes to the university's 13th president. (Photo by Austin Thomason, Michigan Photography)
Just earlier, Daniels had spun a tall tale of meeting the president on the set of his movie "Dumb and Dumber," drawing laughs. He also read a long list of the president's accomplishments, before introducing a video tribute to Coleman.
Speaking next was Board of Regents Chair Andrea Fischer Newman.
"Two things are abundantly clear from the video and the turnout at this event. One, everyone loves our president. And two, everyone calls her Mary Sue," Newman said. "I know I speak for the entire Board of Regents when I say to you, Mary Sue, that you have been an extraordinary president for an extraordinary university. Thank you."
This video takes a look back at the amazing progress the university has made during Coleman's leadership.
Along with her husband, Kenneth, the president approached the podium in the Michigan Union's crowded Rogel Ballroom after Daniels' introduction.
"The reason I brought Ken up here with me is because he's been the silent partner, but there's no way I could do this job without him," she said. "I've enjoyed every minute of being 13 — that's what Ken calls me because I'm the 13th president. I can hardly believe 12 years have passed."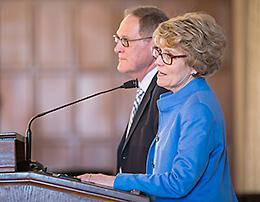 President Mary Sue Coleman acknowledged her husband, Kenneth (left), as "the silent partner" in her presidency. (Photo by Austin Thomason, Michigan Photography)
"All of you make the University of Michigan the spectacular place that it is. I've understood from the very beginning the people around me were the real reason that I would be successful. And what great people I have worked with," she said. "I'm also confident that 14, Mark Schlissel, will take the University of Michigan to new heights."
Daniels said Coleman's accomplishments included being named one of the 10 best university presidents in the country by Time magazine, leading U-M to a No. 18 position in the world by the Times Higher Education World University Rankings, and an unprecedented physical transformation of the campus during her tenure, which included the creation of North Quad and the expansion of Michigan Stadium.
"Under her tenure the university has offered historic levels of financial aid for students, she has worked all over the world and close to home expanding global outreach in China, Ghana, South Africa, Brazil and India and is a passionate supporter of Detroit as well as the Washtenaw County region," he said.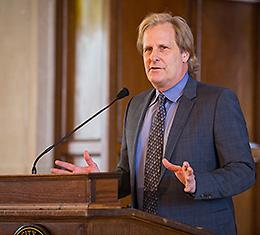 Actor Jeff Daniels served as emcee for the thank-you celebration. (Photo by Austin Thomason, Michigan Photography)
Daniels added, "Mary Sue and Ken plan to live here when she retires, where they'll be able to continue to enjoy many more Michigan winters."
Alanna Troup, an insurance adviser in the International Center, was among attendees. "This is history. I feel honored to be a part of this and be at the university under her tenure," she said.
Alicia Benavides, an office manager in the Dean of Students office, said, "She's been a visionary and a great president. I want to thank her for all the things she's done."
Among those waiting in line to greet Coleman were students Shangyayi Liu and Boya Zhao, seniors from China. They smiled in delight after taking a cell phone photo with the president. "It felt really special," said Liu. "She asked about our plans after graduation."
Rajesh Mangrulkar, clinical associate professor of internal medicine and medical education, and associate dean for medical student education, praised her personal touch. "When you talk with her she asks questions and makes you feel important; faculty and students see that," he said.
Bob Higgins, a project director for the Michigan Department of Education, said he traveled from Kalamazoo to attend. "I really admire the work she'd done over 12 years."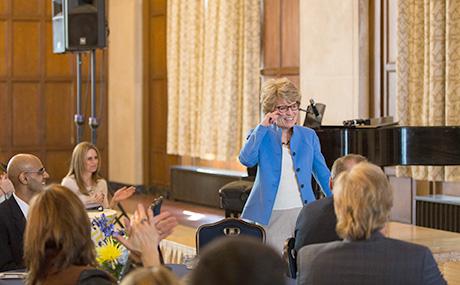 The crowd in the Rogel Ballroom applauds Coleman during Friday's ceremony. (Photo by Austin Thomason, Michigan Photography)