Boys & Girls Club leader urges graduates to live life of service
Damon A. Williams urged University of Michigan graduates to discover their passions, outlined what they should do to achieve more and called on them to make America great for all of its residents.
Williams, a U-M alumnus and senior vice president of the Boys & Girls Club of America, delivered the keynote address Friday at the Rackham Graduate Exercises, the annual graduation ceremony at Hill Auditorium for those receiving master's and doctoral degrees.
Williams leads the program strategy affecting 4 million diverse youth in the areas of academic success, good character and citizenship and healthy lifestyles for the world's largest youth development organization.
The author of "Strategic Diversity Leadership" and co-author of "The Chief Diversity Officer," his award-winning research has affected diversity strategies at post-secondary institutions worldwide.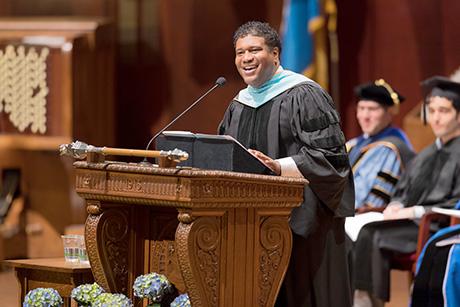 Damon A. Williams, a U-M alumnus and senior vice president of the Boys & Girls Club of America, delivered the keynote address at Friday's ceremony. (Photo by Daryl Marshke, Michigan Photography)
Prior to joining the Boys & Girls Club he founded the Division of Diversity, Equity and Educational Achievement and was the inaugural chief diversity officer at the University of Wisconsin-Madison, where he also served on the faculty. 
Williams said his journey started when he was born to a 17-year-old mother. He only saw his father, a drug addict, five times in his life, but was blessed with a stepfather who raised him as his own.
He said he grew up in a rough neighborhood, a community where "books and classes were too often traded for dime bags and street corners."
"I was one of the lucky (ones)," Williams said. "My parents sacrificed greatly, … used my love of comic books and sports, like a flint to a stone, sparking imagination, competitive discipline and galvanized me to fight for the privilege of education."
Williams told the graduates each one of them matters and that they can accomplish anything they want in their lives no matter their circumstances or beginnings.
He said he knew many of the graduates feared the uncertainties that lay before them, but he urged them to overcome challenges and fears.
"You have to have a mindset that you can do anything, you have to have a belief that you can accomplish more and you have to develop an action plan, just as you did to get to this point, to continue forward as you move into the next phase of your life," Williams said.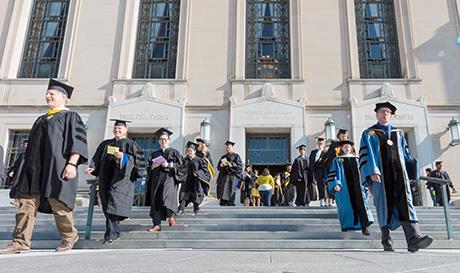 Graduate students and faculty members formed a processional from the Rackham Building to Hill Auditorium prior to the graduation ceremony. (Photo by Daryl Marshke, Michigan Photography)
Williams also told graduates benefits will come to those who live a life of service.
"The riches come to those who live a life of giving. The riches come to those who live a life steeped in the Michigan difference."  
In his remarks to those students earning graduate degrees, President Mark Schlissel emphasized the important role research plays in society and expressed his concerns about the federal administration's proposed cuts to research budgets.
Schlissel said the research discoveries and educational opportunities provided by U.S. colleges and universities drive the nation's economy, prepare graduates for the best jobs and help keep the nation safe.
"I want you to have every opportunity to use your talents to enhance peace and prosperity in our world — because that's what we have long hoped for from those who earned graduate degrees from the University of Michigan," he said.  
Invoking the words of Albert Einstein, Interim Provost Paul N. Courant urged graduates to always remain curious.
"As you leave Michigan, we hope you will carry this questioning spirit with you," Courant said. "It is the key to your own success and to the continued expansion of human knowledge. And it can be a source of great joy, and of great fun."
In her remarks, Rackham Dean Carol Fierke quoted former U-M President Harlan Hatcher, who once said the job of the university is to identify, analyze, research, experiment and train those who "in turn perform service and give intelligent direction to the forces of social change."
"Now more than ever," the world needs thoughtful leaders who demonstrate creativity and imagination in developing and articulating solutions to societal problems, Fierke said. "You will have many opportunities to make remarkable contributions with enormous societal impact."