Board recognizes outgoing regents Newman, Richner
Andrea Fischer Newman and Andrew C. Richner were celebrated for their substantial service and commitment to the University of Michigan during Thursday's Board of Regents meeting. Their tenure on the board ends Dec. 31.
With a combined 40 years of service on the board, Newman and Richner were named regent emerita and regent emeritus at the meeting and both were presented resolutions commending their service to the university.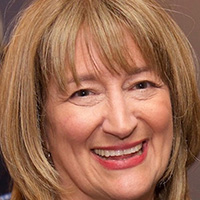 Andrea Fischer Newman

Andrew Richner
Although not present for the meeting, Newman was praised for her 24 years of dedication to U-M. Since joining the board in 1995, Newman worked to make earning a degree from the university a possibility for all academically eligible students, despite their socioeconomic background.
"Regent Newman was always willing to challenge conventional thinking and we are better for it," said Regent Ron Weiser, who read a resolution on behalf of the board. "She has always been a strong voice for inclusivity and efficiency. Access and affordability for our students were always her highest priorities."
Newman and her husband, Frank, generously supported a number of scholarships, facility improvements and career opportunities for students at the School of Music, Theatre & Dance, as well as contributing to Michigan Medicine and the athletics department.
Newman is a 1979 graduate of U-M and also earned a law degree from the George Washington University Law School. Her successful and diverse career included roles as senior partner at Miller Canfield, senior vice president for Northwest Airlines, culminating in her appointment as the senior vice president for government affairs at Delta Airlines before retiring in 2017.
As a leader in the community, Newman has actively cultivated many donors resulting in significant financial support to further the university's mission.
Richner, the outgoing board chair, was praised for his role as a passionate advocate for academic excellence.
"Regent Richner has been a strong advocate for diversity and inclusion, making sure we welcome all points of view and perspectives," said Regent Denise Ilitch, who read a resolution on behalf of the board. "He is a consistent voice of civility, moderation and when appropriate, compromise."
Richer holds two degrees from U-M: a Bachelor of Business Administration with high distinction and a law degree. He is currently a partner in the law firm Clark Hill PLC. He also served three terms in the state House of Representatives, two terms as a Wayne County commissioner, and one term on the Grosse Pointe Park City Council.
In his final meeting address as chair, Regent Richner said, "Serving the people of the state of Michigan on the University of Michigan Board of Regents has been an honor and privilege of really the greatest magnitude. The University of Michigan is a special place, made that way by the extraordinarily talented people who are part of the university community. And so while my service as regent is ending, my commitment and support of the University of Michigan will never end. Forever Go Blue."
Regent Richner's colleagues also thanked him for his leadership.
"Your professionalism, your legislative expertise, your intellect, your empathy, your unwavering concern for the academic mission of our students, and your concern for the well-being of both faculty, students and staff have always been at the highest level," said Regent Shauna Ryder Diggs.
"Andrew has been a model regent," said Regent Mark J. Bernstein. "It's so easy to do the easy thing on this board and you never did. You were a model for me. At a time when humility and civility are missing in our public life, you exemplify those values."
"You have been steadfast in your values and making sure the University of Michigan moves forward in the best light possible," said Regent Katherine E. White.
"Andrew, you are one of the most principled people I've ever met," said Regent Michael J. Behm. "You are extremely principled. The true measure of a person is how we treat the least among us. It's been remarkable how respectful you are to every person you meet."
On behalf of President Mark Schlissel's executive office, Sally Churchill, vice president and secretary of the university, said, "Regents Newman and Richner have made us all individually and collectively a better team. It has been an honor and privilege to work with them both."