Bloom season underway at arboretum's historic peony garden
The Nichols Arboretum peony garden begins its annual transformation from green shoots to waves of white, pink and red this week as it bursts into nearly 10,000 blooms.
+ if you go
Where: Nichols Arboretum, 1610 Washington Heights, Ann Arbor

When: Sunday-Saturday, sunrise to sunset

Admission: Free
A favorite nature hideaway for University of Michigan students, faculty and staff, as well as area residents, the arboretum is also home to the largest collection of heirloom herbaceous peonies in North America.
Celebrating 96 years of perennial beauty, the peony garden offers a spring display from sunrise to sunset daily from approximately Memorial Day to mid-June at Nichols Arboretum.
The plants are arranged in 27 beds, with each full bed containing dozens of peonies. The garden holds nearly 800 peonies when filled to capacity and more than 10,000 blooms during peak blossom time. Although a few peonies have no fragrance, the vast majority have a range of scents from delicate to bold.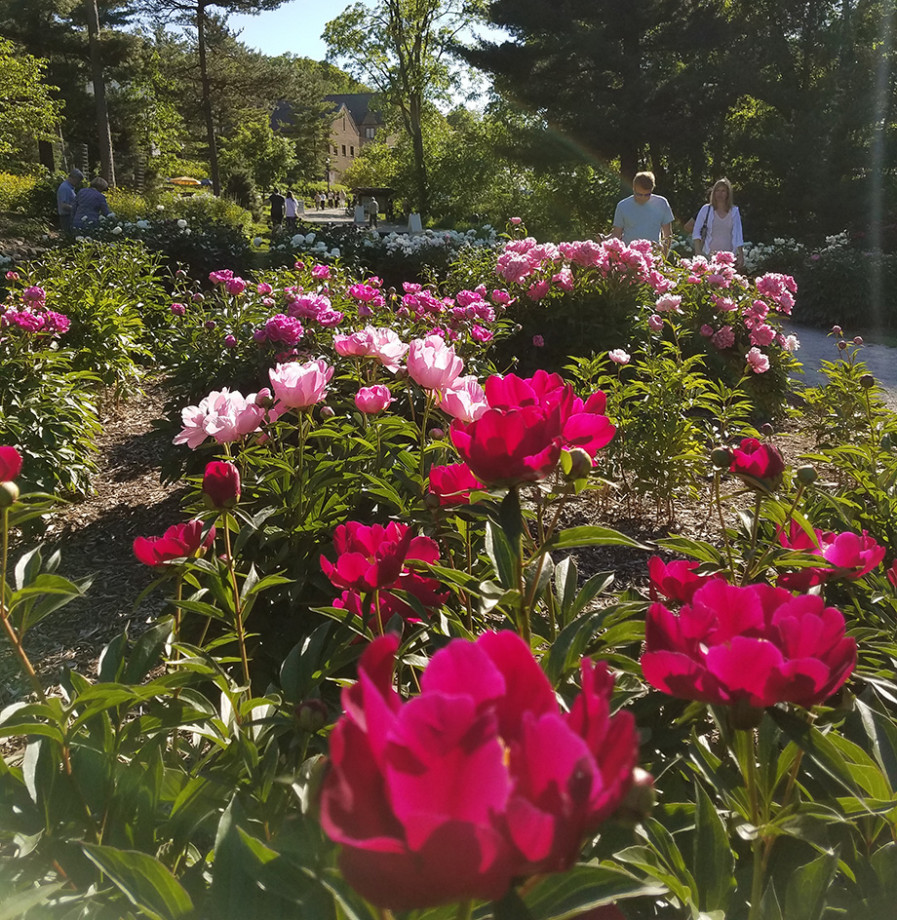 Visitors to the Nichols Arboretum peony garden enjoy the many varieties of peonies that are blooming now through mid-June. (Photo by Michele Yanga)
"The peony garden has layers of significance that make it both an internationally respected public display and research collection," said David Michener, associate curator of Matthaei Botanical Gardens and Nichols Arboretum.
+ more information
"With its historic herbaceous peony collection, tree peonies from Chinese, Japanese and Euro-American traditions and modern hybrids, the garden tells the natural and social history of peonies."
Visitors this year will see even more peonies, including 70 pre-1950s herbaceous peonies planted in 2017. Many of these are long-missing from the original Arb planting. Also new this year are 37 Itoh peonies, a cross between tree and herbaceous types. The new plantings enhance the historic varieties from the 19th and early 20th centuries already growing in the main beds.
Adding to the peony garden display are classic tree peonies from Asia, Europe and America. Tree peonies bloom two to three weeks earlier than herbaceous peonies, extending the bloom season significantly. They have woody stems and come in colors such as yellow and purple not usually seen in herbaceous peonies.
Some of the peonies are still growing in the same spot where they were planted nearly 100 years ago. The garden features peonies from the extensive collection of U-M alumnus W. E. Upjohn, founder of the Upjohn Co. in Kalamazoo, as well as exceptional selections from nationally recognized experts.
Spring weather dictates peony bloom season. Bloom time typically begins around the end of May and peaks in early June. Self-guided tours are available along with maps and information.