Art fair shifts schedule to allow Sunday attendance
Hello Sunday.
The Ann Arbor Art Fair July 21-24 has shifted from the traditional Wednesday through Saturday schedule to Thursday through Sunday, to make attending more convenient.
+ more infomration
"Weekends are the time that people enjoy leisure activities, so we felt the need to accommodate our visitors' needs," says Maureen Riley, executive director of the Original Ann Arbor Street Art Fair.
A half-million attendees are expected for the 57th fair, with roughly 1,000 artists presenting everything from digital art to traditional landscape art. Hours are 10 a.m.-9 p.m. Thursday-Saturday and noon-6 p.m. Sunday. Children's activities and live music also are presented.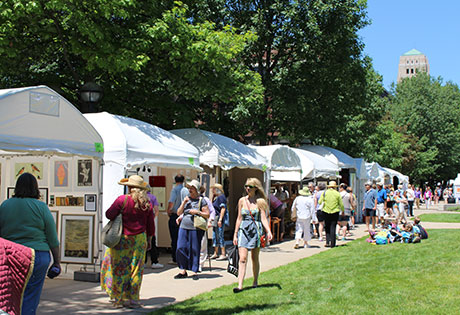 The Ann Arbor Art Fair returns July 21-24 to downtown Ann Arbor and the U-M Central Campus. (Photo by Steve Culver, The University Record)
The four official fairs are the Original Ann Arbor Street Art Fair (on East Washington, North University and Ingalls Mall), the State Street Art Fair, the Ann Arbor Summer Art Fair (along Main Street) and Ann Arbor's South University Art Fair. They happen along 30 blocks of downtown Ann Arbor and the U-M Central Campus.
Fair week opens with the Townie Street Party at 5:30 p.m. July 18 on North University between Thayer and Fletcher and on Ingalls Mall, with Annie and Rod Capps, Drivin' Sideways and the Appleseed Collective. The party also offers food and refreshments, the Kids' Art Fair and Art Activity Zone. Admission and activities are free. Proceeds support the educational and community outreach activities of the Original Ann Arbor Street Art Fair, a non-profit organization.
The event coincides with the Ann Arbor Mile-Dart for Art 1-mile run at 6 p.m. at State Street and North University. It has divisions for elite athletes, local runners, families and kids. The race also includes a corporate challenge to see who has the fastest company in Michigan. Register and find more information at dartforart.com.
U-M contributions to the fair include the 2016 Alumni Exhibition "Horror Vacui" (fear of empty space) opening July 19 and closing Aug. 6, at the Argus II building, 400 4th St. Three jury prizes of $500 and 10 honorable mentions will be awarded. Museum of Contemporary Art Detroit Executive Director Elysia Borowy-Reeder, the juror for this show, has selected 69 alumni works to appear.
A free opening reception and award ceremony is from 6-8 p.m. July 22. Argus II Building gallery hours are 7 p.m. Tuesday-Saturday and noon-7 p.m. July 24.
Also returning to the art fair is The BioArtography Project run by the Department of Cell and Developmental Biology. Faculty, staff and student volunteers will be on hand at Booth 112 on East University Avenue, where artistic images of microscopic tissue will be on sale. The images come from research laboratories throughout U-M.
This year's images include several examples of Regenerative Medicine in action (regeneration of optic nerves, programming of human embryonic stem cells). Also, visitors to the booth will be able to make their own "Brain Art," a snapshot of their own brain activity over time, says Deborah L. Gumucio. She is the James Douglas Engel Collegiate Professor, interim chair of the Department of Cell and Developmental Biology, professor in the Department of Internal Medicine, and director of the Bioartography Project.
Proceeds support travel to national and international scientific meetings for graduate students and postdoctoral fellows in the biological sciences, Gumucio says.
The Art Fair was established in 1960 by the Ann Arbor Art Association, the University of Michigan, and two business groups.