Ann Arbor Summer Festival returns with 33rd Top of the Park season
Don't Miss
For six nights each week starting June 10 and continuing through July 3, the Ann Arbor Summer Festival's outdoor Top of the Park series presents free music performances ranging from folk pop, rock and jazz to rogue marching bands.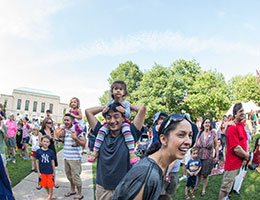 The Ann Arbor Summer Festival returns June 10-July 3. (Photo by Myra Klarman)
Annabelle Road, Barbara Payton and The Instigators, Chris Bathgate, Chris Buhalis, Fanfare Ciocarlia, George Bedard and The Kingpins, Jill Jack Band, Latin jazz group Los Gatos, Misty Lyn and The Big Beautiful, and The Sun Messengers are among highlights.
Performances start at 5 p.m. Top of the Park music is on the Rackham Stage at 915 E. Washington St. and the O&W Acoustic Stage in The Grove, under the Bell Tower on North Ingalls Mall.
The festival also presents dance, comedy, film, spoken word, contemporary circus, street arts and family entertainment. Mind-body sessions take place from 5-6 p.m. Tuesday through Sunday on the Power Center lawn. Community members can enjoy yoga, Capoeira, belly dancing, qigong, pilates, hula hooping and more, led by experienced practitioners. The sessions are free.
Festival sponsors include C.S. Mott Children's Hospital. Michigan Radio is among festival media partners.
For more information, go to a2sf.org.