Ann Arbor Art Fair preparing to welcome 1,000 artists
Art lovers will once again fill the streets of Ann Arbor to search for new treasures at this month's Ann Arbor Art Fair.
+ more information
The celebration, which runs July 20-23, consists of four fairs in one event: the Original Ann Arbor Street Art Fair (on East Washington Street, North University Avenue and Ingalls Mall), the Ann Arbor Summer Art Fair (throughout downtown Ann Arbor), the State Street Art Fair and Ann Arbor's South University Art Fair.
Hours for each of the fairs are 10 a.m-9 p.m. from July 20-22, and noon-6 p.m. July 23.
Maureen Riley, executive director of the Original Ann Arbor Street Art Fair, said about 1,000 artists will be showcased this year during the four-day art extravaganza. Annually, the fairs receive around 400,000 visitors altogether.
This year marks the second time the art fairs will welcome visitors on a Sunday.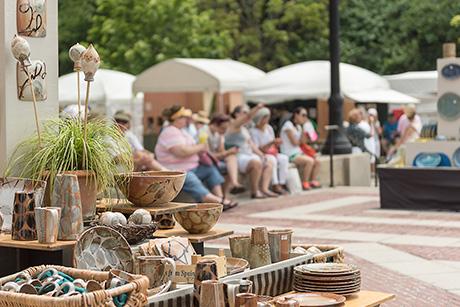 An estimated 400,000 visitors are expected to attend this year's Ann Arbor Art Fair. (Photo by Scott C. Soderberg, Michigan Photography)
The art fair kicks off with the Townie Street Party, from 5-9:30 p.m. July 17 on North University between Thayer and Fletcher streets and on Ingalls Mall. Guests will have access to food and beverages, live music, the Kids' Art Fair and the Art Activity Zone.
The party coincides with the Dart for Art-Ann Arbor Mile, which is an all-inclusive, 1-mile race, with divisions for elite athletes, local runners, families, kids and other community members. Elite runners start at 6 p.m. and the community race begins at 6:30 p.m.
Free parking is available at Briarwood Mall, Pioneer High School and Huron High School. Visitors are encouraged to park their cars at these sites and use TheRide or Trinity shuttle buses. Round trips cost $3 for adults, and discounts are available for students and seniors.
Limited parking is available in downtown Ann Arbor structures and lots at $15 per day, $7 after 5 p.m.
To get around the Ann Arbor Art Fair, free, air-conditioned and wheelchair-accessible Art Fair Art-Go-Round shuttles will be available to visitors among the fairs and around Ann Arbor.
Riley said visitors will get to see amazing art at the four art fairs and that there's something for everyone to purchase, regardless of their income level.
"I think that's part of what makes the Ann Arbor Art Fair so special — having so many artists, there's so much to choose from," Riley said. "There's something for everyone's tastes and budget."