AMA conference shines spotlight on Medical School education
Ann Arbor became the epicenter for innovation in medical education Monday, when dozens of leaders from top medical schools around the country, and from the American Medical Association, joined U-M's own medical education leaders for a unique conference.
The meeting, jointly sponsored by the AMA and the Medical School, continues today and brings together representatives from all the schools that have won $1 million grants under the AMA's Accelerating Change in Medical Education challenge. U-M is using its grant to help formulate and implement a new curriculum for medical students.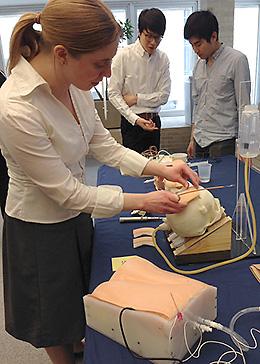 U-M engineers and physicians teamed up to create this 3-D printed device that can help train students on intra-nasal procedures. (Photo by Kara Gavin)
Through talks on everything from massively open online courses to teaching students about health policy and patient safety, the conference shared the latest information on hot topics in medical education.
Interprofessional education — an approach that brings medical students, nursing students and other health professions students together in the same types of teams they will work in as professionals — also is featured prominently.
On Monday, the event also gave U-M's medical education community a chance to show their achievements to a national audience, by presenting posters on innovative projects as part of the annual event known as Medical Education Day, organized by the Department of Medical Education.
"The AMA is committed to shaping medical education in a way that ensures the next generation of physicians are best prepared for the health care environment of tomorrow," says AMA president Dr. Ardis Dee Hoven. "With gaps existing between how medical students are educated now and how health care is delivered, the AMA began the Accelerating Change in Medical Education initiative to help transform the practice and teaching of medicine to narrow these gaps."
U-M had already begun to plan its medical curriculum revision before receiving the AMA grant.
+ more information
Follow the events of the AMA conference at U-M on social media using the hashtags #changemeded and #mededday.
Incoming medical students in the new program will begin their education with two years of integrated scientific and clinical experiences, then be able to branch off into their own individualized professional development tracks to cultivate advanced skill sets in a clinical setting at their own pace. This may allow some students to graduate from medical school sooner. All will receive dedicated leadership training in order to graduate with the capabilities to lead change in health and health care.
"We are committed to paving the way for a new and better health care system in our country by changing the way we educate our medical students," says Dr. Joseph Kolars, senior associate dean for medical education and global initiatives. "With the support of the AMA, we are fortunate to share this journey with 10 other prestigious medical schools gathered in Ann Arbor this week to collaborate on this important task."
Launched by the AMA in 2013, Accelerating Change in Medical Education is an $11 million competitive grant initiative to bring forth the best ideas and recommend changes to help shift the focus of medical education toward team-based care, population health, chronic health management and community.
The 11 medical schools were selected based on their proposals to change medical education through more real-world practice and assessments of medical student competency.
"We're really honored to be able to host our friends and colleagues from around the country who share the same passion for transforming medical education," says Dr. Rajesh Mangrulkar, associate dean for medical student education. "Our entire educational community has really been energized by this initiative. We're grateful to the AMA for their support and national leadership of this movement, and are really looking forward to all the collaboration that will build from a meeting such as this."