Mary Beth Seiler, director of Greek Life, recently had an award created in her name by Delta Gamma Fraternity. Seiler is the longest-serving fraternity/sorority adviser in the nation. She has been a member of the U-M staff since 1979. The award will recognize campus professionals who champion and challenge Delta Gamma collegiate chapters in living their values and fulfilling the mission of the fraternity and their college or university community. Delta Gamma presented Seiler with a proclamation of the award at the recent annual Association of Fraternity/Sorority Advisors conference in Nashville, Tennessee.
The National Board for Professional Teaching Standards, a nonprofit organization created by the teaching profession to set and maintain standards of accomplished practice, has announced the election of Deborah Loewenberg Ball among seven prominent education leaders to its board of directors. The organization identified Ball as an expert on teacher preparation and development. She is dean of the School of Education, William H. Payne Collegiate Professor in education, and an Arthur F. Thurnau professor.
Matt Kenyon, associate professor of art and design, Penny W. Stamps School of Art & Design, has been selected as a TED fellow for 2015. The TED fellowship offers access to change-makers, skills-building workshops and the mentorship of experts. TED fellows also present their own TED Talks at the conferences to spread their ideas. After the conference, TED fellows remain connected to the myriad resources of the TED community.

Sue Schade
Sue Schade, chief information officer, U-M Hospitals and Health Centers, has been selected as the recipient of the 2014 John E. Gall Jr. CIO of the Year Award. Sponsored by the College of Healthcare Information Management Executives and Healthcare Information and Management Systems Society (HIMSS), the award recognizes healthcare IT executives who have made significant contributions to their organization and demonstrated innovative leadership through effective use of technology. She will receive the award April 14 at the HIMSS Annual Conference & Exhibition in Chicago.
The University of Michigan Institute for Clinical & Health Research recently celebrated recipients of the 2014 MICHR Distinguished Mentor Award. It recognizes the efforts of faculty members who demonstrate consistent, high quality mentoring in areas of clinical and translational health research. The recipients are: Dr. Ronald D. Chervin, professor of neurology and Michael S. Aldrich Collegiate Professor of Sleep Medicine, Medical School; Amy E.M. Cohn, associate professor and Thurnau professor of Industrial and Operations Engineering, and associate director of the Center for Healthcare Engineering and Patient Safety, College of Engineering; Dr. M. Bishr Omary, H. Marvin Pollard Professor of Gastroenterology, professor and chair of the Department of Molecular & Integrative Physiology and professor of Internal Medicine, Medical School; Dr. Kathleen A. Stringer, professor of clinical and translational pharmacy, College of Pharmacy; Pia Maly Sundgren, adjunct clinical professor of radiology, Medical School; and Brenda L. Volling, director and research professor, Center for Human Growth and Development, Office of Research, professor of psychology, LSA.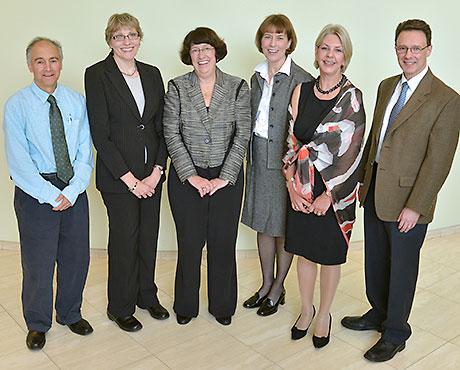 Recipients of the 2014 MICHR Distinguished Clinical and Translational Research Mentor Award join Provost Martha Pollack. Pictured are Dr. M. Bishr Omary, Brenda L. Volling,
Pollack, Dr. Kathleen A. Stringer, Pia Maly Sundgren and Dr. Ronald D. Chervin. Amy E.M. Cohn is not pictured. (photo by Peter Smith Photography)