$1M gift to Ginsberg Center provides funding for graduate students
A $1 million endowed gift from philanthropists William and Inger Ginsberg encourages University of Michigan students to actively engage with their communities through service and education.
The endowment establishes the William B. Ginsberg and Inger G. Ginsberg Graduate Student Assistant Fund at U-M's Edward Ginsberg Center, providing need-based aid for graduate students enrolled in any academic unit and supporting faculty and community-engaged scholarship.
+ more information
"The loyal support from Bill and Inger has made it possible for the University of Michigan to continue its longstanding tradition of serving the public good," said E. Royster Harper, vice president for student life. "This gift expands our ability to integrate public engagement and scholarship across campus, instilling a lifelong practice of service to the community."
The gift aligns with the Ginsberg Center's mission to maximize student learning and community impact. It will expand the center's ability to support experiential learning opportunities and community-based research into coursework in any field.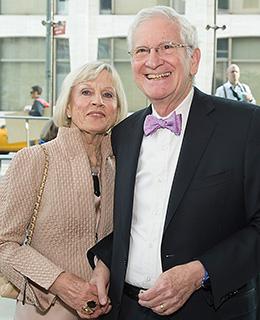 Inger and William Ginsberg
Graduate students at the Ginsberg Center will partner with faculty to connect with community organizations, prepare students for community engagement, design community-engaged courses, projects and programs, and assess their effectiveness.
"We're so grateful for Bill and Inger's gift to the Ginsberg Center. This gift helps us continue to develop future leaders that are dedicated to positive community impact. The Ginsbergs' generosity makes it possible for graduate students working with the center to apply the knowledge and skills gained during coursework and research to improve their communities, while supporting faculty to do the same," said Mary Jo Callan, director of the Ginsberg Center.
"Since its establishment 20 years ago, the Ginsberg Center has been a vital resource for tens of thousands of students. Our gift both acknowledges its significant contribution to the University of Michigan thus far and, looking forward, increases the Center's capacity for activities that will continue to reflect the spirit and ideals of Edward Ginsberg," said Bill Ginsberg.
Founded in 1997, the Edward Ginsberg Center, in the Division of Student Life, cultivates and stewards mutually beneficial partnerships between communities and U-M in order to advance social change for the public good.
In 1999, William, Inger and other Ginsberg family members provided a $5 million endowment and named the center after William's father, Edward Ginsberg, a U-M alumnus, former lawyer and devoted community servant. It has since cultivated a national reputation for preeminence in community engagement, involving students and faculty in its efforts.
The Ginsberg Center empowers people to be catalysts for positive change through social justice education; scholarships and grants to student organizations and faculty; alternative breaks; and a multitude of educational partnerships.
The Ginsberg Center also helps faculty members incorporate civic engagement into research and teaching, providing consultation, funding, learning communities, seminars and the Michigan Journal of Community Service Learning, the leading scholarly journal in the field of engaged scholarship.
The latest gift is part of the Victors for Michigan Campaign, which kicked off in 2013. Campaign goals focus on raising resources for student support, engaged learning and bold ideas.