Academic adviser creates custom clothing brand, travels world solo
La'Joya Orr likes to combine travel and fashion.
Orr, who works as recruitment coordinator and academic adviser at the School of Kinesiology, was introduced to fashion design by her mother, who made clothes as an extra source of income and as a form of therapy when she was sick. She taught Orr the basics of sewing and design, even helping her create her high school prom dress.
Orr first seriously began designing clothes two and a half years ago. "It was kind of by accident. I got frustrated by what was in stores so I made an outfit a week for three months."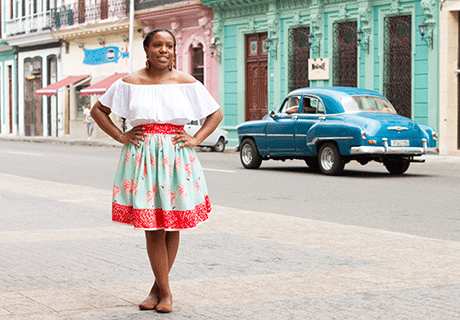 La'Joya Orr, recruitment coordinator and academic adviser at the School of Kinesiology, has traveled to 27 countries. (Photo courtesy of La'Joya Orr)
She started designing for other people, and two years ago she began Le'Lonnie Couture, her custom clothing brand for women.
Le'Lonnie Couture clothing is often vintage-inspired and she buys much of the fabric herself, whether that's from Jo Ann Fabric, estate sales or various countries. "I love taking inspiration from different cultures. I take a lot of inspiration from my travels."
Orr likes to learn about the cultures of the countries she visits, including their race relations, local customs, and, especially, a little bit of their language.
"I think it's a very important part of visiting someone else's country. I need to meet you where you are because I'm in your territory," she said. One thing she doesn't experiment with, however, is the food. "I'm a really finicky eater," she said.
She has traveled to 27 countries solo in the last six years. She enjoys traveling alone because it provides independence. Also, she likes to get lost on purpose.
Orr tries to learn something from every place she visits. "I feel like I'm very reflective when I travel and I'm very intentional about gaining from where I am. It's not always people's motivation for travel, which is fine, but it's mine," she said.
Travel first interested Orr when she attended the University of Michigan as an undergraduate student in 2004. After graduating with a minor in Japanese she lived for a year in Japan. She then returned to the United States because her mother was ill, and found a job at the School of Kinesiology as an admissions counselor in 2010.
The weekly Spotlight features faculty and staff members at the university. To nominate a candidate, email the Record staff at urecord@umich.edu.
Orr says her job as recruitment coordinator and academic adviser is cyclical. She manages student recruitment, admissions and enrollment, including awarding scholarships and working with transfer students. Now that most students have left for the summer she works on outreach to younger populations and, soon, admissions work.
She most enjoys student interaction. Orr handles every part of student applications in the school, and follows students from beginning to end. She just watched her first full freshman class — the Class of 2017 — graduate.
"To be able to talk to them from the prospective student phase when they're sophomores and juniors in high school and then watch them all the way through graduation is absolutely the most rewarding part," she said.
In between world traveling, creating outfits from scratch and working in admissions, Orr has a full agenda. However, she wouldn't have it any other way. "I love the work I do in higher education and I love the work I do in fashion."