Match Day 2018
With the tearing of an envelope, 162 U-M medical students found out their fate Friday at noon, along with tens of thousands of their peers nationwide. U-M's annual Match Day celebration reveals where graduating students have been accepted for residency training. This video captures the excitement and anticipation of students as they learn where they'll be going next on their educational journey.
Reinventing transit
The Reinventing Public Urban Transportation and Mobility — or RITMO — project is a new style of urban mobility system that is proposed for testing on U-M's North Campus this summer. In this video, RITMO project leader Pascal Van Hentenryck, Seth Bonder Collegiate Professor of Industrial and Operations Engineering, explains how the dynamic "hub-and-shuttle" system would work.
Hail and thank you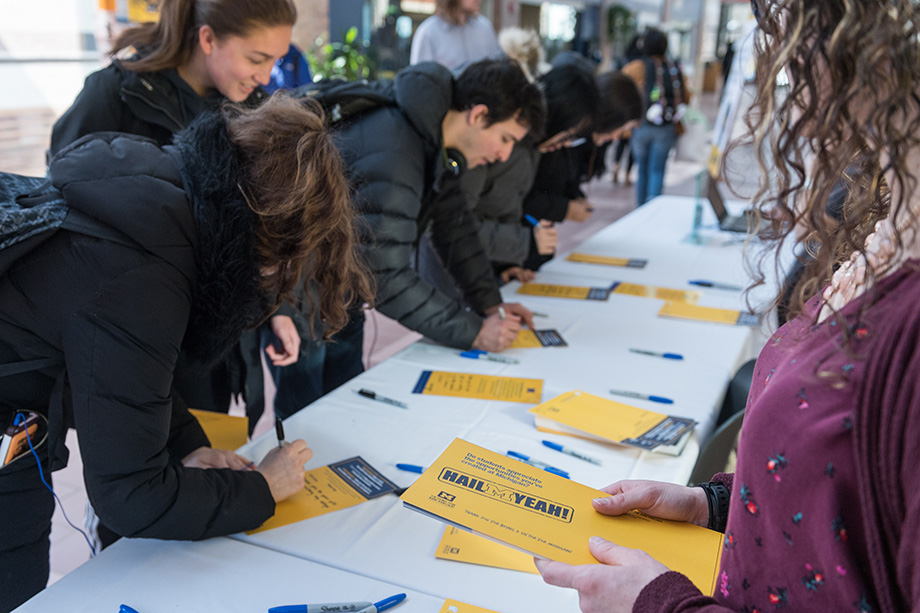 Students filled out thank-you cards at Pierpont Commons on Wednesday as part of the annual Hail Yeah! day of thanks. The event is aimed at educating students about the impact private support has on their Michigan education. Tables were set up across campuses so students could sign postcards and personal messages of thanks to Michigan alumni who donated $50 or less to the university in the past year. (Photo by Scott C. Soderberg, Michigan Photography)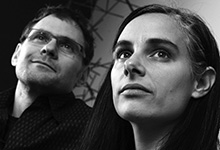 Faculty/Staff Spotlight
"Why should we not be able to use our medium critically in the same way as architects, graphic designers, writers, and other creative disciplines?"
Bruce Tharp, associate professor of art and design
Tharp and his wife, Stephanie, also an associate professor of art and design, promote the field of discursive design.
Michigan in the News
"By abandoning international cooperation and threatening to do economic damage to enemies and allies, Trump has started a trade cold war. Its duration is uncertain, the eventual winners, if any, are unclear, and the economic consequences could be overwhelmingly negative," said Kyle Handley, assistant professor of business economics and public policy.
Less than 3 percent of medical students have disclosed a disability and are receiving formal accommodations — a low number due mostly out of fear of judgment, bias and skewed perception of ability, according to a national report co-authored by Lisa Meeks, clinical lecturer in family medicine.
"It's a lot easier to take a moral stand when it's likely to cost you 1 percent of your sales than when it could cost you 10 percent of your sales," said Erik Gordon, clinical assistant professor of business, commenting on the continuation of assault-style rifle sales at Bass Pro Shops, Cabela's, Gander Outdoors and other outdoor chains.