Great Lakes safety
A U-M staff member who almost drowned in Lake Michigan is now working to save the lives of others. Jamie Racklyeft, communication director for the Michigan Institute for Clinical & Health Research, was rescued from a Lake Michigan rip current in 2012. In this video, Racklyeft describes how that life-changing experience prompted him to form the Great Lakes Water Safety Consortium, pulling together people from various areas of expertise to work to prevent drownings.
Biofuel from algae
University scientists grew various combinations of freshwater algal species in 80 artificial ponds at U-M's E.S. George Reserve near Pinckney, Michigan, in the first large-scale, controlled experiment to test the widely held idea that biodiversity can improve the performance of algal biofuel systems in the field. In this video, researchers from the School for Environment and Sustainability and the College of Engineering discuss how the process works and what it may accomplish.
New Survival Flight jet
Michigan Medicine's Survival Flight has added a new Bombardier Learjet 75 fixed-wing aircraft to its existing fleet of three rotor-wing aircrafts to serve even more critically injured patients and improve organ procurement services. In this video, Denise Landis, clinical director for Survival Flight, discusses the new jet's features and capabilities for better serving patients.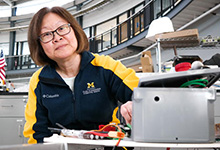 Faculty/Staff Spotlight
"If you're first-generation, education is a means to an end. But have you really thought about what that end is?"
Line van Nieuwstadt, associate professor of engineering practice at UM-Dearborn.
Michigan in the News
Kelly Askew, professor of anthropology, and of Afroamerican and African studies, was interviewed about the legacy of Leo Sarkisian, who was well-known for creating the Voice of America radio show "Music Time in Africa."
Holly Jarman, assistant professor of health management and policy, and colleagues say that a new trade agreement with the United States could force United Kingdom politicians to compromise on the way their country regulates medicines — making prescription drugs more expensive after Brexit.
Comments by John Pottow, professor of law, and David Uhlmann, professor and director of the Environmental Law and Policy Program, were featured in a story about how Vice President Mike Pence's family's failed gas stations will cost taxpayers more than $20 million.