EarthFest 2018
Kevin Perkins, regional energy manager in the Office of Campus Sustainability, discusses energy management with Kim Kiernan (left), administrative director in Facilities & Operations, and Lorraine Currie, director of enterprise strategic risk management in the Office of the Executive Vice President and Chief Financial Officer. Perkins staffed a table on the Diag Thursday at EarthFest, an annual event to celebrate environmental and energy initiatives throughout the university and the Ann Arbor community. (Photo by Steve Culver, The University Record)
Risks of recycling e-waste
For the last three years Richard Neitzel, associate professor of global public health, and environmental health sciences, and his interdisciplinary team has been studying e-waste recycling in hope to identify health hazards for workers and help them improve their working conditions. In this video, Neitzel discusses his team's work and what they found.
Comparing urban biographies
"Urban Biographies, Ancient and Modern," now open at the Kelsey Museum of Archaeology, showcases three classical cities where U-M sponsors field projects: Gabii in Italy, Olynthos in Greece and Notion in Turkey. In this video, Christopher Ratté, professor of classical archaeology and research associate at the museum, discusses how the archaeologists excavating these cities, in collaboration with students and faculty from the Taubman College of Architecture and Urban Planning, are comparing their findings with projects of urban rebuilding in contemporary Detroit.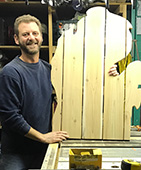 Faculty/Staff Spotlight
"As I'm getting older, it's nice to be able to use my brain. Some guys do crosswords, I do woodworking. You've got to keep the brain active and sharp!"
Matt Thompson, fire alarm technician with hospital maintenance, and creator of Michigan-themed Adirondack chairs.
Michigan in the News
Rebecca Hasson, assistant professor of kinesiology and nutritional sciences, was interviewed about her research that shows two-minute bursts of in-class exercise breaks increases the amount of daily exercise for elementary children without hurting academic performance.
Comments by Joshua Rivera, project manager at U-M Poverty Solutions, were featured in a story about the high rate of poverty in Flint — the poorest city in the nation, according to the U.S. Census Bureau.
"I feel very stressed, but not burned out. I think that stress is a better reflection of the pressures that primary care physicians have in their jobs. Most of us … are spending less time with our patients and much more time on clerical activities. That, I think, causes stress, but not necessarily burnout," said Katherine Gold, assistant professor of family medicine and obstetrics and gynecology.