MLK Symposium keynote speakers stress value of speaking out
Keynote speakers at the University of Michigan's 31st Annual Rev. Dr. Martin Luther King Jr. Symposium honored past and present heroes who have fought for equal rights and representation, and stressed the importance of speaking up in pursuit of the truth.
Amy Goodman, an award-winning investigative journalist and host of Democracy Now!, and Issa Rae, a Golden Globe-nominated actress, writer, producer and creator of the HBO show "Insecure," were the focal point of Monday's Keynote Memorial Lecture at Hill Auditorium.
The kick-off event featured a speech from Goodman on the importance of an independent news media, followed by a sit-down conversation between Goodman and Rae.
Goodman described how Democracy Now!, a national, daily, independent news program, began 20 years ago on nine community radio stations. Five of them were Pacifica Radio, which had been founded by a "war resister" who said there had to be a media outlet run by journalists and artists instead of corporations that profit from war.
The Ku Klux Klan, Goodman continued, blew up the transmitter twice for one of these stations.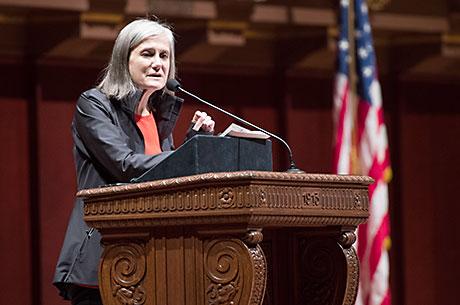 Journalist Amy Goodman spoke to the packed Hill Auditorium crowd before interviewing actress Issa Rae at Monday's MLK Symposium keynote event. (Photo by Austin Thomason, Michigan Photography)
"(The Grand Dragon Jimmy Dale Hutto) said it was his proudest act, blowing up the Pacifica station," Goodman said. "I think because he understood how dangerous independent media is. Dangerous because it allows people to speak for themselves.
"And when you hear someone speaking from their own experience, whether it's a Palestinian child or Israeli grandmother … whether it's a young person from Ferguson or someone poisoned in Flint, when you hear someone speaking from their own experience, it challenges the stereotypes. … You begin to understand where they're coming from, it makes it much less likely that you'll want to destroy them," Goodman said.
Aligning with the symposium's theme of "Sounds of Change," the keynote celebration included a tap dance routine from the Syncopated Ladies and a performance of an alternative version of "The Star-Spangled Banner" that called attention to slavery in the United States.
In his opening remarks, President Mark Schlissel said U-M's role in advancing civil rights is an "indelible part of our history" with deep ties to the themes of the university's upcoming bicentennial celebrations.
He said as U-M honors its first two centuries and begins a third, this moment could be used to celebrate and learn from those who came before, such as student activists who demonstrated that one cannot forget that the fight for justice is ongoing.
"I want to thank everyone who's helping us uphold our shared belief that diversity, equity and inclusion are key to individuals flourishing, to educational excellence and to the advancement of knowledge at our great university," Schlissel said.
During her speech, Goodman touched on several topics, including the contributions of King and Rosa Parks, the abuse Native American protestors faced while protecting their land at Standing Rock, and Trump's recent tweets stating that U.S. Rep. John Lewis, D-Georgia, — a prominent civil rights activist who led protestors across the Edmund Pettus Bridge in Selma, Alabama, on Bloody Sunday — was "all talk" and "no action."
The journalist concluded with a story about Hans and Sophie Scholl, siblings who helped circulate resistance pamphlets during World War II. They bore the words, "We will not be silent," Goodman said.
"That philosophy, that motto, should be the Hippocratic Oath of the media today, should be the Hippocratic Oath of us all today: We will not be silent," she said.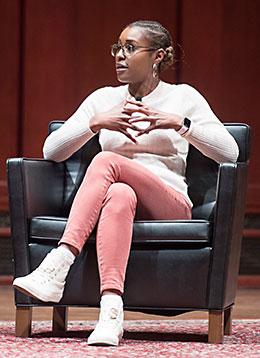 Issa Rae spoke of how, at this point in time, there's too much at stake to be silent. (Photo by Austin Thomason, Michigan Photography)
After Goodman's speech, she interviewed Rae, creator of "Insecure" and the YouTube web series "The Misadventures of Awkward Black Girl."
Rae discussed her upbringing, her career path to critical acclaim and success, and how her life has influenced her creative work.
Touching on efforts to defund Planned Parenthood, and actress Meryl Streep's call to action at this year's Golden Globes ceremony, Rae said entertainers in the past have been relegated to the role of just entertaining, but now there's too much at stake to be silent.
She said people are only going to provoke change by speaking up, and there is no room to be coy in order to capture a mass audience.
"I just have no interest in being silent about something that might offend others because I don't want their support," Rae said. "I don't want bigots to watch my work."
In response to a question about how African-American women can learn more about creating positive media content instead of consuming what is projected, Rae pointed to reality shows that aired during the 2000s that featured women, including women of color, competing for the same man.
She said these images irritated her and that there were no alternative representations of black women on television.
"I felt like I had to create what I wanted to see at the end of the day," Rae said. "Another thing is that I didn't know any women in my circle who were constantly fighting like we see in these shows. So many women in my social circles are supportive and are amazing and are ambitious and do so much, and that's what I wanted to see reflected. So my advice is to just look into your circle and project what's real to you."
Goodman and Rae ended their conversation with Rae's final thoughts on the end of President Barack Obama's term and the incoming president, Donald Trump.
Rae said although she feels like Obama's presidency has encouraged "black people to flourish," she believes a "rise of hate" has led to the incoming presidency.
"To know that we're entering a time of almost normalized hate is so scary to me," Rae said.
"And I can only hope, which is the message of this outgoing president, that we can band together and we can block and figure this out in the best way possible and again, I want to make that happen through my own work, but I know it's going to take more than that."