HIV education focus of LSA professor's career
Nesha Haniff is first and foremost a teacher.
She has educated women in the Caribbean about their bodies, low-literate populations in South Africa, the United States and the Caribbean about HIV, and conducted discussions with schoolgirls in Belleville and Muslim girls at Central Academy in Ann Arbor about gender consciousness.
Haniff has devoted her life to teaching not just about health, but how her students can be the owners of knowledge.
"The HIV module isn't about HIV. It's about empowerment," said Haniff, lecturer IV in Afroamerican and African studies and women's studies, LSA. "For both those who teach and those who learn, it's about finding a way to teach to act, to stop making them recipients of knowledge but instead owners of knowledge."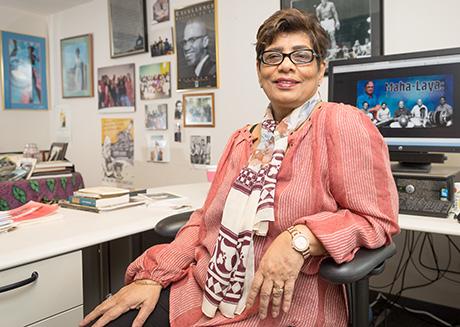 Nesha Haniff, lecturer IV in Afroamerican and African studies and women's studies, developed an HIV education module that has been used around the world. (Photo by Daryl Marshke, Michigan Photography)
Haniff, who was born in Guyana, moved to Ann Arbor in 1970. She earned a bachelor's degree in sociology and a Ph.D. in the Social Foundations of Education from the School of Education.
She also pursued a Master of Public Health at the University of Hawai'i. While she initially had some reservations about the public health program, she soon realized it was a perfect fit.
"Health was everywhere," she said. "It was the single most important education I had in my life."
She first made her Pedagogy of Action HIV education module in the Caribbean. Her module is specially designed for low-literate students and it has been taught to 20,000-50,000 people across the world from Detroit to South Africa.
While the 15-minute oral module has evolved over the years, it currently breaks down HIV education into five units: details about the immune system, transmission of HIV, the implications of HIV/AIDS, prevention and reduction of stigma.
The module strives to show why her methods work instead of simply telling students it's the best. This is important because it gives students more command of the complexities of HIV, empowering them to teach it to others and spread the module organically, she said.
Haniff began teaching the module to Michigan students in 1999, but she experienced some resistance from students who thought it was too elementary.
The weekly Spotlight features faculty and staff members at the university. To nominate a candidate, email the Record staff at urecord@umich.edu.
"It was not until they tried to teach it to people outside the university that (they discovered) it was really complex and they themselves had trouble teaching it," she said. "We're taught to be literate, so orality was a very revolutionary concept to them."
The most important part of the module to Haniff is the sense of praxis, or engagement. She doesn't see herself as an academic, she said. Instead, she wants college students to realize the impact they can have on the world.
Haniff has moved beyond the module and is now piloting a new method, the Gender Consciousness Project, with girls from Belleville High School and from a predominantly Muslim high school in Ann Arbor. Her goal is to start "consciousness raising early for women to understand how gender oppresses and how they themselves participate in their own oppression and it is they who must resist."
"I want to dedicate the rest of my work to the construct of gender oppression," she said.
Q & A
What moment in the classroom stands out as the most memorable?
The first day of my class when students leave because they find me too intimidating, and the last day when they recall the first day and are thrilled that they stayed.
What can't you live without?
Engagement in transformation.
Where is your favorite spot on campus?
My office.
What inspires you?
Praxis, seeing ordinary people put ideas into action.
What are you currently reading?
"Redemption Song: Muhammad Ali and the Spirit of the Sixties," by Mike Marqusee (a beautiful book).
Who had the biggest/greatest influence on your career path?
Paulo Freire and the School of Public Health, University of Hawai'i.