Art & Design professor promotes community engagement
In seventh grade, Anne Mondro asked her teacher if she should pursue art or science in college. Although years later Mondro ended up choosing art school, the teacher told her, "Here you are doing both!"
Mondro, now associate professor of art and design at the Penny W. Stamps School of Art & Design, discovered her interest in creativity and health care while a graduate student at Kent State University.
 "It's really come full circle for me," she says. "I never thought I would be a teacher. I feel like everything that I thought was so separate is actually integrated."  
Mondro's teaching specialties are jewelry/metalsmithing, three-dimensional design and art in health care. Her newest course studies the impact of creativity on the care of individuals with memory loss. The class features professors from the School of Public Health, School of Social Work and Department of Neurology as guest speakers, offering students a more holistic view of memory loss and creativity.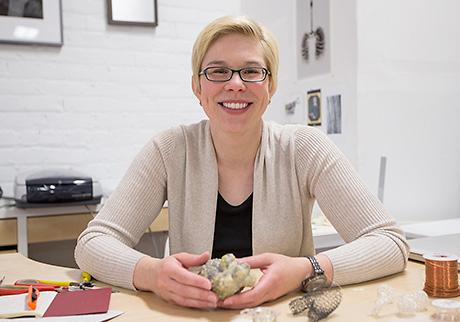 Anne Mondro combines her interests in art and health care. (Photo by Martin Vloet, Michigan Photography)
"One of the things I feel fortunate about at U-M is the opportunity to develop new courses around my interests and research," she says. "I don't feel that I'd have the opportunity to develop these courses elsewhere. The ability to collaborate is here."
In her new course, "Memory, Aging & Expressive Arts," Mondro's students visit U-M Geriatric Centers Silver Club, a community program for adults with mild to moderate memory loss. The students brainstorm ideas for creative projects with their specific community member.
"You have to be an active listener, and be open to engaging with others to develop a collaborative project together," Mondro says.
Her students, from the School of Social Work, School of Public Health, and School of Art & Design, have been able to build off each other's different diverse strengths and perspectives.
"Creativity and the arts are beneficial to everyone, they can be used to build intergenerational relationships, serve as a positive distraction from illness or limitations … to engage in something that's expressive and fun," she says.
When she isn't teaching, Mondro pursues research and individual projects in her studio practice. One current project is a series of digital images inspired by Emily Dickinson's poetry.
In 2013, Mondro received the Scholar in Amherst Award from the Emily Dickinson International Society. The award included a visit to Dickinson's homestead in Amherst, Massachusetts.
"I relate to her poetry because it elegantly expresses emotions associated with illness, grief and pain. While I was at her home, I saw her so much more as a person, as a friend, as a sister, as a daughter, more than this amazing poet, and that experience has really moved me to push this work further."
Q & A
What moment in the classroom stands out as the most memorable?
During the final project presentations, one of the students said to me, "We learned so much from the community members; I didn't realize how much we were going to learn from them." And that was really important. Classes like this expose you to the broader community, and there's something to learn from that.
What can't you live without?
My family and my two cats.
What is your favorite spot on campus?
The Albertine Monroe-Brown Study-Storage Gallery in the U-M Museum of Art. I also love the Succulent Garden in the Matthaei Botanical Gardens.
What inspires you?
The strength of others.
What are you currently reading?
Emily Dickinson! I am currently reading Oliver Sacks as well.
Who had the greatest influence on your career path?
My parents: their supportive relationship with each other through having to deal with illness, and overcoming challenges.