2013-14 Advertising Guide
The University Record is published weekly during the regular academic year, except during scheduled universitywide breaks. We serve tens-of-thousands of active and retired U-M faculty and staff with news and features covering the diverse university community. Approximately 19,000 copies of each issue are distributed via the U.S. mail, campus mail and 108 drop locations on U-M's Ann Arbor, Flint and Dearborn campuses.
To advertise:
• Please contact our advertising department (734-764-4342, recordads@umich.edu) to devise a strategy best suited to help you reach your goals. To that end, we offer ads in a variety of sizes. Frequent insertions of a powerful ad is the most effective advertising tactic when you're trying to build your brand or develop a 'top of mind' position for your product or service. To encourage your success, we're offering generous discounts for advertisers who commit to multiple insertions. Click here to see how our frequency discounts can work for you.
• Complete and return an advertising agreement by FAX (734-764-7084) or as an email attachment. Frequency discount contracts require a counter-signature by the Record; single insertions require no Record signature. Download and print the Record Advertising Agreement »
• Choose your ad size and the number of insertions you need to reach your goals.
• Design your ad based on the standard sizes shown below. If you need design help, our art department is available to assist you at $75/hour. Most ads require only a few hours to complete.
• Send your Press Quality greyscale or color pdf file (add $100 to basic ad cost per insertion for color ads) to recordads@umich.edu no later than 5:00 p.m. 7 days before your target publication date.
Our standard sizes cover a wide range of costs and potential graphic presentations ... from the strongly vertical 1-column by fifteen-inch 'N' ad to the to the 1/4-page 5-column by 4-inch 'H' ad. The graphic thumbnail images below may be clicked upon to open a larger image with full details on one-time insertion prices as well as ad dimensions in a variety of units.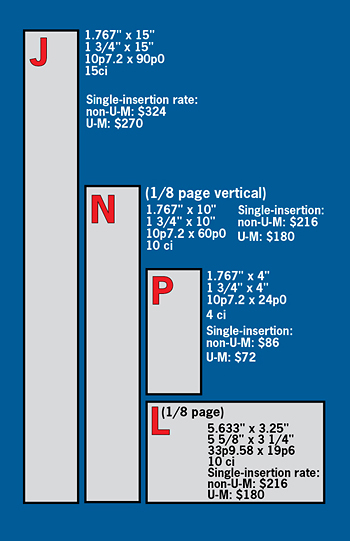 Frequency discounts
Although the Record gladly accepts one-time insertions of advertisements, we strongly recommend an ongoing campaign of frequent ad insertions for the best possible return on your investment. To encourage such schedules, we've instituted a generous discount program with discounts ranging from 5% to 25%. Click the images below to enlarge the discount tables.
Online advertising
Your 1/4 page (nineteen column inches) or larger print ad (or color ad valued at $360 for U-M advertisers, $432 for non-U-M advertisers) entitles you to get your message online. Your 728 pixel wide x 90 pixel tall (IAB Leaderboard size) color jpg or gif graphic, with a link to your website, will rotate with those of other eligible advertisers from the current issue; the frequency of appearances of your online ad will be relative to the cost of the print ad purchased. Each ad will appear on University Record online Web pages until that page is refreshed.
Online ad creation is the responsibility of the advertiser, and ads are due by 5 p.m. Monday one week prior to publication. Deliver to recordads@umich.edu.
Online ads are not available as a standalone purchase.
Studies
U-M research units may advertise for participants in studies in the Studies Seek Subjects section of the publication. These announcements are textual insertions of three to four sentences that define briefly the criteria for the requested participants, the activities that the participants are required to complete, the compensation for the completion of he activities, and the contact information. The charge for a single insertion is $30 per issue. Requests for insertions of an announcement in the Studies Seek Subjects section should be e-mailed to recordads@umich.edu, and must include complete chartfield and contact information. The Record will reply to your message with a confirmation of its receipt; if you do not receive a confirmation, please contact the Record office at (734) 764-0105.
An effective announcement reads as follows:
"Men ages 18-45 who are not on medication are needed for a study on exercise and cardiac health. Requirements include questionnaires, simple exercise and two blood withdrawals. Compensation is $400 upon completion. Call Sally at (734) 555-5555 ext. 24 or e-mail xxx@umich.edu."
The deadline for receipt of study materials is 5 p.m. the Tuesday before the intended publication date.
Advertisement preparation details
Careful design and attention to mechanical details can increase the effectiveness of your campaign. Please consider the following as you prepare your ad.
Image preparation for photos within ads
(These suggestions do not apply to the finished advertisements as a whole, but rather to the images that reside within your advertisement.)
Black-and-white images within ads
It's important that b/w ads are devoid of color information (other than black). There are many ways to create a greyscale image; some are better than others. If you are working in Photoshop, we suggest the following steps:
1) Size the image to its final dimensions, with a resolution of 300 dpi
2) Convert to Lab Color: Image>Mode>Lab Color
3) Select the Lightness channel in the Channels palette
4) Convert to Greyscale: Image>Mode>Greyscale
Adjust the image to conform with the following tonal values:
Highlight: 4 percent       
Midtone: 35-38 percent   
Shadow: 93 percent 
Anything greater than 90 percent will print solid.
Unsharp Mask is a powerful Photoshop tool that will increase the detail and clarity of your finished photo. We suggest:
Filter>Sharpen>Unsharp Mask
Amount: 200
Radius: 2.5
Threshold: 2
Click OK to complete.  
Color images within ads
Images with your color ad should be processed as CMYK, with a resolution of 300 dpi. For best reproduction, we suggest this Photoshop Unsharp Mask technique:
Convert image to Lab Color mode: Image>Mode>Lab Color
Select Lightness Channel only
Filter>Sharpen>Unsharp Mask
Amount: 350
Radius: .8
Threshold: 5
Click OK to complete
Convert image back to CMYK mode: Image>Mode>CMYK
Select all four channels in Channels palette
Filter>Sharpen>Unsharp Mask
Amount: 65
Radius: 2.5
Threshold: 2
Click OK to complete
Other specifications
Type size minimum: For readability and clarity, use 6 point type or greater.
 
Color text should be 10-point or greater and contain only two of the process colors (CMYK). Reverse type on a tinted background should be 10-point or greater on a background containing at least a 60 percent tone value. Type reversing out of a four-color background should be avoided whenever possible. We recommend that you do not use serif fonts when reversing type.  
Material should compensate for a 18-23 percent dot gain in a 50 percent dot area.  
Color pictures and graphics should be CMYK (process colors). Pixel-based pictures and graphics should be at least 200 dpi. Bitmap art should be no less than 600 dpi; 1,100 to 1,200 is preferred.
Color images should be adjusted using the following parameters as a guide.
| | | | |
| --- | --- | --- | --- |
|   | Highlights | Midtone | Shadow |
| Cyan: | 4% | 38% | 56% |
| Magenta: | 3% | 30% | 49% |
| Yellow: | 3% | 30% | 49% |
| Black: | 0% | 2% | 90% |
Dot gain averages with the dot gain in a 50 percent tint area:  
Cyan: 19%
Magenta: 19%
Yellow: 17%
Black: 15%  
Ink Saturation: Total area coverage maximum should be 240 percent to 260 percent with one solid. Secondary color shouldn't exceed 75 percent. Recommended screen tint minimum 10-20 percent and maximum 70-80 percent. A 75 percent screen tint will print solid. The combined screen tints shouldn't exceed 260 percent.  
Target Ink Densities:
Cyan: .90
Magenta: .90
Yellow: .85
Black: 1.05. (Subtract 3-5 points for dryback measurement)
When creating the final pdf for transmission to the Record, please use Press Quality settings.
General details
Single insertion advertisements may be contracted by transmitting the signed agreement to the University Record. Advertisers seeking frequency discount rates must transmit this signed agreement to the University Record to be co-signed for acceptance of terms based on discount rates found above.
Inserted advertisements will be billed monthly. Advertiser will be liable for payment for all agreed-upon insertions, notwithstanding actual insertion status (unless non-insertion is the fault of the Record). Unused insertions equaling the minimum required ad insertions in any given discount category will be billed in August 2014. Additional requested insertions require a separate signed contract.
The advertiser shall indemnify and hold harmless the Regents of the U-M, its agents and employees, from and against any and all actions, claims, liabilities, demands, damages, costs and expenses, including court costs and attorney fees from the publication in the Record of advertising material furnished by the advertiser.
The Record will not accept advertising for political candidates or issues, tobacco or alcohol products, or items in contradiction of the University's mission. Ad placement is at the editor's discretion. The Record is not responsible for non-publication of late advertising submissions. Publication does not imply endorsement. The Record reserves the right to reject or cancel any advertisement. Advertisers assume all responsibility for content. Ads must be clearly recognizable as such, or they will be labeled "Paid Advertisement."
Placement is at the editorial staff's discretion.
Cancelations and alterations cannot be made after 5 p.m. seven days prior to publication.
2013-14 Publication Schedule
2013

September
3, 9, 16, 23, 30
October
7, 14, 21, 28
November
4, 11, 18, 25
December
9, 16

2014

January
13, 20, 27
February
3, 10, 17, 24
March
10, 17, 24, 31
April
7, 14, 21, 28
May
5, 19
June
9, 23
July
14, 28
August
11
2014-15 Publication Schedule
2014

September
2, 8, 15, 22, 29
October
6, 13, 20, 27
November
3, 10, 17, 24
December
8, 15

2015

January
12, 19, 26
February
2, 9, 16, 23
March
9, 16, 23, 30
April
6, 13, 20, 27
May
4, 18
June
8, 22
July
13, 27
August
17