Green infrastructure
In this video, Joan Nassauer, professor of landscape architecture at the School of Natural Resources and Environment, and Palencia Mobley of the Detroit Water and Sewerage Department, explain how vacant homes have been replaced with "bioretention gardens" that help manage stormwater and improve neighborhood quality of life.
Candy molds
U-M researchers working with a soft silicone to study human cells were having trouble springing the soft substance from its mold without tearing it. A solution came in the form of simple candy — a mold made of sugar that could be dipped in water and melted from around the silicone. In this video, Shuichi Takayama, professor of biomedical engineering and macromolecular science and engineering, and doctoral student Joseph Labuz, explain the process.
Health system partners
Many faculty and staff in the Medical School have asked, "Why are we partnering with other health systems?" In this video, Senior Associate Dean for Clinical Affairs Dr. David A. Spahlinger describes the drivers behind the U-M's partnership activity and highlights several key partnerships.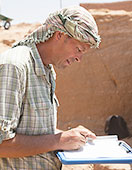 Faculty/Staff Spotlight
"I'm still inspired by the idea of bringing the past to life, of understanding past societies in all their richness."
Geoff Emberling, assistant research scientist at the Kelsey Museum of Archaeology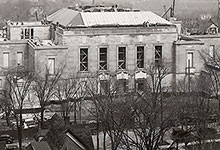 Michigan in the News
"I think many of the doctors out there would disagree with the things (Ben Carson) says as a politician, but understand him as a person as a very decent person. The person and the doctor are very separate from the politician," said Dr. Karin Muraszko, professor of neurosurgery, who has shared patients with Carson.
"If he were to write this on an exam for me? That's an F," said Andrei Markovits, professor of political science, sociology, and Germanic languages and literatures, on Bernie Sanders' assertion that police and fire departments are socialist institutions.
"Many of the Republican presidential candidates say they want to rein in Wall Street," but their proposals involve getting rid of agencies and laws with exactly those goals, said Michael Barr, professor of law. "That's not real reform, that's rollback."