Art on wheels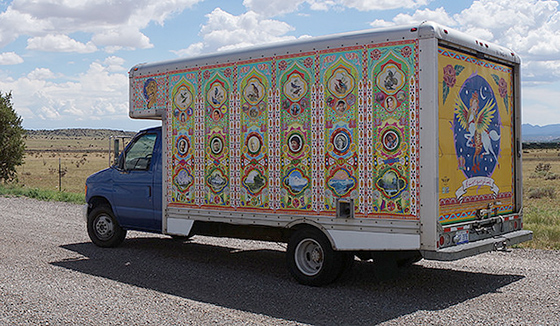 When much of the news about Pakistan seems to involve drone attacks, bombings and jihadist groups, Osman Khan, assistant professor of art and design, is trying to change the conversation to the vibrant art and culture scene that exists in Pakistan. He is doing that by decorating a truck — Pakistani style. The vehicle is covered with floral patterns and pictures of Pakistani leaders, poets and activists. View a slideshow of images from the project. (Photo courtesy of Osman Khan)
Copyright comments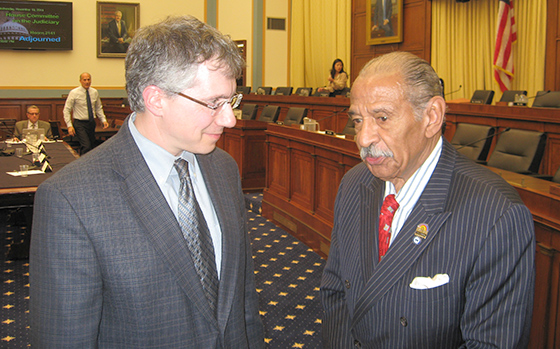 Associate General Counsel Jack Bernard (left) talks with Rep. John Conyers, D-Detroit, ranking member of the House Judiciary Committee in Washington, following a hearing on copyright issues on Wednesday. In his comments on behalf of the Association of American Universities and other higher education associations, Bernard said current copyright law works reasonably well for colleges and universities, and stressed the importance of the concept of "fair use" in helping institutions make materials available to students for all sorts of learning purposes. (Photo by Mike Waring, Washington Office)
Daycare and vaccinations
Most parents agree that all children in daycare centers should be vaccinated, and that providers should be checking vaccine records, according to the latest C.S. Mott Children's Hospital National Poll on Children's Health. In this video, Sarah J. Clark, associate director of the poll, discusses the findings and respondents' feelings about how daycare centers should deal with a child who is not up-to-date on vaccines.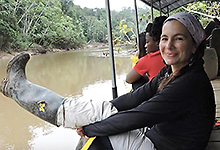 Faculty/Staff Spotlight
"Mindfulness teaches us to be present for all the ups and downs of life: the good and the bad, the beautiful and the challenging."
Denise Kozikowski, academic adviser at the Newnan LSA Academic Advising Center and leader of meditation sessions.