Comparing urban biographies
"Urban Biographies, Ancient and Modern," now open at the Kelsey Museum of Archaeology, showcases three classical cities where U-M sponsors field projects: Gabii in Italy, Olynthos in Greece and Notion in Turkey. In this video, Christopher Ratté, professor of classical archaeology and research associate at the museum, discusses how the archaeologists excavating these cities, in collaboration with students and faculty from the Taubman College of Architecture and Urban Planning, are comparing their findings with projects of urban rebuilding in contemporary Detroit.
Wolverine Express
Wolverine Express takes U-M faculty, staff, students and alumni to under-resourced high schools across the state to promote higher education through their own stories of aspiration, education and career experiences. In this video, participants talk about the program and what they bring to it. Those interested in participating this year can sign up online.
Bo in bronze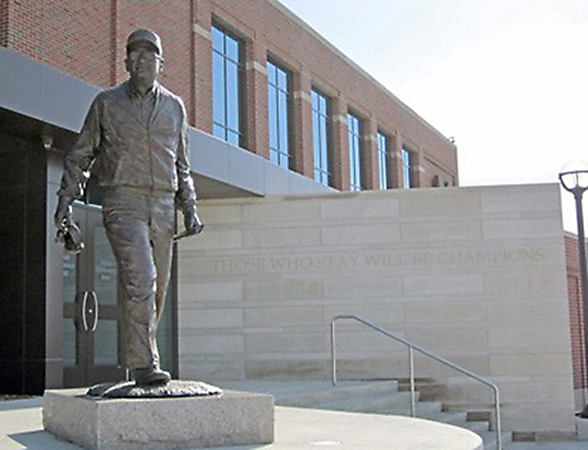 This larger-than-life-size statue depicts legendary U-M football coach Bo Schembechler in an iconic sideline stance. A gift from alumnus Robert W. Browne, the bronze sculpture by J. Brett Gill was commissioned as part of the renovation of Schembechler Hall and the Towsley Museum, at the entrance to which the statue stands. The Record periodically highlights pieces of public art at U-M. Learn more about this piece, or browse an online collection of public artworks.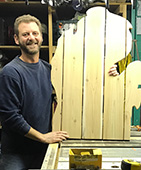 Faculty/Staff Spotlight
"As I'm getting older, it's nice to be able to use my brain. Some guys do crosswords, I do woodworking. You've got to keep the brain active and sharp!"
Matt Thompson, fire alarm technician with hospital maintenance, and creator of Michigan-themed Adirondack chairs.
Michigan in the News
"The students care about issues, many of them passionately. But they don't seem to connect the dots between the issues they care about and the elected officeholder," said Edie Goldenberg, professor of political science and public policy, who started a Big Ten challenge voter drive that has registered 10,000 U-M students.
"STD rates are continuing to rise. We have something that works. And we need to increase the use of expedited partner therapy because we do have this problem in America," said Cornelius Jamison, clinical lecturer of family medicine, discussing his research on EPT, in which a doctor can prescribe antibiotics for both patient and partner at the same time, sight unseen.
Gretchen Spreitzer, professor of management and organizations, said extremely early risers can get a lot done before others wake up, but going to bed early can lead to "sacrificing (your) social network and ability to develop strong social relationships," which are necessary for good mental health.