Piece of cake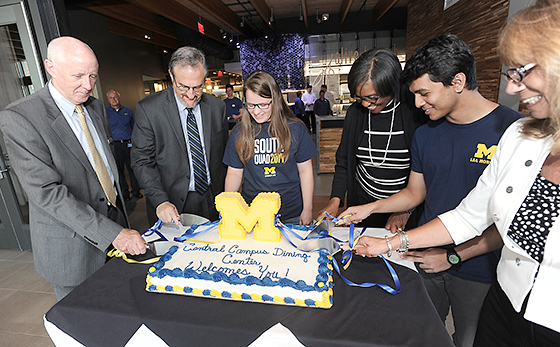 Students and staff joined university leaders Wednesday to celebrate the grand opening of the Central Campus Dining Hall, part of the South Quad renovation project. Cutting a ceremonial cake to mark the event are, from left, Director of Dining Steve Mangan, President Mark S. Schlissel, South Quad resident Christianna Pedley, Vice President for Student Life E. Royster Harper, South Quad resident Fahad Sarvari and Director of Housing Linda Newman. (Photo by Lon Horwedel, Michigan Photography)
Vaughan building artwork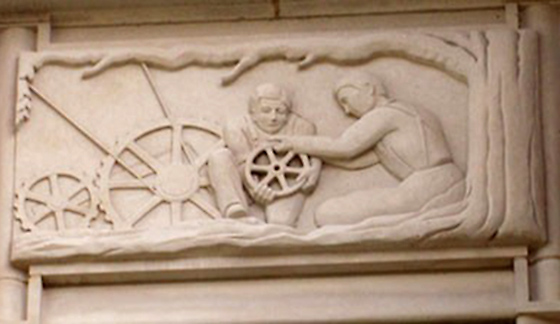 This is one of two bas reliefs flanking the original west entrance pavilion of the Henry Vaughan Public Health Building. They were designed by Lewis J. Sarvis, the Battle Creek architect who designed the Vaughan building. The Record periodically highlights pieces of public art at U-M. Learn more about this piece, or browse an online collection of public artworks.
Morphing wing
Michigan aerospace engineers are using new materials and techniques to allow airplane wings to flex and move more like bird wings. These morphing wings are still in the developing stages but may open the doors to lighter weight aircraft that are more agile than traditional airplanes. In this video, Dan Inman, professor and chair of the Department of Aerospace Engineering, predicts that morphing technology may first appear in unmanned drones and cargo vehicles, but even then, it may still be decades away.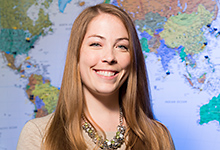 Faculty/Staff Spotlight
"There's no better way to gain independence, and become more resourceful, than by taking yourself totally out of your comfort zone and your country. Also, it's so much fun."
Jill Peters, International Programs adviser in the College of Engineering.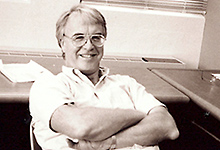 Michigan in the News
Marisa Eisenberg, assistant professor of epidemiology and mathematics, and Eden Wells, clinical associate professor of epidemiology, spoke about the difficulty in measuring and predicting Ebola's true impact.
"A careful look at the many considerations involved suggests that environmentally led efforts to jumpstart the market for electric cars amount to putting the cart before the horse," said John DeCicco, research professor at the U-M Energy Institute.
Reuven Ani-Yonah, professor of law, criticized American companies that benefit from U.S. higher education and government-paid basic research but place their intellectual property in overseas low-tax jurisdictions.