UM-Dearborn's next chancellor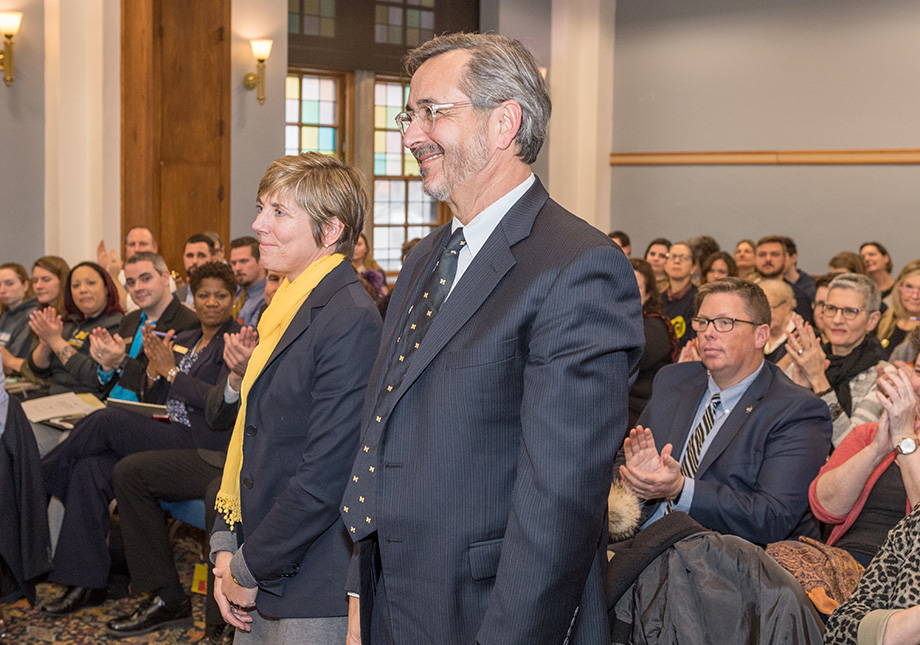 Domenico Grasso and his wife, Susan, are introduced during Thursday's Board of Regents meeting. The regents approved Grasso as the next chancellor for UM-Dearborn, effective Aug. 1. Current Chancellor Daniel Little is stepping down July 31, after guiding the Dearborn campus for the past 18 years. (Photo by Scott C. Soderberg, Michigan Photography)
Calming the tremors
After 20 years of bothersome hand tremors, Harry Hahn, an active retiree, finally found relief through a procedure called deep brain stimulation. In this video, Parag Patil, associate professor of neurosurgery, anesthesiology, and biomedical engineering; and Kelvin Chou, Thomas H. and Susan C. Brown Early Career Professor of Neurology, and professor of neurology, and neurosurgery, explain how deep brain stimulation works, and what the results look like.
Risk aware autonomy
In this video, Dhanvin Mehta, a graduate student research assistant in electrical engineering and computer science, describes his work on the Risk Aware Multi-Policy Decision Making algorithm to help guide robots in uncertain environments with constantly changing variables, such as for autonomous vehicles driving among pedestrians who can suddenly change direction or speed without signaling.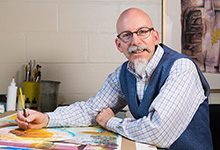 Faculty/Staff Spotlight
"Looking back, it was a blessing to not have any sort of connection to the world. It allowed me to focus on painting."
Todd Marsee, senior graphic artist at the Michigan Sea Grant and the 2017 Artist in Residence at the Pictured Rocks National Lakeshore.
Michigan in the News
Comments by Gretchen Spreitzer, professor of management and organizations, were featured throughout an article about the complications of remote working and how companies are developing ways to improve telecommuting.
"This administration is possibly unique, in that it blatantly and gleefully uses deportation to punish and exclude ... targeted communities," said Sherrie Kossoudji, associate professor of social work.
Catherine Massey, assistant research scientist at the Population Studies Center, discussed her research on the African-American migration from the South to the North in the 1930s and 1940s.