Bangladesh collaborations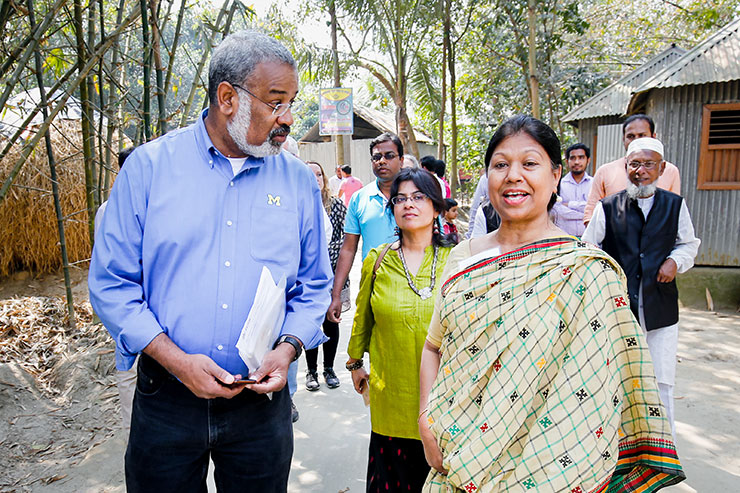 Martin Philbert, dean of the School of Public Health, listens to Afroz Huda, senior adviser for the Foundation for Charitable Activities in Bangladesh, during a February visit to to the South Asian nation. U-M researchers were in Bangladesh to explore collaborative opportunities for research partnerships that would study such issues as poverty, infant mortality and chronic health problems. (Photo by M. Ponir Hussain)
Burton Tower in maize and blue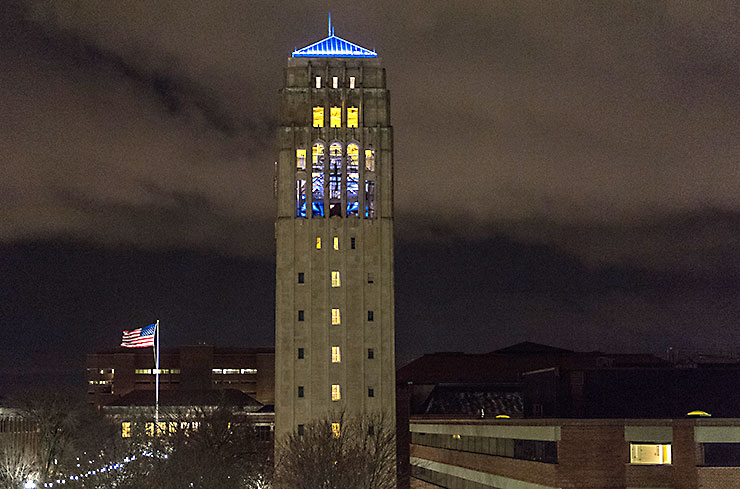 In celebration of the university's 200th year, the iconic Burton Tower will glow in new maize and blue lighting for the bicentennial's UMich200 Spring Festival. Starting the week of April 3, the tower will be illuminated in white lights. The lights will transition to maize and blue and end with a multimedia light show supporting the "True Blue! A Tribute to Michigan," event at Hill Auditorium on April 8. (Photo by Scott C. Soderberg, Michigan Photography)
Squirrel power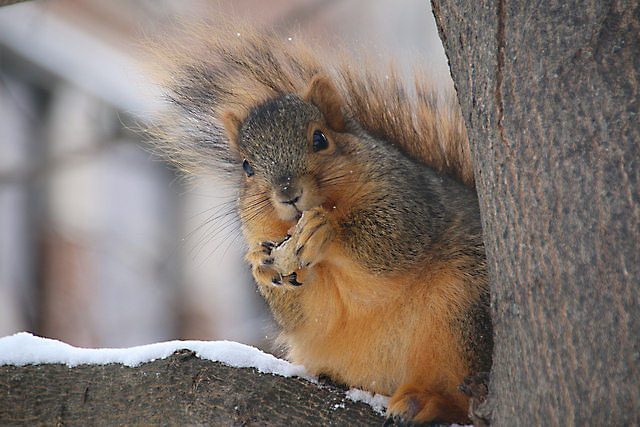 Corey Seeman has taken tens of thousands of images of squirrels since embracing photography in 2007. Seeman, director of library services at the Stephen M. Ross School of Business' Kresge Library, says he has taken at least one picture every day for nine years. This gallery from Michigan Today captures the varied facets of the campus' furry residents. Interested in thousands of squirrel shots? View Seeman's flickr gallery. (Photo by Corey Seeman)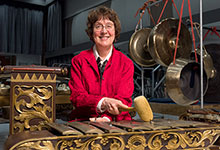 Faculty/Staff Spotlight
"Gamelan music and dance are vehicles for expressing and experiencing this deep harmoniousness not only between humans, but between humans and the divine."
Susan Walton,  lecturer IV in the Residential College and in the School of Music, Theatre & Dance, regarding the Javanese music style that has captured her interest.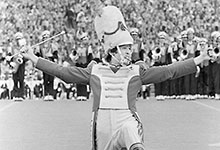 Michigan in the News
"One of the last important acts of the Obama administration was to reaffirm more stringent fuel-economy standards … but the recently announced review of those standards by the Trump administration is bad news for the prospects of reducing both transportation emissions and the country's reliance on fossil fuels," wrote research professor Michael Sivak and project manager Brandon Schoettle of the U-M Transportation Research Institute.
"When we sleep well, we feel better — but there may also be more than that. If you're irritable and having difficulty with interpersonal relationships, that could affect your well being. We also see changes in inflammatory markers with poor sleep, so people might actually physically feel worse when they're not sleeping well," said Cathy Goldstein, assistant professor of neurology.
"'The test of a first-rate intelligence,' F. Scott Fitzgerald wrote, 'is the ability to hold two opposed ideas in mind at the same time and still retain the ability to function.' Maybe so. But that doesn't explain how so many Americans adore their Medicare but still express bitter hatred for government intervention in health care," said Howard Markel, professor of pediatrics and communicable diseases, psychiatry, history, English language and literature, and health management and policy, and director of the Center for the History of Medicine.