Wearable sensors
A wearable sensor developed at U-M may lead to the widespread use of a new vital sign that measures the amount of blood flowing through a patient more accurately than ever before. In this video, Dr. Kevin Ward, professor of emergency medicine, and Barry Belmont, a graduate student research assistant in biomedical engineering, explain how the device works and how it can be used by experienced physicians as well as patients at home.
Medical School curriculum
The Medical School's Executive Committee has endorsed a new curriculum for medical students. In this video, Dr. James O. Woolliscroft, dean of the Medical School, highlights the top four changes that students and faculty will experience as the new curriculum develops and is phased in over the next several years.
West Quad renovation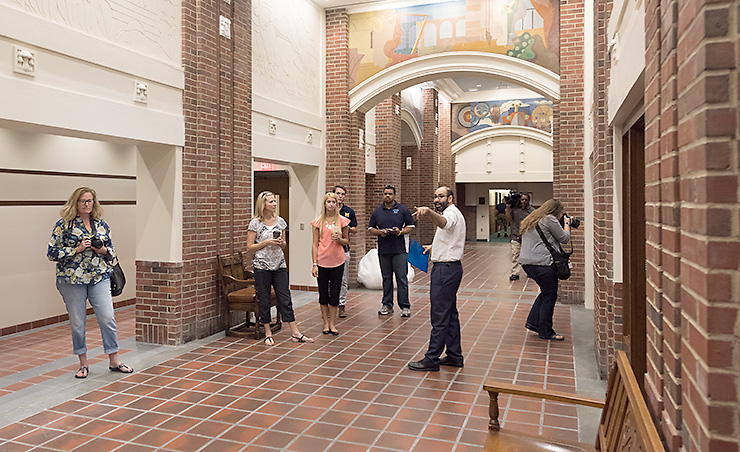 Housing officials Friday took media representatives on a tour of the renovations at West Quadrangle, with spaces for student interaction, creation of community, study and practice rooms, and living and learning activities, as well as infrastructure upgrades, roof replacement, renovated bath facilities, and accessibility improvements. This photo shows how the quad's original murals at the Thompson Street entrance have been preserved. View more photos. (Photo by Daryl Marshke, Michigan Photography)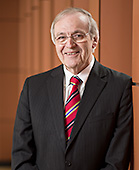 Faculty/Staff Spotlight
"It's a pleasure to work with the young people and to see them succeed, and see where they are now. It's such an honor to realize that somehow I've had an effect on them."
David Brophy, professor of finance and director of the Center for Venture Capital and Private Equity Finance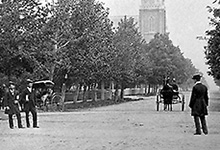 Michigan in the News
Jennifer Robertson, professor of anthropology and the history of art, was quoted in an article about the ever-growing use of robots in personal and industrial life in Japan, China and South Korea.
"We're like cockroaches. I think we'll stick around. We'll see the disaster we've created," said Christopher Dick, associate professor of ecology and evolutionary biology, referring to mankind in a story about how forests and oceans will be transformed by climate change.
Rita Chin, associate professor of history, was interviewed Aug. 31 about the history of postwar migration in Germany to provide context on the current influx of refugees and asylum seekers.