70 years of CJS
The Center for Japanese Studies is celebrating its 70th anniversary this fall with a series of symposia, reflecting on the center's seven decades and showcasing the future trajectories of its work. This video presents historical and modern footage from over the years.
Flu fighters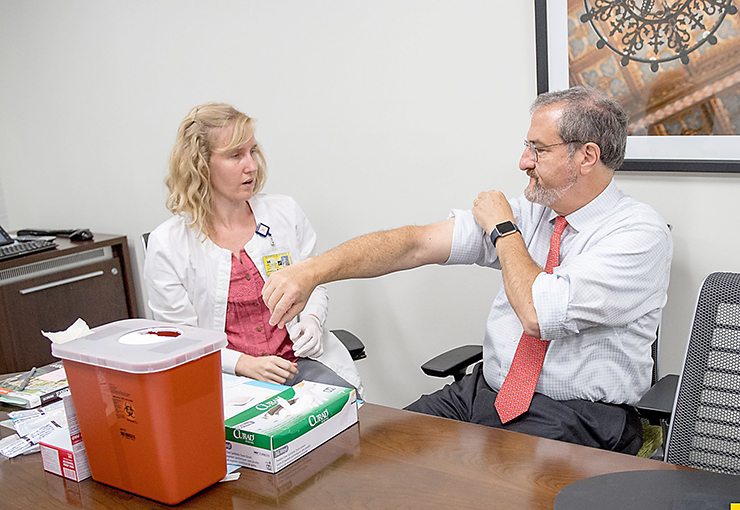 President Mark Schlissel receives his annual flu shot Monday from Janell Ball, a graduate student in nursing who was administering vaccines at a clinic in the Fleming Administration Building. MHealthy is offering walk-in flu shot clinics, in partnership with Michigan Visiting Nurses, at a variety of locations this fall for faculty and staff at the Ann Arbor, Flint and Dearborn campuses. (Photo by Eric Bronson, Michigan Photography)
Medical pioneer
You might not know his name, but you benefit from his work every day. This video highlights Frederick Novy, a U-M "microbe hunter" who paved the way for modern microbiology and infectious disease research, and for American medical schools to become powerhouses of all types of research.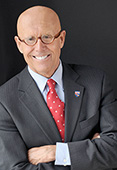 Faculty/Staff Spotlight
"In my work you're always saying hello, then you're saying goodbye. Some of these people become part of you, part of your existence."
Robert Buckingham, UM-Flint professor of public health and health sciences and hospice pioneer.
Michigan in the News
Comments by Su'ad Abdul Khabeer, associate professor of American culture, were featured in a column questioning why the Muslim community in the U.S. doesn't fully embrace successful black Muslim entertainers.
"It's unusual, but it doesn't shock me. It's a region that is seismically very active," said Jeroen Ritsema, professor of earth and environmental sciences, on the back-to-back high-magnitude earthquakes that shook Mexico in the past two weeks.
Cliff Lampe, associate professor of information, says the introduction of social media to the Caribbean hurricane relief effort has allowed for the creation of communities of support: "Reporters will track hashtags and different social media channels and that will shape the different types of events they report on."