A better helmet
The football season may have ended with Sunday's Super Bowl, but the effort to prevent sports-related head injuries continues. In this video, Ellen Arruda, professor of mechanical engineering and biomedical engineering, explains how a shock-absorbing football helmet system being developed at U-M could blunt some dangerous physics that today's head protection ignores.
Makers & Mavericks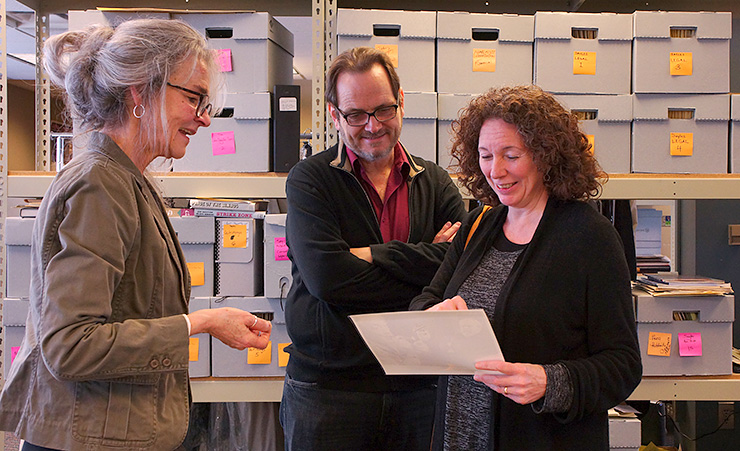 From left, Special Collections Library head archivist Kathleen Dow, Rich Guay and Nancy Savoca look over items at the Special Collections Library, where the Screen Arts Makers & Mavericks Collection is held. Savoca has announced she will donate her personal collection to the U-M library. (Photo by Mary Claire Morris, U-M Library)
Building 'Momentum'
For its major annual performance, the Department of Dance will present four new works revealing distinct visions of motion. Choreographed by guest artist Camille A. Brown and faculty members Amy Chavasse, Bill DeYoung and Peter Sparling, they focus on themes ranging from climate change and relationship dynamics, to surrealism and grief.  In this video, Jessica Fogel, professor of dance and department chair, discusses the works as students prepare for "Momentum," which runs today through Sunday.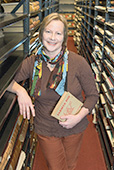 Faculty/Staff Spotlight
"I loved the books since I was young — I was fascinated by Laura's realness — real people, real family, real places. They're the reason I became a historian."
Michelle McClellan, assistant professor of history, on her enduring attraction to the books of Laura Ingalls Wilder.