Legislative visitors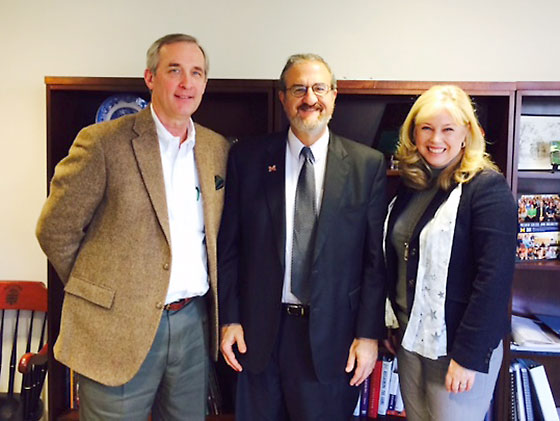 State legislative leaders met with President Mark Schlissel during a visit to the Ann Arbor campus on Monday. Rep. Michael McCready, R-Bloomfield Hills, and Sen. Tonya Schuitmaker, R-Lawton, met with the president to discuss the state budget process. They also toured the School of Dentistry. McCready chairs the House Appropriations Subcommittee on Higher Education. Schuitmaker chairs the Senate Appropriations Subcommittee on Higher Education. (Photo courtesy of the Office of the Vice President for Governmental Relations)
Game changers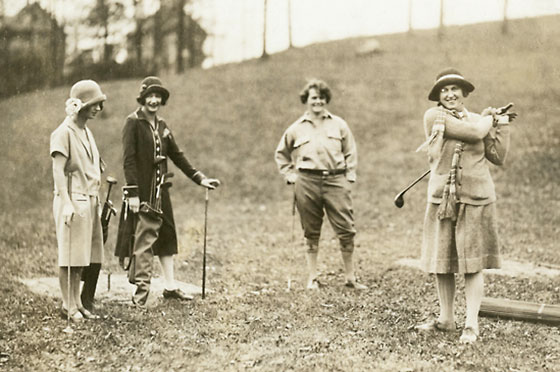 At U-M, swimming, dance, gymnastics and golf were among the earliest sports available to women students. These golfers took to the tee in 1922. Women's golf became a varsity sport in 1976. A slideshow and article at LSA Today illustrates how women have been been taking part in athletics at U-M for more than 100 years, even as they faced challenges on and off the field.
Car-bike hybrids
Not all the concept cars at the North American International Auto Show last week featured internal-combustion engines. Cameron Van Dyke, a graduate student at the Penny W. Stamps School of Art and Design, displayed two of his human-powered Future Cycles. In this video, Van Dyke shows off the vehicles that combine the weather protection and carrying capacity of a car with the low energy usage of a bicycle.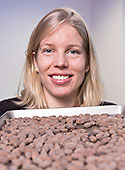 Faculty/Staff Spotlight
"It's like wine — wherever the grapes are grown, how they're grown, how they're prepared, (cacao beans) acquire different flavors." 
Julia Weinert, center manager of the Detroit Urban Research Center and part-time chocolatier.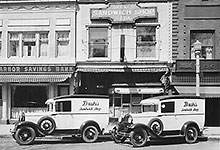 Michigan in the News
Barbara Smuts, professor emerita of psychology, was quoted in a story about unusual relationships between animals of different species.
"One of the reasons people plead guilty for a crime they have not committed is they can't make bail and have to wait in jail while waiting for trial. If they are convicted, they might get decades in prison. They plead guilty if they are offered a deal that is too good to resist," said Samuel Gross, professor of law.
Comments by Linda Lim, professor of corporate strategy and international business, were featured in an article about the strategic importance of the sovereign city-state Singapore.