Candy molds
U-M researchers working with a soft silicone to study human cells were having trouble springing the soft substance from its mold without tearing it. A solution came in the form of simple candy — a mold made of sugar that could be dipped in water and melted from around the silicone. In this video, Shuichi Takayama, professor of biomedical engineering and macromolecular science and engineering, and doctoral student Joseph Labuz, explain the process.
Health system partners
Many faculty and staff in the Medical School have asked, "Why are we partnering with other health systems?" In this video, Senior Associate Dean for Clinical Affairs Dr. David A. Spahlinger describes the drivers behind the U-M's partnership activity and highlights several key partnerships.
Turn it blue
The University of Michigan is once again turning Giving Tuesday — the national movement to kick off the giving season — into Giving Blueday on Dec. 1. This video shows how donors can help transform lives, shape the world, and make great things happen with their donation.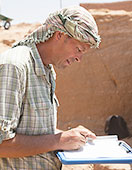 Faculty/Staff Spotlight
"I'm still inspired by the idea of bringing the past to life, of understanding past societies in all their richness."
Geoff Emberling, assistant research scientist at the Kelsey Museum of Archaeology