Spanish mortar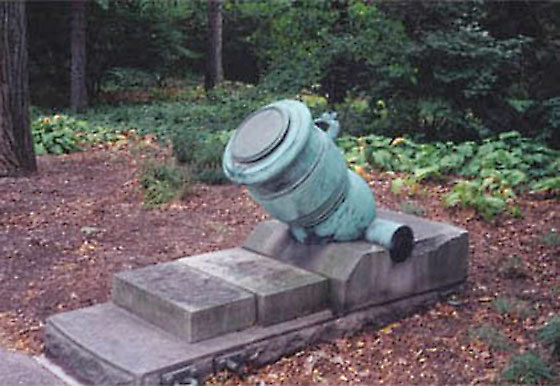 This bronze mortar, one of four captured guns given to the State of Michigan, was obtained by the Class of 1899 as a gift to the university to serve as a memorial to U-M men who fought in the Spanish-American War. It sits on the west side of Hatcher Library South. The Record periodically highlights pieces of public art at U-M. Learn more about this piece, or browse an online collection of public artworks.
Pierpont renovation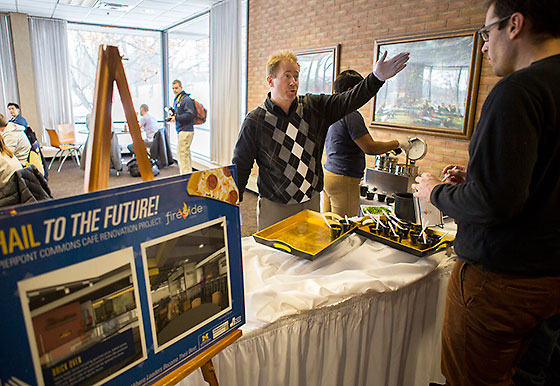 Darren Meyer, University Unions food services associate director, tells attendees about new meal options during the Pierpont Commons Cafe Renovation Kickoff event Wednesday. The project will cover approximately 10,500 gross square feet and provide a new dining experience on North Campus with more seating and study space for students, faculty and staff. (Photo by Joseph Xu, College of Engineering)
Science Learning Center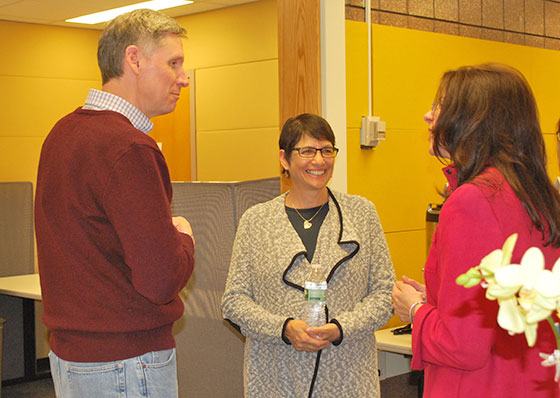 From left, Phil Deloria, LSA associate dean for undergraduate education; Claire Sandler, Science Learning Center director; and Susan Rinaldi, SLC tutoring program manager, talk at a celebration Tuesday marking the 25th anniversary of the SLC, an interdisciplinary resource center sponsored by LSA to support teaching and learning in the natural sciences. (Photo by Barb Oliver, SLC)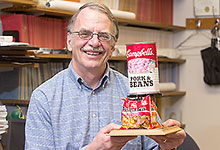 Faculty/Staff Spotlight
"In my little scheming mind, it's always important for the students to win a few more times, just enough to be incentivized."
Steve Wright, professor of civil and environmental engineering and organizer of an annual department food-collection contest.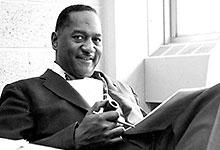 Michigan in the News
David Mayer, assistant professor of management and organizations, was quoted about companies' increasing investment in ethics and compliance initiatives.
Comments by Donald Scavia, professor of natural resources and environment and director of the Graham Sustainability Institute, were featured in an article about a new report that calls for limiting the use of fertilizer around Lake Erie to reduce the amount of phosphorous entering the water.
Jennifer Yim, director of the Global Scholars Program, and Linh Song, lecturer in social work, were interviewed for a story about ways Asian adoptees can find a balance between their American and Asian identities.