VBID goes nationwide
A health insurance concept that grew from U-M research may soon reach millions of people covered by Medicare, allowing them to keep more dollars in their wallets while getting treated for chronic diseases. In this video, A. Mark Fendrick, professor of internal medicine, and health management and policy, shares how the Value-Based Insurance Design program for improving patient care went from a discussion between two U-M physicians to a federal pilot program now expanding to all 50 states.
Active attacker preparedness
With the nation's attention focused on the school shooting in Florida, the Division of Public Safety and Security has outlined the measures U-M takes to prepare for, handle and hopefully prevent active attacker situations. Such situations can cause disbelief, panic and disorientation. This video, which includes simulated scenes of an attack, offers tips on how to react.
Free speech teach-outs
For the next several weeks, the Office of Academic Innovation will present a teach-out series focusing on free speech on college campuses, in journalism and in sports. In this video, President Mark Schlissel discusses the importance of exploring the tensions and challenges surrounding free speech in various aspects of society.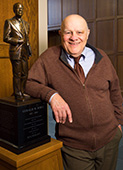 Faculty/Staff Spotlight
"Even in old cases, you can unpack its successes or failures and learn lessons about current policy."
Melvyn Levitsky, clinical professor of public policy in the Gerald R. Ford School of Public Policy, and former U.S. ambassador
Michigan in the News
"It would be great to fix the mental health problem, but usually these kinds of problems that are going on are multidimensional and it's complicated. Of course, we want to look at it and learn from it. But it's not simple...guns are an important part of this conversation," said Michelle Riba, professor of psychiatry.
"As an archaeologist, you are always feeling impatient and urgent. There is limited time, limited money, you are always concerned," said Geoff Emberling, associate research scientist at the Kelsey Museum of Archaeology, on the urgency to uncover artifacts and document what's left of the ancient Nubian civilization in Africa.
Rebecca Smith, doctoral student in architecture, was quoted in a story about the "Windsor Hum," a persistent noise of unknown origin that has bedeviled the Ontario city for years, damaging people's health and quality of life, numerous residents say.