Wolverines for Life
With about 120,000 people — slightly more than a game-day crowd at Michigan Stadium — waiting for organ transplants, the Wolverines for Life partnership is kicking off its fall campaign for organ, blood and marrow donors. This video is the cornerstone of the effort that includes a massive donor drive at Michigan Stadium on Nov. 16, and also is designed to spur participation in the annual fall donor challenges between U-M and Ohio State.
Fireproofing batteries
U-M researchers have developed an impressive new way to make the world's most popular batteries, lithium-ion, safer and more efficient. In this video, Richard Laine, professor of materials science and engineering, and macromolecular science and engineering, discusses the new method and materials that could be a game-changer in our battery-dependent destiny.
Mail order pharmacy
The Benefits Office is encouraging employees covered under the U-M prescription drug plan to use the mail order pharmacy program program, which provides free home delivery and savings of one-third on the cost of copays for 90-day supplies of many prescriptions. This video illustrates how the program works.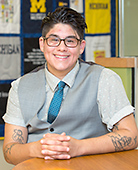 Faculty/Staff Spotlight
"I was really low on money at the time and basically got to eat for free every day, plus the skill is definitely transferrable. I'm kind of a hit of parties."
D. Alvarez, Student Life program manager for The Program on Intergroup Relations, on working as a fromager, or cheese expert.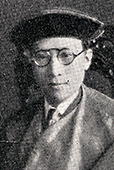 Michigan in the News
Research by Stephanie Preston, associate professor of psychology, was cited in a column about gender, stress and decision-making.
Robin Means Coleman, associate professor of communication studies, and Afroamerican and African studies, was featured in a story about the popular new show "Black-ish" and how black sitcoms since the late 1960s have handled issues of race.
Olga Shalev, doctoral candidate in materials science and engineering, and colleagues have succeeded in artificially creating smooth facetless crystals in the lab that have the potential to revolutionize everything from solar panels to LEDs.