Passenger pigeons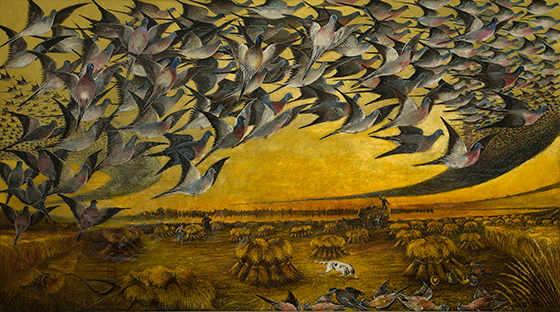 This Lewis Cross painting captures the powerful presence of an enormous flock of passenger pigeons passing through an area on a search for food. To mark the 100-year extinction of the birds, the Museum of Natural History through January 2015 is presenting an exhibit on the life and death of the passenger pigeon. (Courtesy of the Lakeshore Museum Center, Muskegon)
Agave in bloom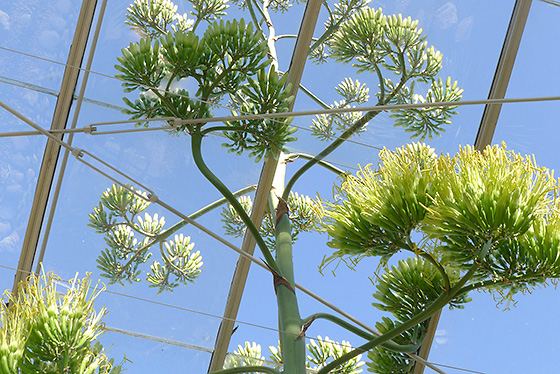 The rare blooming of the American agave plant at Matthaei Botanical Gardens is underway. The more-than-80-year-old plant, which has grown so tall that it pokes through conservatory's ceiling, will bloom and then die, but but not before leaving behind some genetically identical "pups." View an ongoing photo gallery of the agave stalk's progress, and learn more about this intriguing plant. (Photo courtesy of Matthaei Botanical Gardens & Nichols Arboretum)
Decommissioning North Hall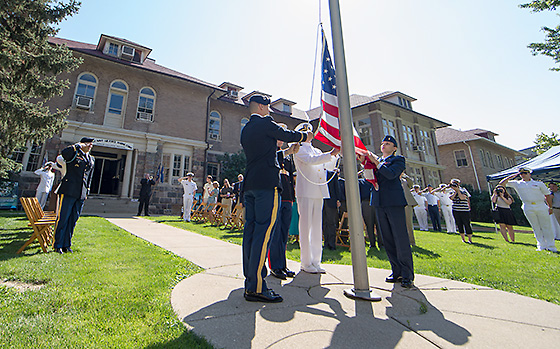 From left, Army 2nd Lt. David Hilden, Marine Sgt. Jeffrey Evans, Navy Ensign Sean Carrigan and Air Force 2nd Lt. Ashley Elliott lower and fold the American flag from in front of North Hall during a July 11 ceremony to decommission the home of the Army, Navy and Air Force Officer Education Programs, which will move to the Chemistry Building and the Ruthven Museums Building. North Hall is set to be demolished to make room for the new Biological Science Building. (Photo by Eric Bronson, Michigan Photography)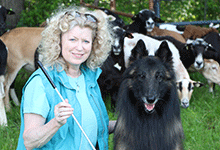 Faculty/Staff Spotlight
"People around here know me as the dog lady. If they have any dog problems, they'll come to me."
Mary Maguire Byrkit, application manager, Information and Technology Services
Michigan in the News
Research by Dr. Jacek Debiec, assistant professor of child and adolescent psychiatry, found that mothers can pass on specific fears to their days-old babies through smells.
Andy Hoffman, professor of management and organizations, and natural resources and environment, spoke about why some university researchers shy away from engaging with the public and media.
"When you survey African American and Hispanic communities, they are more likely to say, 'Spend money on environmental issues.' From a political perspective, it makes sense for environmental groups to engage low-income communities because a lot of political support sits in those communities," said Dorceta Taylor, professor of environmental sociology.