Afterhouse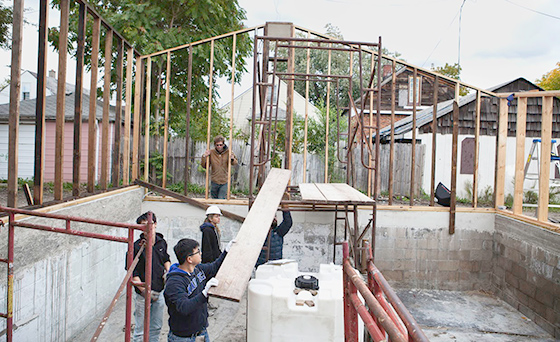 Students work in the former basement of a burned-out Detroit home that is being repurposed as a semi-subterranean, passive geothermal greenhouse that will serve the neighborhood. The basement will hold earth and be the growing area for numerous plants, come spring. Looking on is Steven Mankouche, associate professor of architecture and a leader of the project. Read more about how the Afterhouse project is bringing hope to one urban neighborhood. (Photo by Ali Lapetina)
Lighting UM-Flint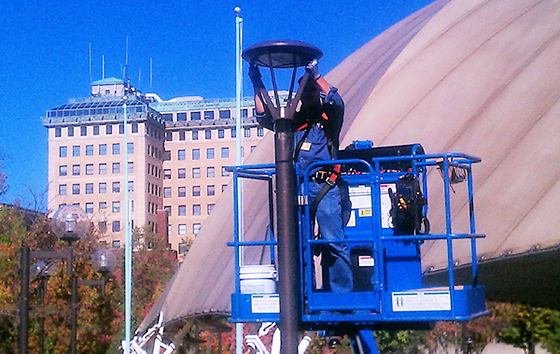 Installation of new LED lighting at UM-Flint, part of a seven-year process, is nearing completion and will improve the efficiency and brightness of lighting across campus. While the cost was about $350,000, the savings in energy use has averaged $66,012 annually, and the efforts to date have meant a reduction of 825,000 kilowatts of electricity annually. (Photo by Mel Serow, UM-Flint)
SSC open house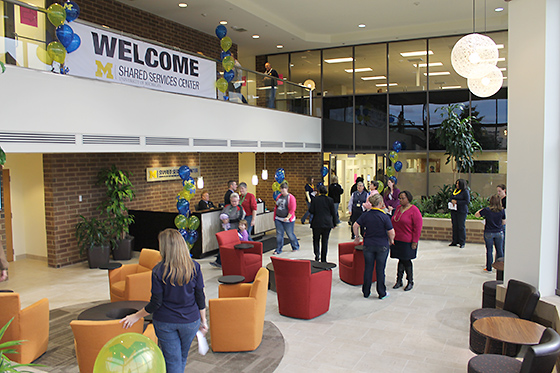 The Shared Services Center conducted an open house on Oct. 10 for campus staff, faculty, family and friends. The event included self-guided tours, an opportunity to engage with current staff, and information about the facility at 1000 Victors Way as well as the processes that it handles. (Photo courtesy of Administrative Services Transformation Project Team)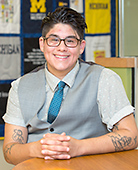 Faculty/Staff Spotlight
"I was really low on money at the time and basically got to eat for free every day, plus the skill is definitely transferrable. I'm kind of a hit of parties."
D. Alvarez, Student Life program manager for The Program on Intergroup Relations, on working as a fromager, or cheese expert.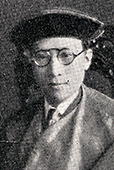 Michigan in the News
Christian Davenport, professor of political science, was interviewed for a story about Rwandan rebels in eastern Congo who want to return home 20 years after perpetrating genocide in their homeland.
Dr. Arnold Monto, professor of epidemiology, says there is a "very low probability" that passage of the infected Dallas nurse, Amber Vinson, through Ohio will lead to new cases in Cleveland or nearby Michigan.
Ella Atkins, associate professor of aerospace engineering, says so-called general aviation — unscheduled private flights — pose the most difficulty to integrating drone traffic into U.S. airspace.