President's open house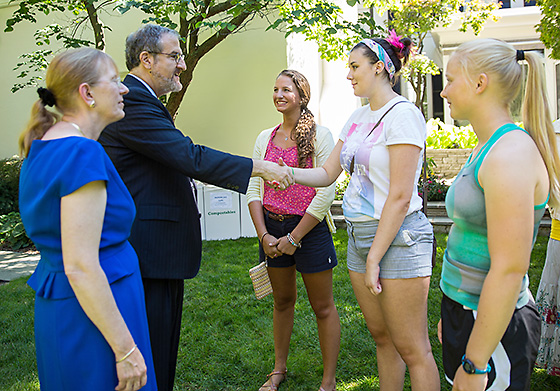 President Mark S. Schlissel and his wife, Monica Schwebs, greet Erica Lucas, Allison Powell and Jenna Roby during the new president's first open house Thursday afternoon. Schlissel carried on a presidential tradition by starting the new academic year welcoming students and parents to an ice cream social at the President's House. (Photo by Austin Thomason, Michigan Photography)
Citizenship Day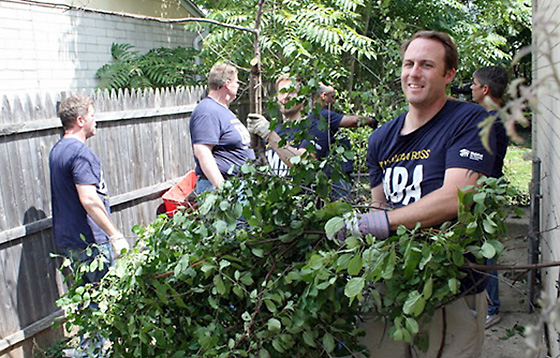 Students from the Stephen M. Ross School of Business' Executive MBA program, some who traveled across the country for their orientation, participated in Citizenship Day on Wednesday. The 105 students volunteered with Habitat for Humanity of Huron Valley, helping 17 low-moderate income families in the West Willow Neighborhood in Ypsilanti. Above, Tom Chepucavage of Los Angeles hauls brush from a yard. Also pictured are, from left, Greg Bauske, Brent Chamberlain, Mike Fairman, Saby Bandyopandhyay and John Fauster, all of Ann Arbor. (Photo courtesy of the Ross School of Business)
A common bond
Universal themes and differences in their communities connect students from the U-M School of Nursing and their counterparts at the Salokaya School of Nursing in Delhi, India. In this video, U-M students and faculty discuss how a weekly videoconference between the two schools helps foster international collaboration.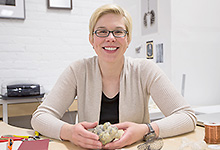 Faculty/Staff Spotlight
"I never thought I would be a teacher. I feel like everything that I thought was so separate is actually integrated."
Anne Mondro, associate professor of art and design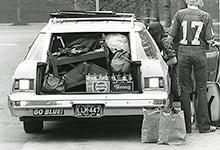 Michigan in the News
"People have all kinds of assumptions about what 'affirmative action' or 'diversity programs' mean. Unfortunately, plenty of employees think it's about hiring people who are less qualified, just because they're a member of a minority group," said David Mayer, associate professor of management and organizations.
Matthew Countryman, associate professor of history, American culture, and Afroamerican and African studies, was interviewed about riots sparked by confrontations between black residents and predominantly white police forces in Philadelphia and other U.S. cities in 1964.
"Many Twitter users value the openness of that platform so they have to be careful about this decision or they risk alienating their users," said Clifford Lampe, associate professor of information, regarding Twitter's recent decision to remove graphic images and suspend accounts that share them.