Mammoth excavation
An ancient mammoth unearthed in a farmer's field southwest of Ann Arbor last week may provide clues about the lives of early humans in the region. In this video, Daniel Fisher, Claude W. Hibbard Collegiate Professor of Paleontology and the dig's leader, explains how the site holds "excellent evidence of human activity" associated with the mammoth remains.
Fall fun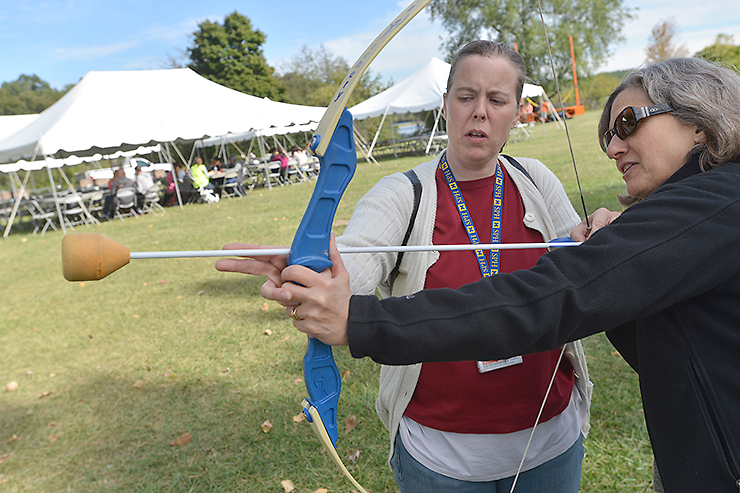 School of Public Health staff members Megan Turf, an application programmer and analyst senior, and Dina Kurz, a program manager, try their hand at archery during the SPH Fall Fest on Thursday. The event was a chance for SPH students, faculty and staff to get to know each other and share a variety of fun activities. (Photo by Peter Smith Photography)
The science of 'The Martian'
"The Martian," a film adaptation of Andy Weir's bestseller about an astronaut left behind on Mars, opens today. In this video, College of Engineering researchers Nilton Renno, professor of climate and space sciences and engineering, and Ryan Miller and Jon Van Noord, lead engineers in research at the Space Physics Research Lab, explore some of the science portrayed in the story.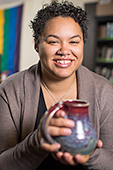 Faculty/Staff Spotlight
"I really enjoy the opportunity to not only provide that for students, but also to educate around what we could be doing better. It gives me the opportunity to provide for others what I wasn't afforded."
Tynishia Walker, on working at the Spectrum Center, where she is education and leadership program manager.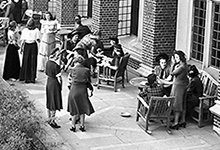 Michigan in the News
"You're working right next to somebody who is getting paid 30 percent more than you and has benefits that are worth far more than your benefits. And that doesn't make people happy," said Donald Grimes, economist at the Institute for Research on Labor, Employment and the Economy.
Omolade Adunbi, assistant professor of Afroamerican and African studies, says that the decision by Nigeria's president to both control the powerful petroleum industry and govern the oil-rich nation "is not the appropriate thing to do when the economy is in deep crisis."
"Changing how the workplace functions and breaking down the discriminatory barriers between urban and rural citizens will be incredibly difficult ... but these changes are crucial to the transformation of the Chinese economy to a more sustainable model of development," said Mary Gallagher, associate professor of political science and director of the Center for Chinese Studies.