E2Coach
E2Coach, a data-driven, personalized coaching program, is designed to improve student success in large introductory science and math courses. In this video, students and faculty discuss the program that developers say combines next generation learning analytics with the best of behavioral change theory.
Therapy dogs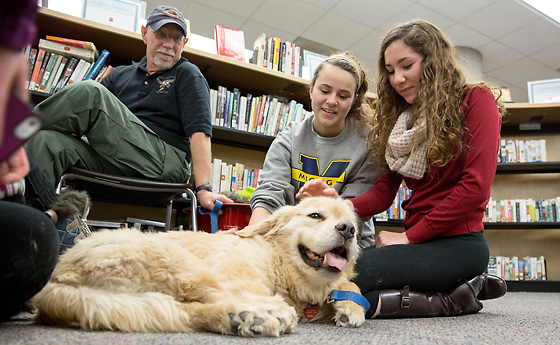 Freshmen Hannah Fetner, right, and Anna Fowler play with Grizzly Bear, a golden retriever therapy dog, as owner Skip Davis look on. Students, faculty and staff had a chance to shake off end-of-semester stress with the dogs Wednesday at the Shapiro Undergraduate Library. Therapaws of Michigan will have dogs at the library's first floor Browsing Collection again from 5-7 p.m. today and from 1-4 p.m. Friday. (Photo by Eric Bronson, Michigan Photography)
'Rotations'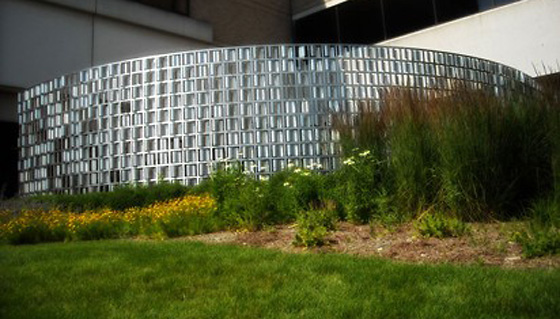 Commissioned by the U-M Health System to honor members of the transplant team who died in June 2007 while on a life-saving mission, the stainless steel sculpture "Rotations," by Douglas Hollis, is located in the courtyard near the main entrance to University Hospital. The Record periodically highlights pieces of public art at U-M. Learn more about this piece, or browse an online collection of public artworks.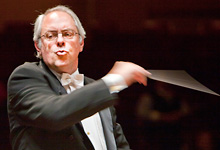 Faculty/Staff Spotlight
 "Learning is ongoing and limitless as long as one is willing to grow and challenge one's self."
Michael Haithcock, director of bands and professor of conducting, on what inspires him.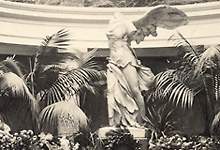 Michigan in the News
Noel Tichy, professor of organizational behavior and human resource management, discussed the CEO succession plans at Ford Motor Co. for a story comparing that automaker's process with General Motors'.
Nadine Sarter, professor of industrial and operations engineering, spoke about the pilots' mistaken reliance on autopilot to maintain air speed during the crash of an Asiana Airlines flight last July.
Comments by Richard Curtin, director of the Surveys of Consumers at the Institute for Social Research, were featured in an article about small businesses and the problems posed by raising the minimum wage.