Raise the ruff
Meet Denver and Anna, U-M's first full-time hospital dogs. They come to work every day just like any other full-time employee, and their role is just as important. In this video, Denver "describes" being part of the existing animal therapy team — which currently includes 28 volunteer dogs and their owners that visit various U-M Health System facilities.
Problem solving: Recognizing cognitive difference
Scott E. Page, Leonid Hurwicz Collegiate Professor of Complex Systems, Political Science and Economics, discusses the link between identity diversity and cognitive difference in creating a more diverse, inclusive and equitable university. This video is part of a series — presented periodically throughout the summer — designed to engage the campus community in the Diversity, Equity and Inclusion initiative President Mark Schlissel announced in November 2015. View the full series on the Diversity, Equity and Inclusion playlist.
Development internship showcase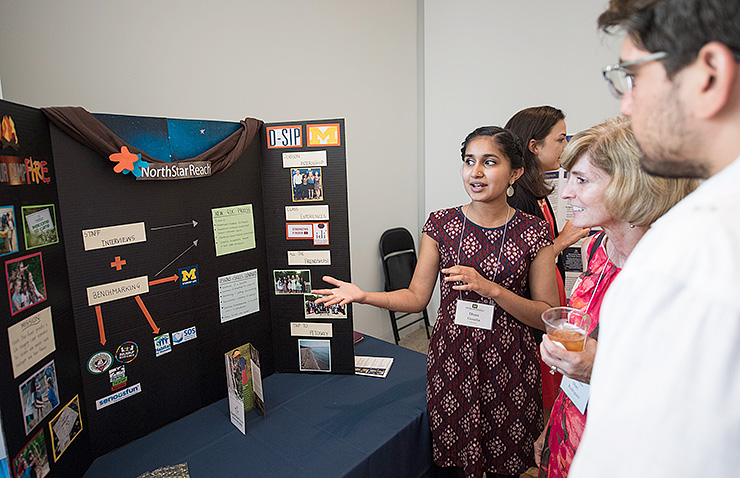 Dhara Gosalia, a junior at the Stephen M. Ross School of Business, was one of 26 interns in the 10th anniversary class of the Development Summer Internship Program in the Office of University Development. She presented her fundraising project at the annual D-SIP showcase conducted at the U-M Museum of Art on Aug. 5. Each intern works on their project in a different school, college or unit and earns credit for a course in philanthropy. (Photo by Austin Thomason, Michigan Photography)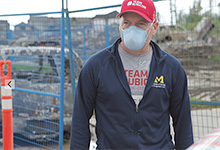 Faculty/Staff Spotlight
"You're hoping to find precious things the families wanted to keep, like a photograph anything that could endure that heat."
UMHS registered nurse Kevin Leeser, on searching through the rubble of a wildfire that stuck Fort McMurray in Alberta, Canada.