Trotter Center open house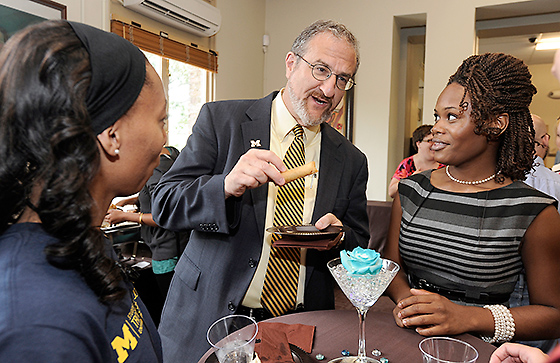 President Mark S. Schlissel enjoys a snack while chatting with U-M students Alexis Lowe (left) and Charisma Hoskins on Thursday during an open house marking the completion of infrastructure improvements and other renovations at the Trotter Multicultural Center. Students have underscored the importance of increasing the center's  functionality during meetings with university officials related to issues of diversity and improving the climate on the Ann Arbor campus. (Photo by Lon Horwedel, Michigan Photography)
Martian water
In chambers that mimic Mars' conditions, Michigan Engineering researchers have shown how small amounts of liquid water could form on the planet despite its below-freezing temperatures. This video explores how researchers found that a type of salt present in Martian soil can readily melt ice it touches – just like salts do on Earth's slippery winter walkways and roads.
FestiFall workout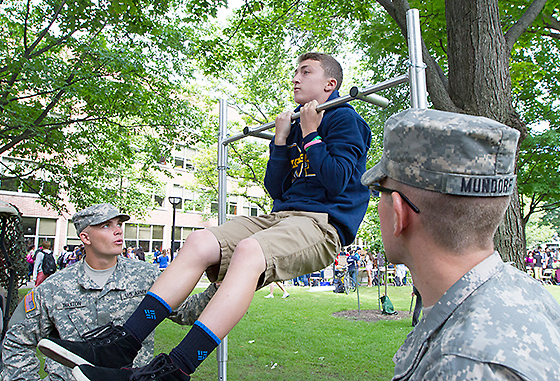 Nicholas Klein does chin-ups as Army ROTC cadets Mason Thaxton (left) and Alexander Mundorf look on during Tuesday's FestiFall Student Information Fair. A wide variety of organizations had booths and provided information for students who converged on the Central Campus Diag. A similar event, GoNorth! Fest, will be Thursday from 11 a.m.-3 p.m. on the North Campus Diag. (Photo by Daryl Marshke, Michigan Photography)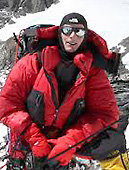 Faculty/Staff Spotlight
"I've always been outdoorsy and adventurous, but Everest was never an explicit goal. It was just the next mountain."
Scott DeRue, professor of management in the Stephen M. Ross School of Business, director of the Ross Leadership Initiative and the faculty director of Ross' Emerging Leaders Program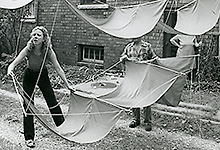 Michigan in the News
Dr. Kelvin Chou, associate professor of neurology and neurosurgery, was quoted in a story about Google's purchase of Lift Labs, which makes a high-tech spoon designed to make it easier for people with neurodegenerative tremors to eat.
"If we look at the greenhouse gas emissions associated with that food waste, it is equivalent to adding an additional 33 million average passenger vehicles to our roads every year," said Martin Heller, research specialist at the Center for Sustainable Systems.
A new report by policy analyst Rachel Hampton and Barry Rabe, professor of public policy and director of the Center for Local, State, and Urban Policy, found that state taxes on thousands of new oil and gas wells have remained the same or even fallen during the past decade.