Neurable
Neurable's brain wave interpretation system allows for uniquely precise and flexible control of devices such as toys, cars, wheelchairs, TVs and video games. In this video, company founder Ramses Alcaide and lead engineer James Hamet explain how the system uses a cap that sends brain activity to a computer, and how U-M's entrepreneurial community helped get it going. 
Early Detroit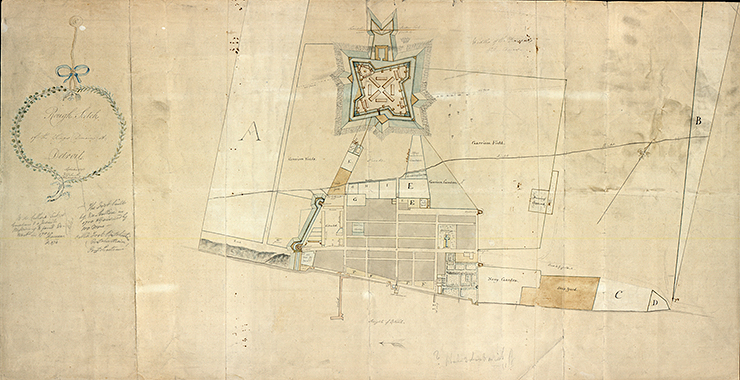 "Rough sketch of the King's Domain at Detroit," a 1790 manuscript plan of the city of Detroit, was discovered in a family home in Almonte, Ontario. The map was acquired by the William L. Clements Library and will be the focus of a forthcoming exhibition in 2017. (Image courtesy of the William L. Clements Library)
Wringing power from water
Vortex Hydro Energy, an energy startup founded by Michael Bernitsas, the Mortimer E. Cooley Collegiate Professor of Naval Architecture and Marine Engineering, recently tested the first commercial-scale prototype of its VIVACE device in the St. Clair River in Michigan. This video illustrates the potential for VIVACE to generate electricity from slow-moving river and ocean currents in a way that may someday rewrite the rules of hydroelectric power.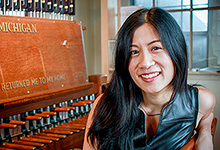 Faculty/Staff Spotlight
"I wanted the keys to the tower and the opportunity to play music that blanketed the whole campus."
Tiffany Ng, university carillonist at Burton Tower and assistant professor of music, on what attracted her to the carillon as freshman at Yale.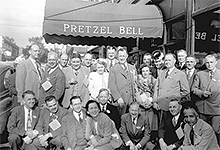 Michigan in the News
"(Clinton's) raising of numerous hypotheses about why Trump was not releasing his tax returns was brilliant stagecraft. By raising the ideas as questions, rather than making assertions, the presentation can set the stage for days of questioning about the topic," said Arthur Lupia, professor of political science and research professor at the Center for Political Studies.
A new study by Suzanna Zick, research associate professor of family medicine and environmental health sciences, found that self-administered acupressure reduces the burdensome fatigue often experienced by breast cancer survivors after treatment is completed.
Teenagers' exercise habits may be easier to solidify if parents start teaching them about fitness long before kids reach high school, said Dr. Venkatesh Murthy, assistant professor of internal medicine and radiology.