Cool Project in Cuba
The Erb Institute's effort to promote sustainability through the power of business includes a program called "Cool Projects." In this video, dual master's degree student Nick Barret explains how the program allowed him to travel to Cuba to learn more about how that country's renewable energy future might lie in the development of biomass power generation using sugarcane as a fuel source.
Straw bale house
Twenty-two U-M undergraduates, led by Joe Trumpey, associate professor of art, of natural resources, and of environment, used 200 bales of straw and some mud to build U-M's first off-the-grid structure. Poised on a hilltop overlooking Douglas Lake at the U-M Biological Station, it is the university's first foray into straw bale building, and the first student-built structure in more than 100 years. In this video, Trumpey describes how it came to be.
Celebrating the staff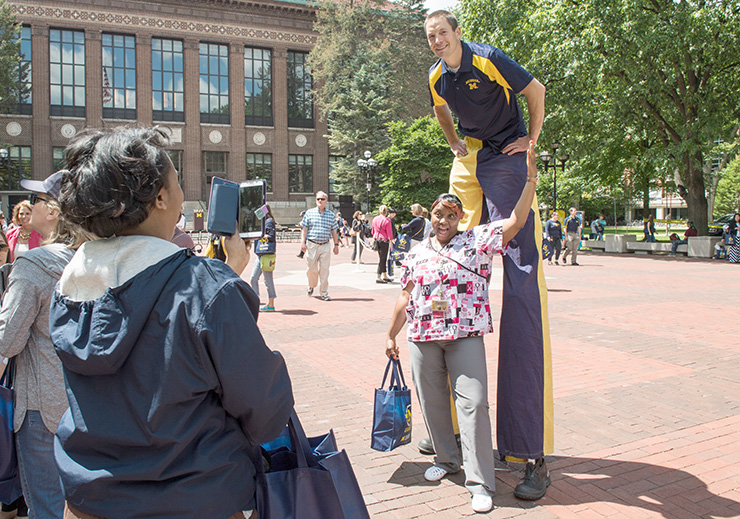 Keysha Jefferson, a medical assistant specialist lead with Michigan Medicine, has her photo taken with Neil Sauter, "The Michigan Stiltwalker," during MSTAFF200. The daylong event Tuesday honored 200 years of contributions by university staff members, with a series of displays, music, food and fun on the Diag and Ingalls Mall. Click here for highlights of the celebration, including a gallery of images, to learn about public art coming this fall that honors staff, and watch a video about the "Bicentennial Blocks" that were given as mementos. (Photo by Austin Thomason, Michigan Photography)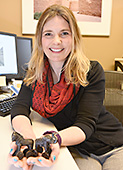 Faculty/Staff Spotlight
"I have learned, and am still learning, to be sensitive to cultures and backgrounds, especially during times like these."
Sofia Carlsson, academic adviser, International Institute