Humanities residency
New York artist Mary Mattingly is the Kidder Resident in the Arts at the Institute for the Humanities. This video explores her work during the residency, including engaging with students, creating an object burial on the Diag, and creating a new gallery installation around environmental concerns and the use of cobalt.
Virtual world for sick kids
Sick kids will get to visit the Big House without leaving their rooms at C.S. Mott Children's Hospital. They may also hang out with dinosaurs, ride roller coasters or even visit the moon. These are just some of the types of experiences made possible by the new Harbaugh Fund, which will support activities led by the hospital's Child and Family Life team. First on the list: Virtual reality viewers for every young patient. This video shows how the viewers work using a smartphone and virtual reality apps.
Thanks for giving
The university conducted its third annual Giving Blueday, a universitywide day of giving, on Tuesday and raised $5,541,901 from 7,364 donors in 24 hours. In this video, some of the beneficiaries of those gifts offer their thanks.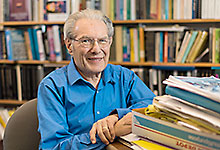 Faculty/Staff Spotlight
"Science is too exciting, and there are so many questions to explore that have critical impact on peoples' lives."
Raoul Kopeman, Richard Smalley Distinguished University Professor of Chemistry, Physics and Applied Physics, professor of biomedical engineering and professor of biophysics, when asked about retirement.