A tribute to Mary Sue Coleman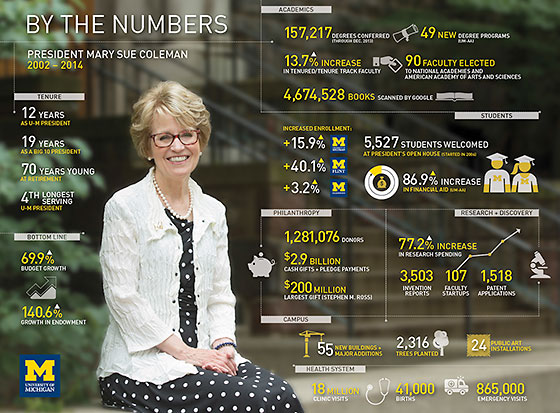 Today's University Record is a special edition honoring Mary Sue Coleman's 12 years as U-M's 13th president. It includes this graphic presentation indicating some of the ways the university has changed during her tenure. View a larger, PDF version of the illustration. (Graphic by Jeff Knudson, Michigan Creative)
Spanish mortar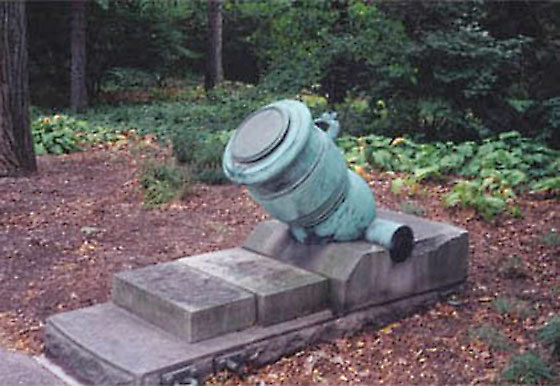 This bronze mortar, one of four captured guns given to the State of Michigan, was obtained by the Class of 1899 as a gift to the university to serve as a memorial to U-M men who fought in the Spanish-American War. It sits on the west side of Hatcher Library South. The Record periodically highlights pieces of public art at U-M. Learn more about this piece, or browse an online collection of public artworks.
Pierpont renovation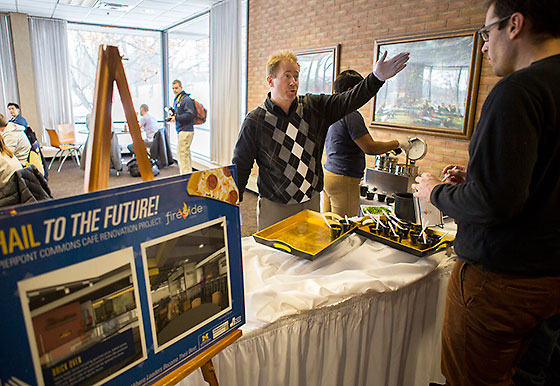 Darren Meyer, University Unions food services associate director, tells attendees about new meal options during the Pierpont Commons Cafe Renovation Kickoff event Wednesday. The project will cover approximately 10,500 gross square feet and provide a new dining experience on North Campus with more seating and study space for students, faculty and staff. (Photo by Joseph Xu, College of Engineering)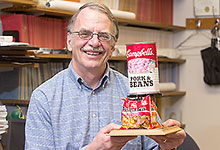 Faculty/Staff Spotlight
"In my little scheming mind, it's always important for the students to win a few more times, just enough to be incentivized."
Steve Wright, professor of civil and environmental engineering and organizer of an annual department food-collection contest.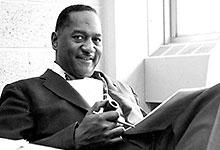 Michigan in the News
Mercedes Pascual, professor of ecology and evolutionary biology, was quoted about her research suggesting climate change will cause mosquitoes to move into previously bug-free, high-altitude territory, bringing malaria with them.
"All told, I'm mildly more optimistic about the recovery after this jobs report. Seems to suggest a continuing rather than stalling recovery. I'm expecting a big payrolls jump in March," said Justin Wolfers, professor of economics and public policy, regarding a better-than-expected February jobs report.
Adam Pritchard, professor of law, was interviewed about a potential compromise by the U.S. Supreme Court that would give publicly traded companies better defenses against securities class actions without overruling a 26-year-old precedent that made it easier for plaintiffs to negotiate large settlements.