Campus Farm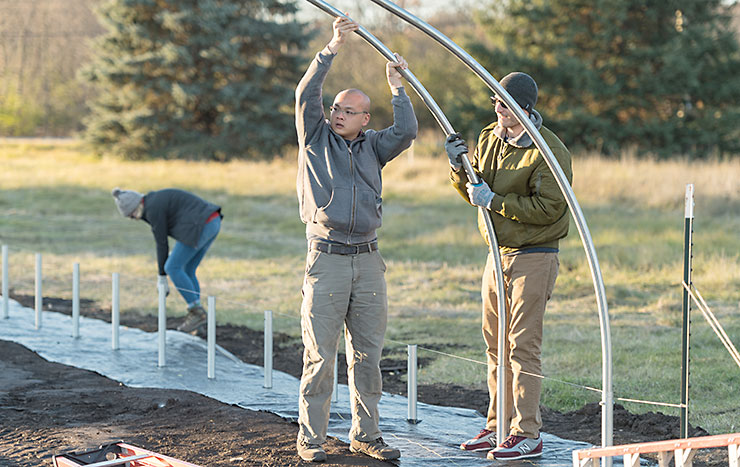 Campus Farm volunteers work to build a hoop house at the farm at Matthaei Botanical Gardens. The hoop house extends the growing season on both ends and will allow more students to engage with the farm during the academic year. (Photo by Scott C. Soderberg, Michigan Photography)
Horowitz's Steinway
Students and faculty at the School of Music, Theatre & Dance recently had the extraordinary opportunity of performing on the Steinway piano that was the personal instrument of the 20th century's premier pianist, Vladimir Horowitz. In this video, Christopher Harding, associate professor of music, and Robert Grijalva, assistant professor of music, discuss the instrument's significance.
Leadership Crisis Challenge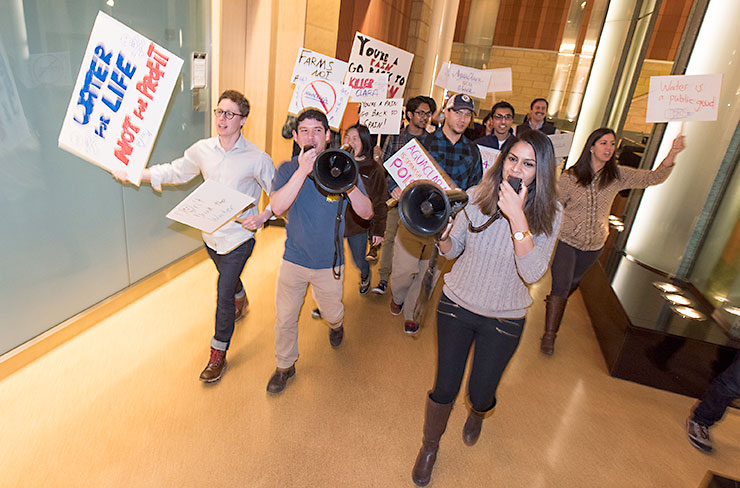 Students playing the role of angry citizens "protest" a fictional water-contamination crisis as part of the 2017 Leadership Crisis Challenge, a 24-hour simulation in which U-M students tackle an ever-changing crisis situation. Read more about the graduate student challenge, which took place last week and was organized by the Sanger Leadership Center at the Stephen M. Ross School of Business. The undergraduate challenge will be March 23-24. (Photo by Lon Horwedel)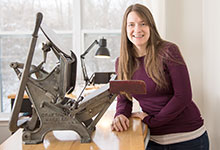 Faculty/Staff Spotlight
"I enjoy work that involves a lot of process. My job at UMMA and my studio work both appeal to that aspect of my personality. I can spend a lot of time being meticulous, detail oriented, and focused on one thing."
Kate Holoka, collections and exhibitions technician at the U-M Museum of Art, who has created a home studio with a printing press of her own.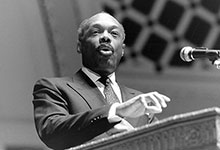 Michigan in the News
Research by Jowie Chen, associate professor of political science, shows that the unintentional self-gerrymandering of Democrats — densely packed in major cities — is arguably a bigger handicap than Republicans' intentional gerrymandering.
Richard Rood, professor of climate and space sciences and engineering, and natural resources and environment, was quoted in an article about the global heat record set for the third year in a row in 2016.
A story on keeping slightly sick children home from school or day care featured Gary Freed, professor of pediatrics and communicable diseases and health management and policy, and Andrew Hashikawa, assistant professor of emergency medicine and pediatrics and communicable diseases.