Soccer surgeon
There's a World Cup for soccer-playing physicians, and U-M surgeon Dr. David Machado-Aranda will play defense for the U.S. as 18 countries compete in the 2015 World Medical Football Championships through July 4. In this video, he talks about the association and the benefits of playing in the championships.
New Leadership Academy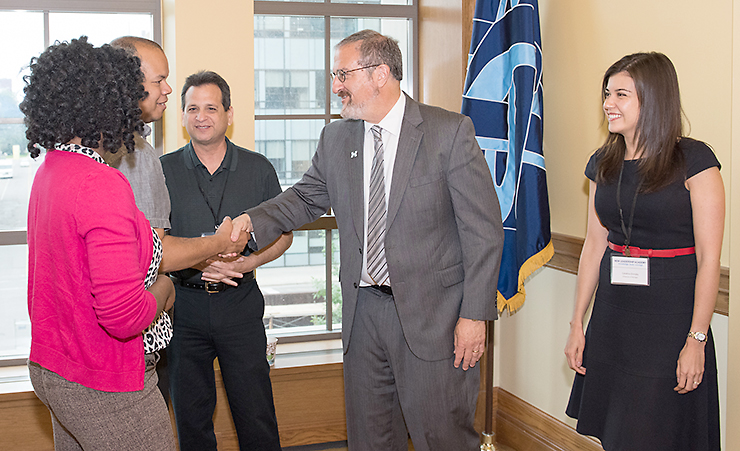 President Mark Schlissel greets Nelson Soto of Union Institute & University, a member of the 2015 New Leadership Academy cohort of 20 fellows. The National Center for Institutional Diversity hosted a retreat Thursday during which Schlissel and the fellows shared a candid conversation about the challenges, opportunities and rewards of leading U-M. Other fellows, from left, are Sarah Anthony of the Michigan College Access Network, Omar Lopez of Texas State University, and Catalina Ormsby, associate director of U-M's Undergraduate Research Opportunity Program. (Photo by Scott C. Soderberg, Michigan Photography)
MOOCs at Michigan
In this video, administrators, researchers and faculty members discuss massive open online courses at U-M and how they fit into the university's education mission.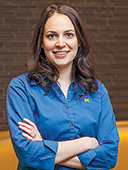 Faculty/Staff Spotlight
"I have always been obsessed with food and cooking, and fell in love with the power of nutrition on health."
Lindsay Haas, registered dietitian and nutrition support specialist with Michigan Dining.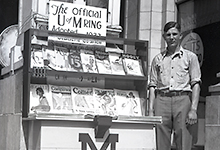 Michigan in the News
Sile O'Modhrain, associate professor of performing arts technology, and Brent Gillespie, associate professor of mechanical engineering, have developed the most-advanced prototype of a tablet computer for blind people.
Comments by Alexander Knysh, professor of Islamic studies, were featured in an article about a ninth-century Muslim mystic poet cited by Pope Francis in his encyclical on climate change.
Robert Mickey, associate professor of political science, was quoted in a story about the tumultuous past of the historic African-American church in Charleston, S.C., that was the site of a recent mass shooting of nine parishioners.