Moving targets
A traveling exhibit currently at the Dana Building commemorates the 100th anniversary of the extinction of the passenger pigeon, which once filled the skies over North America. In this video, Sara Adlerstein-Gonzalez, research scientist in the School of Natural Resources and Environment, discusses the exhibit and the once-abundant bird it honors.
Trotter Center open house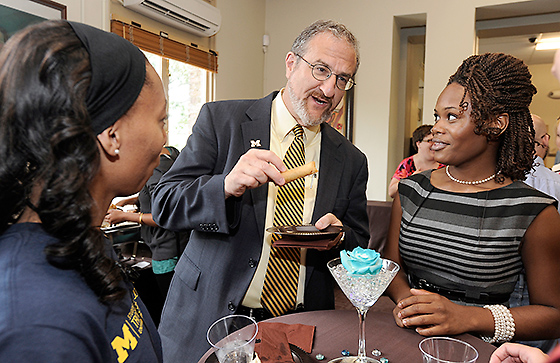 President Mark S. Schlissel enjoys a snack while chatting with U-M students Alexis Lowe (left) and Charisma Hoskins on Thursday during an open house marking the completion of infrastructure improvements and other renovations at the Trotter Multicultural Center. Students have underscored the importance of increasing the center's  functionality during meetings with university officials related to issues of diversity and improving the climate on the Ann Arbor campus. (Photo by Lon Horwedel, Michigan Photography)
Martian water
In chambers that mimic Mars' conditions, Michigan Engineering researchers have shown how small amounts of liquid water could form on the planet despite its below-freezing temperatures. This video explores how researchers found that a type of salt present in Martian soil can readily melt ice it touches – just like salts do on Earth's slippery winter walkways and roads.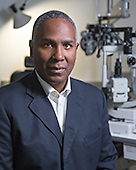 Faculty/Staff Spotlight
"I've always had interest in helping the people of Jamaica, and now with the university associated with it, it enables me to even further that goal."
Dr. Joseph Myers, optometrist with University Health Service and co-founder of the Eye Health Institute.