STEM support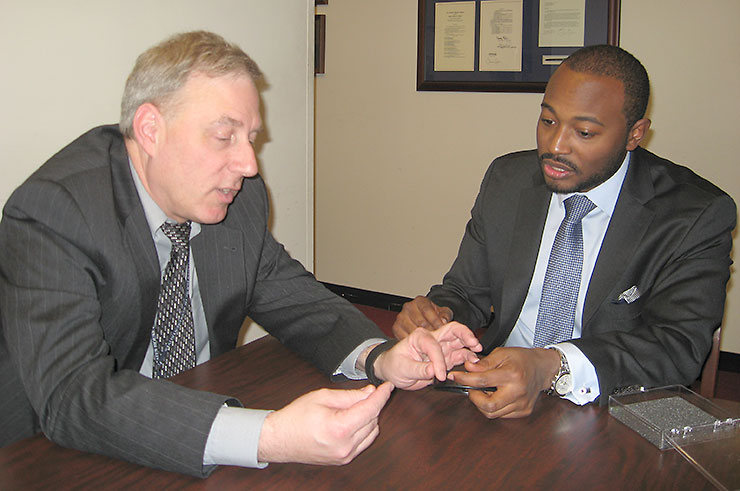 Iverson Bell (right), a dotoral student in electrical engineering, talks with Dan Jourdan, legislative director for Rep. Sander Levin, D-Royal Oak, about wire that could be used to power micro-satellite propulsion. Representatives of the Michigan Space Grant Consortium — part of a national NASA-funded program aimed at increasing the number of students pursuing careers in science, technology, engineering and math — were in Washington, D.C., recently to urge support. U-M manages the Space Grant program in Michigan. (Photo by Mike Waring, Washington Office)
Golden Apple Award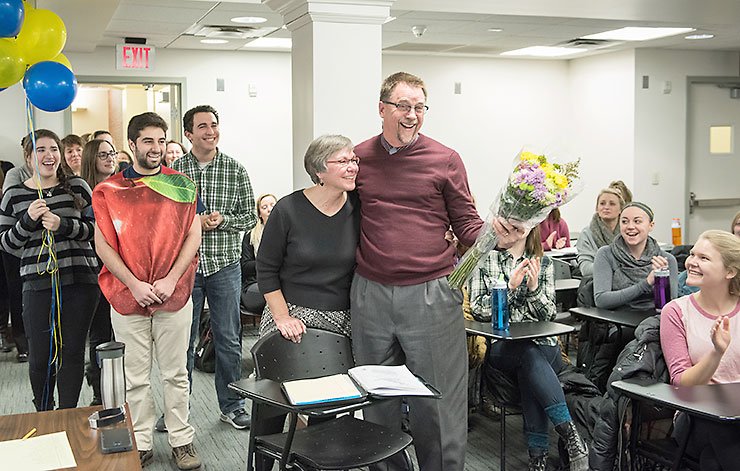 Stephen Strobbe, clinical associate professor of nursing, is joined by his wife, Lynn, as he accepts the 2015 Golden Apple Award, which was presented at a surprise ceremony during his Wednesday morning class. The Golden Apple is the only student-selected teaching award on campus. (Photo by Scott C. Soderberg, Michigan Photography)
Taste of Asia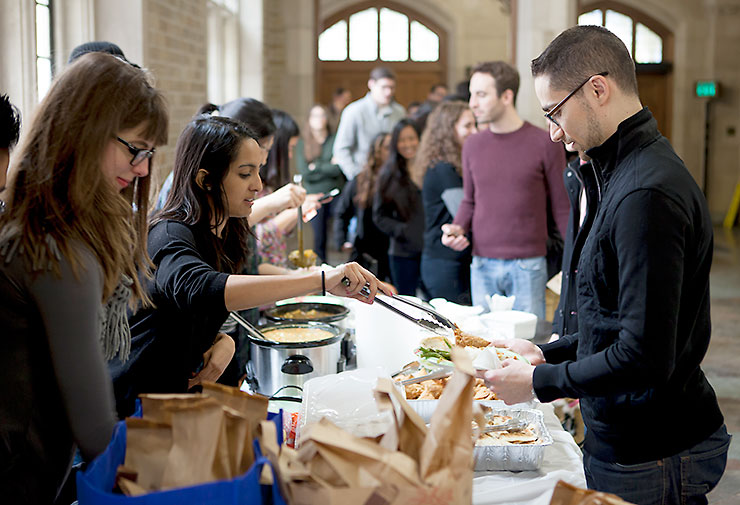 Elizabeth Murphy and Meera Bhaskar dish out food to a fellow law student at the first-ever Taste of Asia lunch, hosted recently by the Asian Pacific American Law Students Association. View a gallery of images from the event. (Photo by Luna Archey)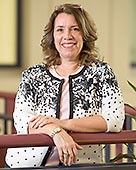 Faculty/Staff Spotlight
"I believe that you can learn something from every single person on this earth."
Sheri Circele, student administrative assistant associate in the Department of Psychology, and co-founder of the Bountiful Harvest Food Pantry.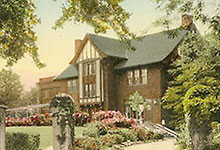 Michigan in the News
Philip Veliz, assistant research professor at the Institute for Research on Women & Gender, was interviewed about his research on the link between adolescent drug use and participation in high-contact sports like football and wrestling.
Sonja Starr, professor of law, was quoted in an article about the use of questionnaires given to prisoners by the nation's court systems to try to predict the likelihood that an offender will commit a crime again.
Black History Month "helps ensure that understandings of the black past extend beyond ivy-covered towers and into the lives of students, teachers and the world," writes Martha Jones, associate professor of history, and Afroamerican and African studies.