Faculty awards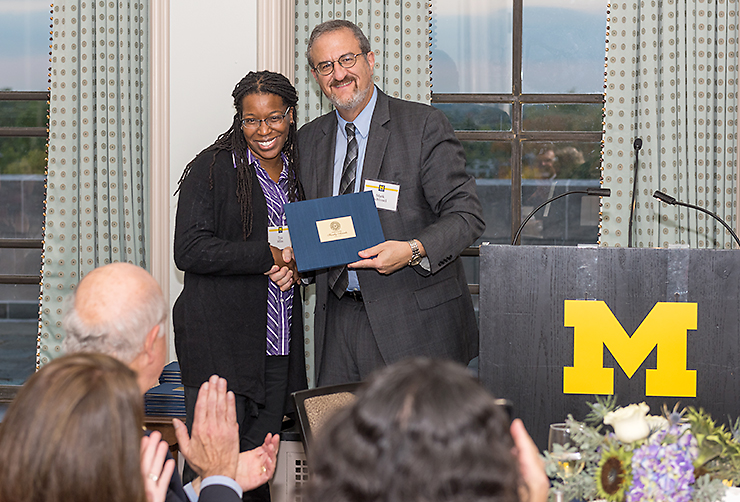 President Mark Schlissel congratulates Tiya Miles, professor of Afroamerican and African studies, American culture, history and women's studies, on being named the Mary Henrietta Graham Distinguished University Professor of African American Women's History during Monday's faculty awards ceremony. Miles was among 30 faculty members honored for their teaching, scholarship, service and creative activities. (Photo by Daryl Marshke, Michigan Photography)
Identifying nature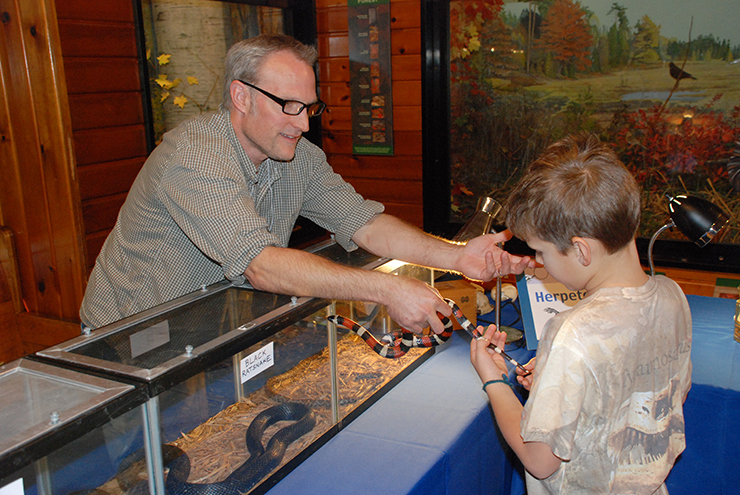 Brian Cressman, a volunteer at the Museum of Natural History, shares information about a Mexican milk snake with a young visitor to the museum's annual ID Day on Sunday. The snake was among the collections on display for the event, to which visitors also brought their own natural objects to be reviewed and identified by U-M faculty, students and other experts. (Photo by Dale Austin)
Mammoth excavation
An ancient mammoth unearthed in a farmer's field southwest of Ann Arbor last week may provide clues about the lives of early humans in the region. In this video, Daniel Fisher, Claude W. Hibbard Collegiate Professor of Paleontology and the dig's leader, explains how the site holds "excellent evidence of human activity" associated with the mammoth remains.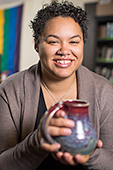 Faculty/Staff Spotlight
"I really enjoy the opportunity to not only provide that for students, but also to educate around what we could be doing better. It gives me the opportunity to provide for others what I wasn't afforded."
Tynishia Walker, on working at the Spectrum Center, where she is education and leadership program manager.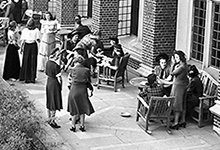 Michigan in the News
A story about how universities protect intellectual property and commercialize research featured comments by Ken Nisbet, associate vice president for research-technology transfer; Shorya Awtar, associate professor of mechanical engineering; and Dr. James Geiger, professor of surgery.
Dr. Hera Kim-Berman, program director for graduate orthodontics and clinical assistant professor of orthodontics and pediatric dentistry, was quoted in a story about why more adults are getting braces.
"We need legislative action that will establish a clear foundation for the future of the country's Internet. It's time for Congress to fulfill their duties and make lasting rules to protect American innovation by legislating an Open Internet," wrote Amanda Lotz, associate professor of communication studies, in an op-ed piece.