Winter Commencement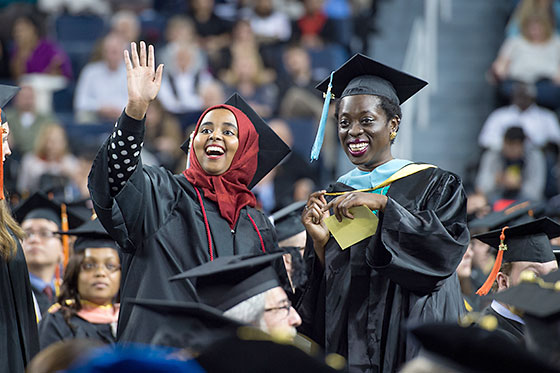 Graduates Aisha Jama (left) and Angela Abiodun wave from the floor of Crisler Center during the Winter Commencement ceremony Dec. 14. (Photo by Eric Bronson, Michigan Photography)
The year in pictures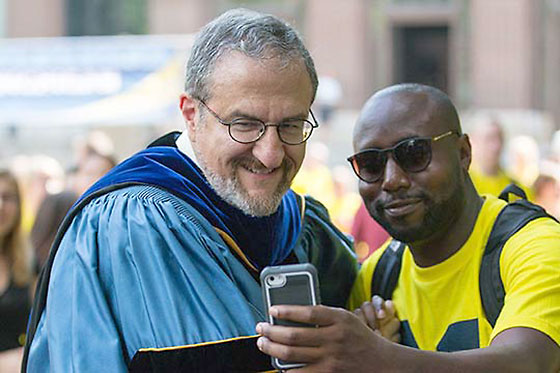 President Mark Schlissel stops for a selfie en route to his Sept. 5 inauguration at Hill Auditorium. Schlissel's appointment as the university's 14th president and President Emerita Mary Sue Coleman's retirement are among the memorable U-M stories from 2014 represented in a slideshow in the current issue of Michigan Today. (Photo by Eric Bronson, Michigan Photography)
Michigan Research Studio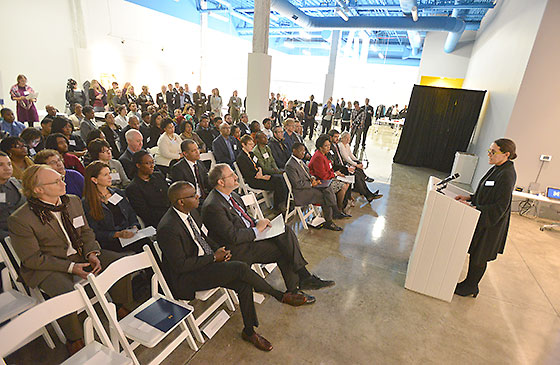 Monica Ponce de Leon, dean of the Taubman College of Architecture and Urban Planning, speaks to a crowd gathered Tuesday to celebrate the opening of the college's Michigan Research Studio in Detroit. The space will house the Michigan Architecture Prep program, which will work with Detroit Public Schools to increase underrepresented minority participation in the field of architecture. (Photo by Peter Smith Photography)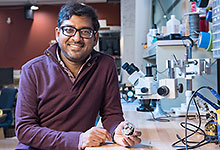 Faculty/Staff Spotlight
"Knowing how energy is used in an environment allows you to make better decisions about what to invest in."
Prabal Dutta, assistant professor of electrical engineering and computer science, whose work with small-scale technology earned him a spot on Popular Science's 2014 Brilliant Ten list.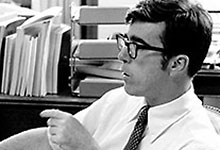 Michigan in the News
Dr. John Ayanian, director of the Institute for Healthcare Policy and Innovation, and colleagues found that elderly black Medicare enrollees are substantially less likely than their white counterparts to have adequate control of their blood pressure, cholesterol and blood sugar.
Alison Davis-Blake, dean of the Stephen M. Ross School of Business; Gretchen Spreitzer, professor of management and organizations; and Cindy K. Soo, assistant professor of finance; Wally Hopp, senior associate dean for faculty and research; and doctoral students Christina Zafeiridou and Cassandra R. Aceves, were interviewed for a story about the school's efforts to increase the number of women faculty and doctoral students.
"If we stop emitting (carbon dioxide) today, it's not the end of the story for global warming. There's a delay in temperature increase as the climate catches up with all the carbon that's in the atmosphere," said Richard Rood, professor of atmospheric, oceanic and space sciences, and natural resources and environment.