Straw-bale building
What can a house made of straw bales teach us about sustainability? A U-M class recently completed one — Ann Arbor's first student-built, off-the-grid structure on campus — to bring awareness to natural building, local food and sustainable living. In this video, Jeremy Moghtader, Campus Farm program manager, and Joe Trumpey, associate professor of art, natural resources, and environment, whose Green Building class built the structure, discuss its benefits and learning opportunities.
Third Century Initiative's impact
U-M's Third Century Initiative has changed the university's culture around engaged learning, a comprehensive report shows. This video explores the impact of the $50 million project to transform teaching and scholarship at the university.
Driverless ride
The Mcity Driverless Shuttle, a research project at U-M, launched Monday on North Campus. The shuttle will run on 9 a.m.-3 p.m. Monday-Friday, weather permitting. There is no cost to riders, and the two shuttles will cover a one-mile route at the North Campus Research Complex roughly every 10 minutes.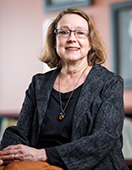 Faculty/Staff Spotlight
"I was always taken by the difficulty in describing the powerful effect of background music and how it enhances your experience of a film."
Caryl Flinn, professor of screen arts an cultures, and women's studies, LSA
Michigan in the News
"Even when the sexual harassment entails nothing but sexist insult without any unwanted sexual pursuit, it takes a toll. It's about pushing women out," said Lilia Cortina, professor of psychology and women's studies, who served on a national committee that authored a report on sexual harassment in higher education.
Daniel Cooper, assistant professor of mechanical engineering, believes the U.S. can slash steel and aluminum imports, not by imposing duties but by boosting the reuse and recycling of old metal products: "Making far more of the nation's discarded steel and aluminum scrap as good as new would have many advantages aside from its diplomatic dividends, such as cutting pollution and energy consumption."
Richard Teague, a research fellow in astronomy, and colleagues discovered three infant planets orbiting a young star 330 light-years from Earth — the first planets to be found using the powerful ALMA telescope in Chile, which is searching for our cosmic origins.