X-HALE
The X-HALE is a very flexible, long-winged aircraft designed and built by Carlos Cesnik, professor of aerospace engineering. In this video, Cesnik explains how the longer wings could cut aircraft emissions by 10 percent, due to reduced drag, decreasing the cost of flying.
VBID goes nationwide
A health insurance concept that grew from U-M research may soon reach millions of people covered by Medicare, allowing them to keep more dollars in their wallets while getting treated for chronic diseases. In this video, A. Mark Fendrick, professor of internal medicine, and health management and policy, shares how the Value-Based Insurance Design program for improving patient care went from a discussion between two U-M physicians to a federal pilot program now expanding to all 50 states.
Active attacker preparedness
With the nation's attention focused on the school shooting in Florida, the Division of Public Safety and Security has outlined the measures U-M takes to prepare for, handle and hopefully prevent active attacker situations. Such situations can cause disbelief, panic and disorientation. This video, which includes simulated scenes of an attack, offers tips on how to react.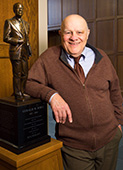 Faculty/Staff Spotlight
"Even in old cases, you can unpack its successes or failures and learn lessons about current policy."
Melvyn Levitsky, clinical professor of public policy in the Gerald R. Ford School of Public Policy, and former U.S. ambassador
Michigan in the News
Rose Cory, associate professor of earth and environmental sciences, and environment, and George Kling, professor of ecology and evolutionary biology, were featured in a story about their research on the thawing of the carbon-rich permafrost of Alaska's North Slope.
"Even if we commit the proper funding to support Michigan schools and teachers, we will not be successful until we change perceptions of the work of teaching. … Very few people want to work at unstable jobs for low pay, with little training or support, while experiencing a lack of community trust and respect. We cannot expect professional quality from people we do not treat as professionals," said Elizabeth Birr Moje, dean and professor of education.
"Although hacking cardiac implants was demonstrated a decade ago, I'm more concerned about boring things like an old computer virus that unintentionally shuts down global operations of remote cardiac telemetry for hundreds of thousands of patients at once," said Kevin Fu, associate professor of electrical engineering and computer science.