Clinical Simulation Center
Michigan Medicine will more than double the size of its Clinical Simulation Center, an innovative instructional learning laboratory used to train health care professionals. This video explores the purpose of the center, which will benefit from a $4.75 million renovation of the Medical Science Building II to add a second Clinical Simulation Center location.
Cuba's beating heart
For students of jazz percussion, Cuba is the holy grail of influence. The rhythms, instruments and techniques that began on that island nation have created some of the world's most influential regional music. Led by Michael Gould, professor of music (jazz percussion), 12 students from the School of Music, Theatre & Dance recently had the opportunity to hear, see and perform with Cuban jazz artists in person. In this video, Gould and several of the students reflect on what they learned.
Fake news, facts, and alternative facts
The proliferation of news stories that are either downright false or, at the very least, misleading is at the heart of U-M's second "teach-out." Three faculty members from the Department of Communication Studies will present "Fake News, Facts, and Alternative Facts" to enrolled online learners beginning Friday. In this video, Brian Weeks and Josh Pasek, both assistant professors of communication studies, discuss some of the topics that will be discussed.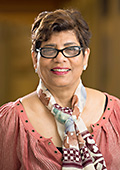 Faculty/Staff Spotlight
"For both those who teach and those who learn, it's about finding a way to teach to act, to stop making them recipients of knowledge but instead owners of knowledge."
Nesha Haniff, lecturer IV in Afroamerican and African studies and women's studies.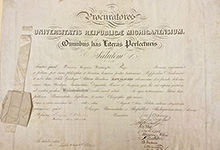 Michigan in the News
"Any policy can be made better through science, a process that illuminates the risks of action or inaction, brings facts to bear, applies rigorous thinking to cause and effect, and analyzes what's working and what's not," wrote Michele Swanson, professor of microbiology and immunology, who will take part in the March for Science tomorrow in Washington, D.C.
Elena Gallo, associate professor of astronomy, was quoted in a story about the discovery of two extremely small galaxies that contain gigantic black holes.
Research by John O'Shea, professor of anthropology and curator of Great Lakes archaeology at the Museum of Anthropological Archaeology, found long-submerged physical evidence under Lake Huron that prehistoric peoples systematically and strategically hunted caribou thousands of years ago.