Homestead living
Joe Trumpey, associate professor of art and natural resources, and his family live off the grid in their hand-built, 2,200-square-foot straw bale home on a 40-plus-acre farm near Grass Lake. They produce at least half of their own food by gardening, canning, freezing, and raising heritage-breed livestock. Mother Earth News magazine has recognized their efforts by featuring them as 2015 Homesteaders of the Year. In this video, Trumpey talks about the intersection of art and the environment.
Library transformation
Today, the University of Michigan reopened the doors to the A. Alfred Taubman Health Sciences Library, after a $55 million transformation from a traditional library to a dynamic, technology-filled learning space for medical students, graduate students and more. In this video, take a look inside.
#InternDetroit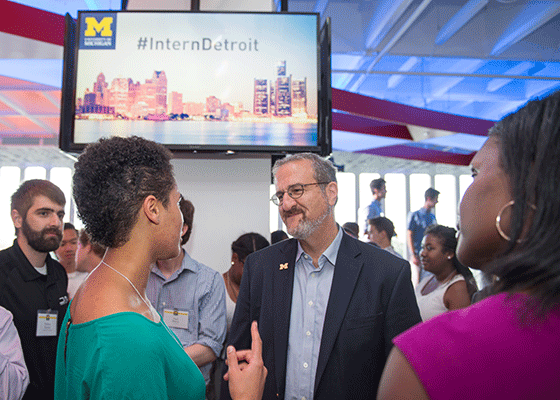 President Mark Schlissel speaks with attendees of the "U-M + Detroit" reception honoring Detroit interns. The U-M Student Interns in Detroit Summer Celebration took place July 28 at One Woodward Avenue. Nearly 300 people attended the event, including more than 150 interns. (Photo by Eric Bronson, Michigan Photography)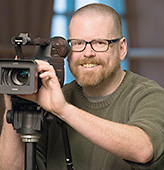 Faculty/Staff Spotlight
"I like the writing and the editing the best, but I'll do whatever it takes to get something out there." 
Brian Lillie, multimedia specialist for the School of Public Health, and an aspiring filmmaker.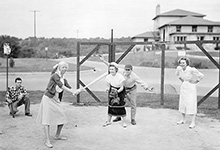 Michigan in the News
"It could make health care more affordable because it gives them more leverage to negotiate with providers of care...but it could also give them more monopoly power in some markets and that might actually mean that it wouldn't lower premiums for some consumers," said Marianne Udow-Phillips, director of the Center for Healthcare Research and Transformation, referring to health insurance giant Anthem's deal to purchase Cigna.
David Potter, professor of Greek and Roman history, was quoted in an article about the ISIS-occupied town of Palmyra, Syria, which was once ruled by a queen named Zenobia who dared to threaten the power of imperial Rome.
"It does really have an effect on what certain organizations do, when these larger companies step out and say, 'We're not financially supporting this anymore,'" said David Mayer, associate professor of management and organizations, on public criticism of FIFA by major sponsors Visa, Coca-Cola and Adidas — all of whom have yet to pull funding.