Researching Detroit
Two dozen U-M students are conducting summer research for Detroit nonprofits and public agencies as part of the Detroit Community Based Research Program. In this video, Jenna Steiner, assistant director of the Undergraduate Research Opportunity Program and coordinator the Detroit program, joins some of the students in discussing how the program works and what it seeks to achieve.
Mcity opens
U-M's Mobility Transformation Center has opened Mcity, the world's first controlled environment specifically designed to test the potential of connected and automated vehicle technologies that will lead the way to mass-market driverless cars. This video provides an overview of the 32-acre "mini-city" on North Campus.
President Schlissel in China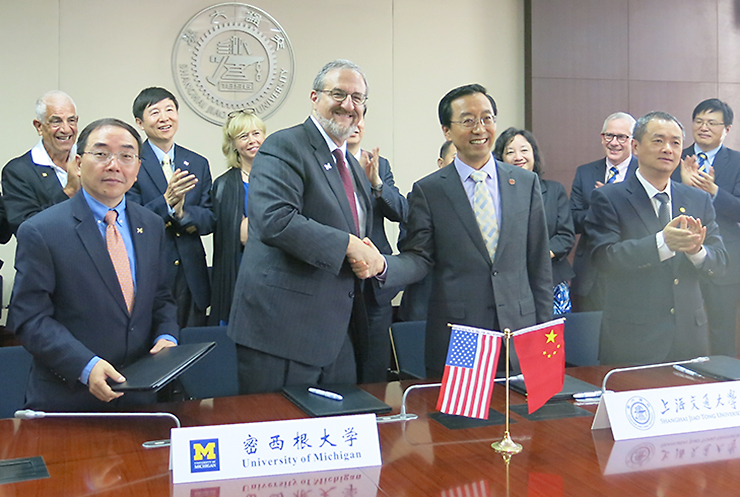 President Mark Schlissel and Shanghai Jiao Tong University President Jie Zhang celebrate the signing of a new research agreement that seeks to broaden the scientific and cultural ties between U-M and its Chinese partner SJTU. Also pictured in the front row are Jack Hu (left), interim vice president for research, and Hong Mei (right), vice president of SJTU. The ceremony took place during Schlissel's recently concluded weeklong visit with alumni, students and Chinese research partners in Beijing and Shanghai. (Photo by Debing Su, Michigan News)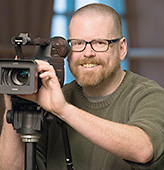 Faculty/Staff Spotlight
"I like the writing and the editing the best, but I'll do whatever it takes to get something out there." 
Brian Lillie, multimedia specialist for the School of Public Health, and an aspiring filmmaker.