Warm-weather Wolverines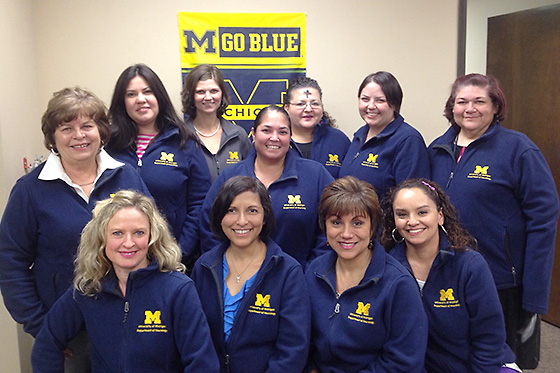 The staff that works to support the Brain Attack Surveillance in Corpus Christi project donned blue fleeces featuring the Block M this year to ward off what was a chilly winter by Texas standards. But this U-M field office is still marked by palm trees and sunshine most of the time. The BASIC researchers work with patients and hospitals to learn why Mexican Americans have a greater burden of stroke than non-Hispanic whites. (Photo by Dr. Lewis Morgenstern)
Translation for a cause
Volunteers representing 15 different languages were among 67 people who signed up for the second annual Translate-a-thon, during which 50 projects were translated for various non-profit organizations. In this video, participants and organizers discuss the benefits of the event, which ran March 28-30. 
Robotics Day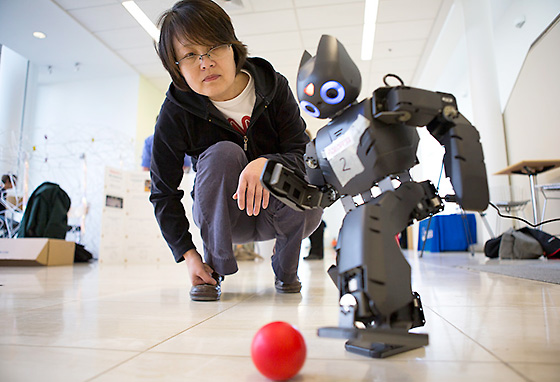 YiBin Jiang, a Medical School research technician, plays soccer with a robot during Robotics Day at the North Campus Research Complex on Thursday. The event showcased leading autonomous systems and robotics research coming out of U-M, other Michigan universities and in government and industry in the region. View more photos from Robotics Day. (Photo by Joseph Xu, College of Engineering)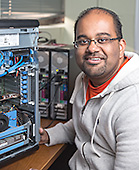 Faculty/Staff Spotlight
"I really enjoy interacting with people. Whether it's classroom work or research needs, I like working with faculty, staff and students."
Rebi Varghese, desktop support specialist with the Department of Civil and Environmental Engineering who also volunteers for the Harvest Mission Community Church in Honduras.