Working with music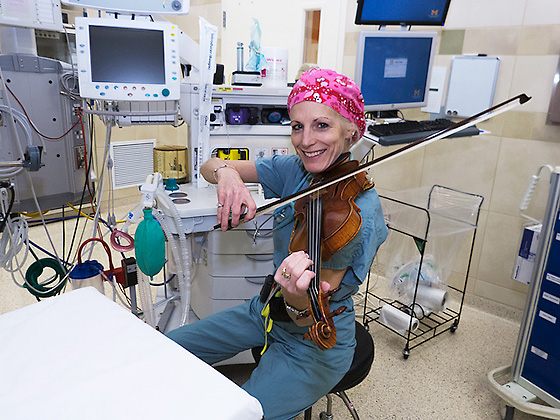 As a nurse anesthetist at C.S. Mott Children's Hospital, Fran Wakefield lulls patients to sleep with anesthesia, but as a longtime violinist for the Life Sciences Orchestra she soothes people with her music. Wakefield is one of several LSO members featured in a photo gallery that combines their musical and workplace lives as they prepare for the orchestra's free spring concert at 4 p.m. Sunday at Hill Auditorium. (Photo by Dr. Bernhard Muller)
Water and health
The Integrated Assessment Center at the Graham Sustainability Institute brings together interdisciplinary research teams, decision-makers, and key stakeholders to develop pathways toward real solutions. This video explains how teams are working in Ghana and Peru to address major water issues.
Strike back at severe weather
As the severe-weather season approaches, university officials would like to remind members of the campus community about important information to help plan for and respond to various weather situations. When severe weather strikes, be prepared to "strike back" by signing up for Emergency Alerts.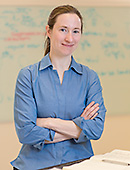 Faculty/Staff Spotlight
"Teaching and mentorship are ways of giving back. I try to participate in events that focus on women in science."
Melanie Sanford, Moses Gomberg Collegiate Professor of Chemistry, Arthur F. Thurnau Professor and MacArthur Fellow.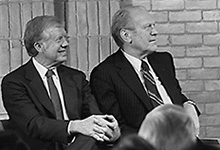 Michigan in the News
Regarding the ability of sailfish to swing their bills like baseball bats to capture prey, Paul Webb, professor of natural resources and environment, and ecology and evolutionary biology, said: "I think the sailfish have done something pretty clever in being able to get very close and then kick the crap out of their prey."
Michael Solomon, professor of chemical engineering and macromolecular science and engineering, was quoted in an article about a material that he and colleagues created that can change shape and color when subjected to different wavelengths of light.
Mark Hunter, professor of ecology and evolutionary biology, and natural resources and environment, was interviewed about his research that shows that what is happening to moths in Finnish Lapland suggests we're underestimating the effects of climate change because much of the harm is hidden from view.