2016 Neubacher Award recipient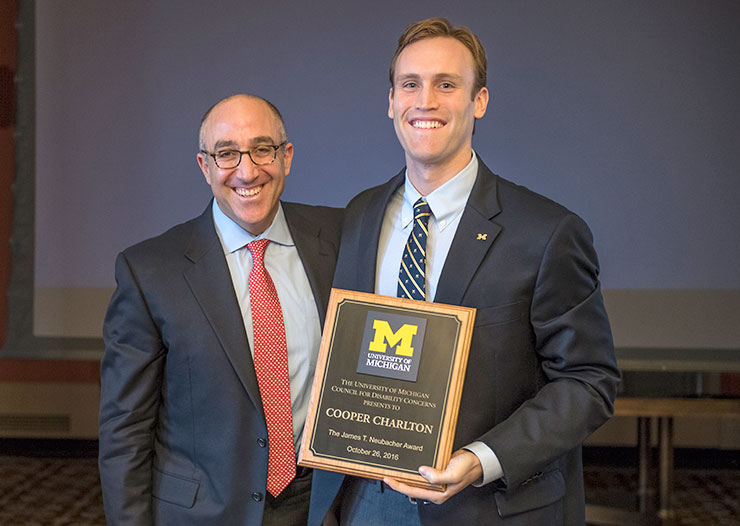 Board of Regents Chair Mark J. Bernstein (left) presents the 27th annual James T. Neubacher Award to Cooper Charlton, co-founder of the Wolverine Support Network, former Central Student Government president, and president of the Student-Athlete Advisory Committee. After injuries forced Charlton's retirement from varsity lacrosse, he shifted his focus to destigmatize mental health issues and foster a campus community that is more welcoming to people with disabilities — both seen and unseen. The Council for Disability Concerns established the Neubacher Award in 1990 as a memorial to alumnus Jim Neubacher, who was a Detroit Free Press columnist and an advocate for equal rights and opportunities for people with disabilities. (Photo by Roger Hart, Michigan Photography)
Be a hero
U-M will kick off its 35th annual Blood Battle against Ohio State with "Be a Hero at the Big House," a blood donation and organ donor drive from 8 a.m. to 5 p.m. Sunday at Michigan Stadium. In this video, Board of Regents Chair Mark Bernstein talks about his experience as a bone marrow donor, and urges others to sign up for bone marrow and organ registries.
Targeting opioid abuse
America's opioid drug epidemic has struck hard in Michigan. But now, a team from U-M — the Michigan Opioid Prescribing Engagement Network, or Michigan-OPEN — is striking back at a key factor: opioid prescriptions for patients before and after surgery. This video explains the factors contributing to the crisis and how Michigan-OPEN aims to combat them.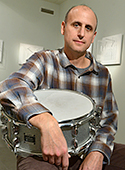 Faculty/Staff Spotlight
"As a drummer, I can create a composite pattern or groove from three to four separate rhythms all synchronized precisely that ultimately form a whole. I tried to do this with the artwork and music."
Michael Gould, professor of music (percussion) at the School of Music, Theatre & Dance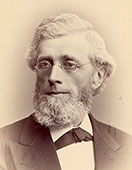 Michigan in the News
Research by Rachael Seidler, professor of kinesiology and psychology, suggests that astronauts who may one day go to Mars may see changes in their brains that could throw off their sense of balance.
Dr. Howard Petty, professor of ophthalmology and visual sciences, and microbiology and immunology, invented an imaging technology that can take some of the guesswork out of whether one form of early breast cancer is aggressive and likely to metastasize.
"Our study shows that a belief that elections are rigged — whether based on real flaws or on politically motivated fabrications — has important and detrimental consequences for the functioning of democracy," said Mark Tessler, professor of political science and research professor at the Center for Political Studies.