M go boo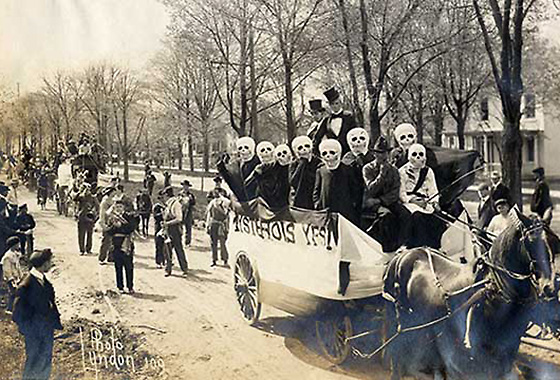 Corpses on campus. Coeds in costumes. The signature of an infamous alumni killer. Just in time for Halloween, Michigan Today brings the creepy, spooky, and unusual to light in a photo slideshow from the archives of the Bentley Historical Library. In this 1906 photo, students ride in a "Mysterious Ypsi" wagon as part of the County Fair Carnival parade.
Making an Impact
Dr. James Shayman, professor of pharmacology and internal medicine, speaks at Tuesday's Celebrate Invention reception, where he and the late Dr. Norman Radin received the U-M Tech Transfer Impact Award for developing a treatment for Gaucher disease type 1. With Shayman are, from left, Lon Radin, son of Norman Radin; Kenneth Nisbet, associate vice president for research – technology transfer; and President Mark Schlissel. The annual Celebrate Invention event recognizes faculty and researchers involved in U-M's technology transfer process. (Photo by Leisa Thompson)
Campus traditions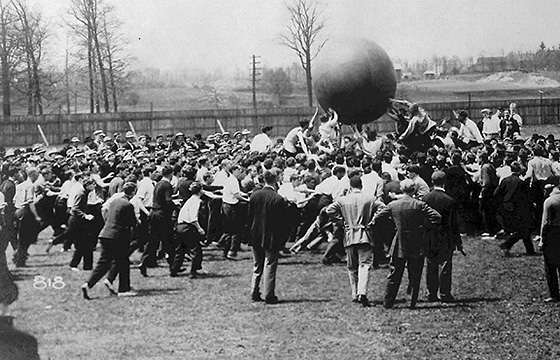 In the week leading up to Homecoming, LSA Today looks at U-M campus traditions such "pushball," a game introduced in 1908 as an alternative to some of the more dangerous expressions of rivalry between schools or classes. Take a visual tour of both old and ongoing campus traditions.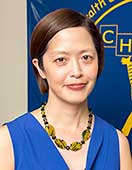 Faculty/Staff Spotlight
"People think about health and health care as something that's done to you, but we're trying to create the notion that it's something done with you. We all have wisdom to share."
Dr. Joyce Lee, associate professor of pediatrics, and associate professor of environmental health sciences.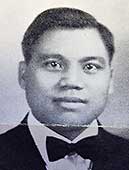 Michigan in the News
"We would expect Democratic candidates to trumpet the success of the economy and for Republicans to be on the attack. But at the state level, especially if we're talking about gubernatorial contests, that logic gets turned on its head," said Vincent Hutchings, professor of political science.
Richard Lusk, research fellow in ecology and evolutionary biology, says that laboratory contaminants likely explain the results of a recent controversial study that claims complete genes can pass from foods we eat into our blood.
Jeremiah Johnson, assistant professor of natural resources and environment, spoke about the impact closing a key power plant in the Upper Peninsula will have on residential electric rates.