Nanolobes
In designs that mimic the texture of starfish shells, Michigan engineers have made curved ordered crystals. Such shapes are found readily in nature, but not in a lab. Crystals that engineers typically make either have facets with flat surfaces and hard angles, or are smooth but lack a repeating molecular order. In this video, Olga Shalev, a doctoral student in materials science and engineering, describes how researchers came to discover the crystals they call "nanolobes."
Wolverines for Life
With about 120,000 people — slightly more than a game-day crowd at Michigan Stadium — waiting for organ transplants, the Wolverines for Life partnership is kicking off its fall campaign for organ, blood and marrow donors. This video is the cornerstone of the effort that includes a massive donor drive at Michigan Stadium on Nov. 16, and also is designed to spur participation in the annual fall donor challenges between U-M and Ohio State.
Fireproofing batteries
U-M researchers have developed an impressive new way to make the world's most popular batteries, lithium-ion, safer and more efficient. In this video, Richard Laine, professor of materials science and engineering, and macromolecular science and engineering, discusses the new method and materials that could be a game-changer in our battery-dependent destiny.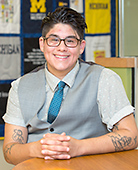 Faculty/Staff Spotlight
"I was really low on money at the time and basically got to eat for free every day, plus the skill is definitely transferrable. I'm kind of a hit of parties."
D. Alvarez, Student Life program manager for The Program on Intergroup Relations, on working as a fromager, or cheese expert.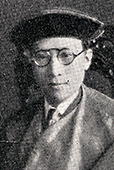 Michigan in the News
Paul Edwards, professor of information and history, explains the science behind the term "global temperature."
Kevin Fu, associate professor of electrical engineering and computer science, was quoted in a story about the U.S. Department of Homeland Security's investigation of suspected cybersecurity flaws in medical devices and hospital equipment.
"People, especially the Millennial generation, want to work for companies that innovate and have a positive impact on the world and society. This isn't just another call for corporate responsibility. It's people who truly believe that any business can serve as an agent of positive change in the world," wrote Shirli Kopelman, clinical assistant professor of management and organizations.