Transforming the clinical trial enterprise
Clinical trials research is an essential responsibility of U-M's academic medical center, which recently made significant investments to transform the clinical trial infrastructure. In this video, Steven L. Kunkel, senior associate dean for research at the Medical School, describes the collaborative system being implemented to better support clinical trials and researchers.
A better helmet
The football season may have ended with Sunday's Super Bowl, but the effort to prevent sports-related head injuries continues. In this video, Ellen Arruda, professor of mechanical engineering and biomedical engineering, explains how a shock-absorbing football helmet system being developed at U-M could blunt some dangerous physics that today's head protection ignores.
Midway Madness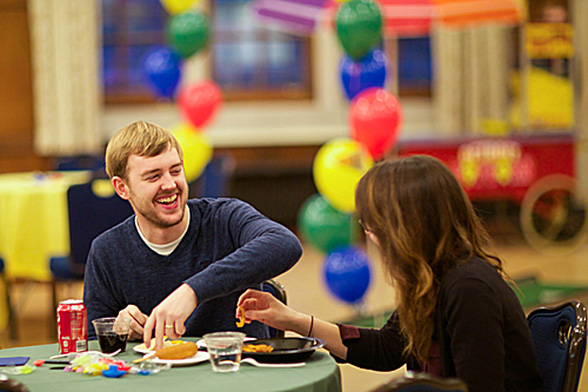 Midway Madness is a rite of passage for second-year law students celebrating the halfway point to their graduation. This slideshow captures some of the fun at this year's celebration, which took place recently in the Michigan Union's Rogel Ballroom. (Photo by Tina Yu)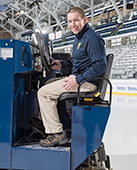 Faculty/Staff Spotlight
"I like to make that sheet of glass. There's only one thing I like better and that's skating on that sheet of glass."
Kevin Bushey, Yost Ice Arena facilities supervisor and Zamboni driver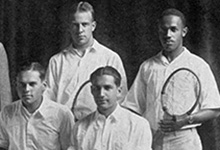 Michigan in the News
"Voters know that Public Act 436 (Michigan's emergency manager law) is an affront to democracy, but it's also become a tool for perpetuating and deepening racial inequalities," said Shawna Lee, associate professor of social work.
"Mobile cell phone users have reported experiencing ringing and/or vibrations associated with incoming calls and messages, only to find that no call or message had actually registered," said Daniel Kruger, research assistant professor at the School of Public Health.
"Students want a diverse environment in which to learn. We know students learn better — in the long run — in an environment that's diverse. Recruiters want a diverse workforce. All constituents want a diverse campus and they want diversity to be addressed in the curriculum," said Alison Davis-Blake, dean of the Stephen M. Ross School of Business.