Morphing wing
Michigan aerospace engineers are using new materials and techniques to allow airplane wings to flex and move more like bird wings. These morphing wings are still in the developing stages but may open the doors to lighter weight aircraft that are more agile than traditional airplanes. In this video, Dan Inman, professor and chair of the Department of Aerospace Engineering, predicts that morphing technology may first appear in unmanned drones and cargo vehicles, but even then, it may still be decades away.
Small wonder
Cascade, one of the five styles of single-tree bonsai, is among those on display at the Matthaei Botanical Gardens' collection. Combining elements of art, design and horticulture, bonsai has a rich history in Japanese culture. Learn more about the Matthaei collection, and leaf through the strictly defined styles of the genre in this photo slideshow.
Little Brown Jug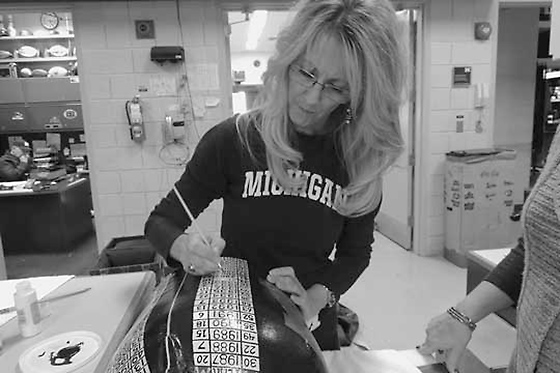 Jil Gordon paints the 2013 final score on the Little Brown Jug after U-M beat the University of Minnesota 42-13, marking the 100th game between the two schools. College football's oldest trophy game continues Saturday when the Wolverines host the Golden Gophers in the Big 10 opener. View a slideshow and learn more about the history of the Little Brown Jug in Michigan Today. (Photo courtesy of Greg Dooley, MVictors.com)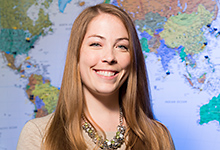 Faculty/Staff Spotlight
"There's no better way to gain independence, and become more resourceful, than by taking yourself totally out of your comfort zone and your country. Also, it's so much fun."
Jill Peters, International Programs adviser in the College of Engineering.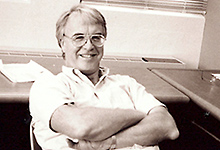 Michigan in the News
President Mark S. Schlissel addressed various issues affecting higher education, including college costs and student debt, admission policies, curricula, academic standards, faculty issues, research capabilities, and how universities prepare graduates for careers and adult life.
"I keep telling my students if the bottom line is their only bottom line and they want to flip something as fast as possible, move to Silicon Valley and get in line with everyone else. If however, they want to roll their sleeves up for the long haul, they should get involved with something already happening in Detroit," said John Marshall, associate professor of art and design, and architecture and urban planning.
In an op-ed article, Louisa Lim, visiting professor of journalism, says that tactics used against pro-democracy protestors in Hong Kong in the past few days are reminiscent of those used in Beijing's Tiananmen Square in 1989.