Tailgate tourney
Karl Bosse, research assistant in the Department of Pediatrics, and Mamta Jaiswal, research lab specialist in the Department of Neurology, compete in a Rock, Paper, Scissors Tournament, refereed by MHealthy senior wellness coordinator Colleen Greene during MHealthy's Big Tailgate at Ingalls Mall on Tuesday. Another Big Tailgate takes place from 11 a.m.-2 p.m. today at the University Hospital Courtyard. (Photo by Austin Thomason, Michigan Photography)
Big data dilemma
Science, health care, economics, infrastructure and government could be completely changed by effectively using big data. But, currently, it isn't being used to its full potential. Laura Balzano, assistant professor of electrical engineering and computer science, partners with campus research teams to help develop data collection and analysis strategies. This video explores what's needed to solve our global big data dilemma.
Inauguration day
The university inaugurated Mark Schlissel as its 14th president on Sept. 5. Honoring the heritage and traditions of U-M, the day included rigorous academic symposia, a procession across campus, the official inauguration and a community celebration. This video offers a brief look at those events.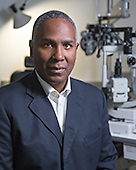 Faculty/Staff Spotlight
"I've always had interest in helping the people of Jamaica, and now with the university associated with it, it enables me to even further that goal."
Dr. Joseph Myers, optometrist with University Health Service and co-founder of the Eye Health Institute.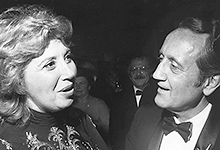 Michigan in the News
Nick Tobier, associate professor of art, spoke about the innovative style of British designer Thomas Heatherwick.
Nina Mendelson, professor of law, was quoted in a story about the best way to express support for net neutrality.
Stefan Szymanski, professor of kinesiology, was interviewed for an article about the advantage enjoyed by some European soccer clubs and leagues when it comes to spending money on top players.