Leah's legacy
Livonia preschooler Leah James' brave battle with an inoperable brain tumor has inspired "Wings of Courage," a children's book produced by the Department of Neurosurgery that will be given to all pediatric cancer patients at C.S. Mott Children's Hospital. In this video, some of those involved in creating the book discuss the story and its inspirational message.
When tech isn't the answer
While working with schoolchildren in India and studying how to make computers work better in the classroom, Kentaro Toyama, W.K. Kellogg Professor of Community Information, determined technology alone can't solve problems — it's most effective when it's paired with capable underlying human forces. In this video, he discusses why technology is not always the answer for better learning.
Partnership expands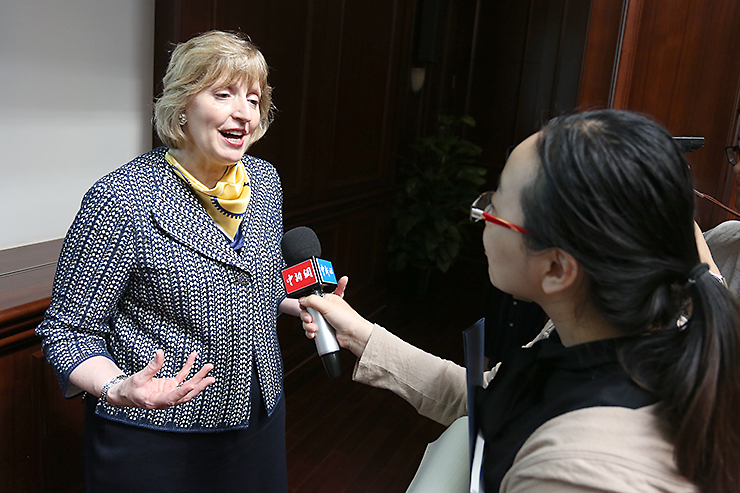 Alison Davis-Blake, dean of the Stephen M. Ross School of Business, is interviewed by Chinese media about an expanded partnership among U-M, Shanghai Jiao Tong University and the UM-SJTU Joint Institute. (Photo courtesy of the Ross School)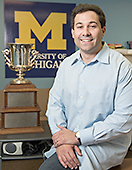 Faculty/Staff Spotlight
"Every few years when the debate cycle is in full gear, debate suddenly becomes important to the nation."
Aaron Kall, director of U-M's Debate Program and Michigan Debate Institutes.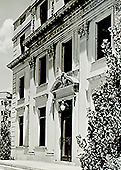 Michigan in the News
Richard Miech, research professor at the Institute for Social Research, says people who earn a college degree before getting married are less likely to become obese than those who graduate from college after getting married.
"A regional comprehensive university, by its nature, is committed to a region to create and enhance lifestyle in the region. We're right here downtown. As Flint goes, so go we. As we go, so goes Flint," said UM-Flint Chancellor Susan Borrego.
Research by Dr. Kanakadurga Singer, assistant professor of pediatrics, suggests that high-fat diets reprogram blood stem cells in male mice, promoting metabolic disease.