Navigate to Michigan
U-M values the unique experiences and perspectives that veterans and military members bring to the diverse campus community, and it provides the resources and expertise to help them thrive. In this video, student veterans discuss what drew them to the university.
Staff Impact Awards
To recognize the outstanding contributions of its staff, U-M has created the Staff Impact Awards to celebrate those who champion volunteerism and service within the university — going above and beyond by taking on additional challenges. In this video, Kevin Hegarty, executive vice president and chief financial officer, describes what the university is seeking to recognize with the new awards.
Dramatizing injustice
Racially motivated criminal injustice is the topic of "Blood at the Root," a drama by School of Music, Theatre & Dance alumna Dominique Morisseau being presented Thursday through Sunday by the Department of Theatre & Drama. Each performance will be followed by moderated discussions about the play's issues, which reverberate today. In this video, the director and some of the student actors discuss the impact of the play, which centers around the 2006 "Jena Six" case in Louisiana.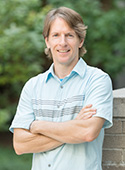 Faculty/Staff Spotlight
"When I started out I wanted to see what difference I could make with the team. Over time that changed to my wanting to be a part of something that's great."
Richard Eikstadt, senior data architect in the Medical School and Ultimate Frisbee player.
Michigan in the News
"There has been a growing emphasis for (celebrities) to be advocates for various kinds of mental illness problems, so part of this does come from a feeling of altruism and wanting to use their platform to reach out and help make it OK," said Susan Douglas, professor of communication studies, on the revelations by many famous women that they have suffered postpartum depression.
"In my view, people who do not need to take health insurance into account when deciding whether to get married are likely to ultimately enter into happier and better marriages. People who have more control over family planning have the ability to better invest in careers and education and to start families when they are ready," wrote Joelle Abramowitz, assistant research scientist at the Institute for Social Research.
"I have a huge love and commitment to historic art. It would be hard for me to work in a museum that wasn't encyclopedic in some form," said Christina Olsen, the new director of the U-M Museum of Art, who also wants to increase contemporary works in UMMA's African and Asian art collections, calling the latter "one of the best in the country in terms of depth and breadth."