Manufacturing innovation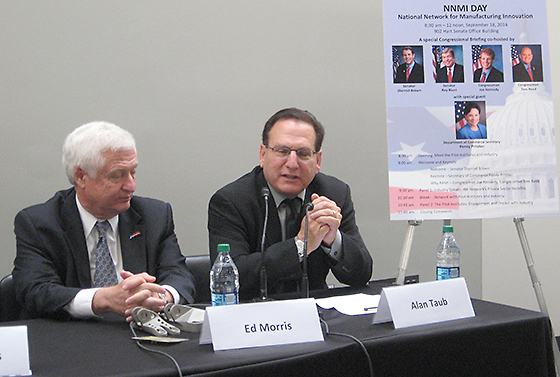 Alan Taub (right), professor of materials science and engineering and chief technology officer for the American Lightweight Materials Manufacturing Innovation Institute, speaks at a conference in Washington, D.C., Thursday on the new National Network for Manufacturing Innovation, which links universities, industry and government partners to collaborate on and nurture manufacturing innovation. U-M helps lead a consortium of 78 members who will work to develop lighter materials while still maintaining performance and affordability. At left is Ed Morris, who directs America Makes, an Ohio-based center focused on advancing 3-D printing technologies. (Photo by Mike Waring, Washington Office)
Tailgate tourney
Karl Bosse, research assistant in the Department of Pediatrics, and Mamta Jaiswal, research lab specialist in the Department of Neurology, compete in a Rock, Paper, Scissors Tournament, refereed by MHealthy senior wellness coordinator Colleen Greene during MHealthy's Big Tailgate at Ingalls Mall on Tuesday. Another Big Tailgate takes place from 11 a.m.-2 p.m. today at the University Hospital Courtyard. (Photo by Austin Thomason, Michigan Photography)
Big data dilemma
Science, health care, economics, infrastructure and government could be completely changed by effectively using big data. But, currently, it isn't being used to its full potential. Laura Balzano, assistant professor of electrical engineering and computer science, partners with campus research teams to help develop data collection and analysis strategies. This video explores what's needed to solve our global big data dilemma.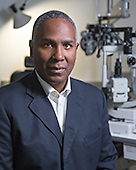 Faculty/Staff Spotlight
"I've always had interest in helping the people of Jamaica, and now with the university associated with it, it enables me to even further that goal."
Dr. Joseph Myers, optometrist with University Health Service and co-founder of the Eye Health Institute.