Factory leadership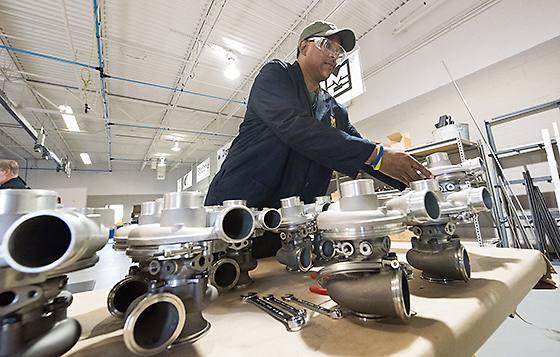 Rodney Mosley, a Tauber Institute staff acts as a factory floor worker during a recent Operations Leadership Factory workshop observed by trainees. The sessions, attended by workers from automotive firms and other manufacturers, promote efficient lean manufacturing processes. (Photo by Daryl Marshke, Michigan Photography)
Art on wheels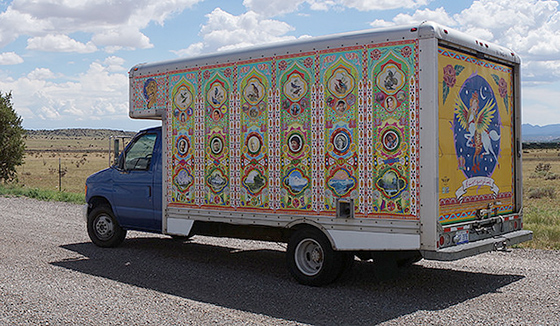 When much of the news about Pakistan seems to involve drone attacks, bombings and jihadist groups, Osman Khan, assistant professor of art and design, is trying to change the conversation to the vibrant art and culture scene that exists in Pakistan. He is doing that by decorating a truck — Pakistani style. The vehicle is covered with floral patterns and pictures of Pakistani leaders, poets and activists. View a slideshow of images from the project. (Photo courtesy of Osman Khan)
Copyright comments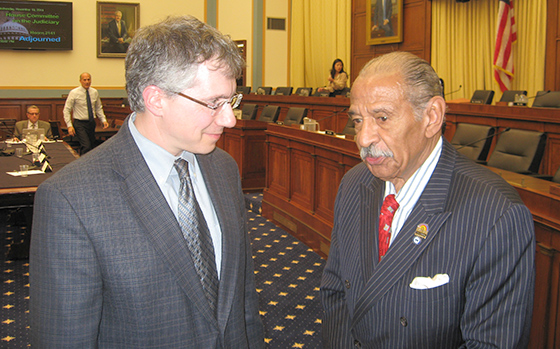 Associate General Counsel Jack Bernard (left) talks with Rep. John Conyers, D-Detroit, ranking member of the House Judiciary Committee in Washington, following a hearing on copyright issues on Wednesday. In his comments on behalf of the Association of American Universities and other higher education associations, Bernard said current copyright law works reasonably well for colleges and universities, and stressed the importance of the concept of "fair use" in helping institutions make materials available to students for all sorts of learning purposes. (Photo by Mike Waring, Washington Office)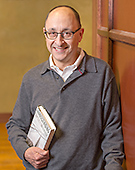 Faculty/Staff Spotlight
"Many of the most interesting writers in the social sciences actually are motivated by keen concerns about profound issues of human oppression and resistance and emancipation."
Howard Brick, U-M alummus and the Louis Evans Professor of History in LSA.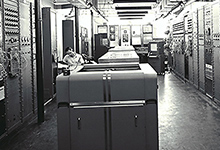 Michigan in the News
"The question isn't whether or not this technology is going to be used in health care and monitoring individuals with psychiatric illnesses. The question is really: How?" said Dr. Melvyn McInnis, professor of psychiatry, regarding a smartphone app to treat bipolar disorder and schizophrenia.
Kathyrn Heinze, assistant professor of sport management, and Sara Soderstrom, assistant professor of organizational studies, were interviewed about their interdisciplinary research on local food entrepreneurship and the important role it plays in urban revitalization.
Raymond De Young, associate professor of conservation behavior, says the era of cheap and abundant energy will end this century and prompt an involuntary simplistic way of living — smaller homes, fewer consumer goods, fewer cars and more reliance on locally grown foods.