Weiser Hall dedication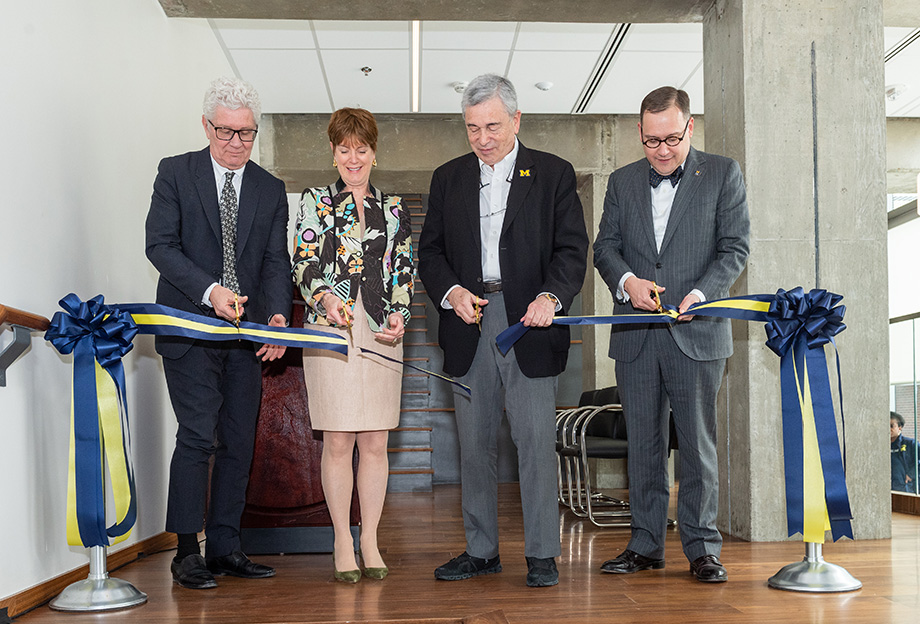 From left, Donald Schmitt, principal architect at Diamond Schmitt Architects; U-M alumni and donors Eileen and Ronald Weiser; and LSA Dean Andrew Martin cut a ceremonial ribbon on Tuesday to mark the dedication of Weiser Hall. The building, formerly known as the Dennison Building, has undergone an extensive renovation to house a number of interdisciplinary and internationally-focused units in LSA, including the International Institute. (Photo by Scott C. Soderberg)
Big History
The Big History Project course at Black River Public School in Holland, Michigan, isn't a social studies class about wars and world leaders. It's much bigger. Students examine the Big Bang to contemporary civilization to what may happen, putting human existence in the context of the past, present and future. Black River follows a curriculum co-designed by Bob Bain, associate professor of education and of history, and is one of more than 1,500 schools across the country to offer the course.
Celebrating Betty Ford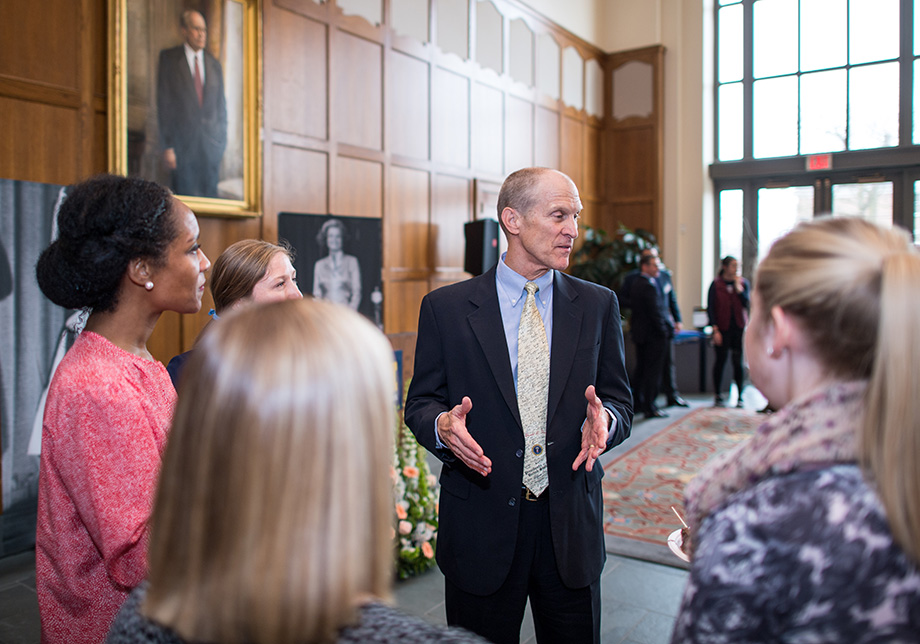 Michael Ford, son of former President Gerald Ford and Betty Ford, talks with students, staff and faculty at a reception Friday to celebrate the 100th birthday of his mother. The event at the Gerald R. Ford School of Public Policy drew U-M and political leaders, along with faculty, staff and students to celebrate Betty Ford's legacy, which included work in the areas of breast cancer, substance addiction and women's rights.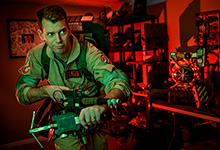 Faculty/Staff Spotlight
"In my free time I am very active in the maker movement. So I work with 3-D printers and maker spaces and in general, learning new skills."
George Sprague, academic programs coordinator at the School of Information, maker-movement participant and part-time Ghostbuster.
Michigan in the News
"Even though the ACA has led to improvements, there is still a substantial (number) of individuals who don't have health insurance. And even for people who are insured, deductibles have climbed dramatically in recent years," said Jeffrey Kullgren, assistant professor of internal medicine.
Jim Sayer, director of the U-M Transportation Research Institute, was interviewed about the National Transportation Safety Board's investigation of a recent fatal crash of a Tesla Model X in California.
Interviewed about the American Talent Initiative, which seeks to enroll 50,000 additional low- and moderate-income students at U.S. universities by 2025, President Mark Schlissel said, "There's no data to suggest that if you happen to be born into a less well-to-do family you are somehow less intelligent. The challenge for us is to recruit them and make it financially viable for them."