Battling obesity
As budget and time restraints have cut recess, lunch periods and physical education from U.S. middle and grade schools, children are getting less exercise. In this video, Rebecca Hasson, assistant professor of kinesiology, explains how a collaborative research project called Active Classroom seeks to engineer physical activity back into the school day.
Helping America compete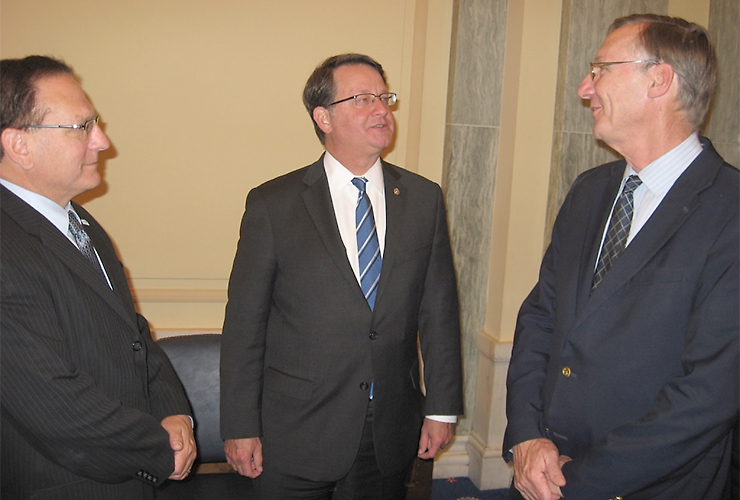 U-M professors Alan Taub (left) and Stephen Forrest (right) talk with U.S. Sen. Gary Peters, D-Michigan, during a visit Tuesday to Washington, D.C., where they participated in a U.S. Senate roundtable discussion Tuesday on reauthorizing the America COMPETES Act. The roundtable focused on innovation, commercialization, and technology transfer. (Photo by Mike Waring, Washington Office)
Faculty awards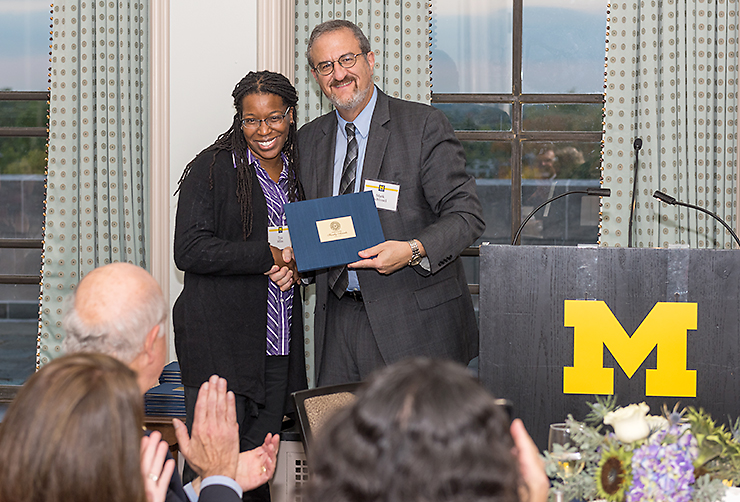 President Mark Schlissel congratulates Tiya Miles, professor of Afroamerican and African studies, American culture, history and women's studies, on being named the Mary Henrietta Graham Distinguished University Professor of African American Women's History during Monday's faculty awards ceremony. Miles was among 30 faculty members honored for their teaching, scholarship, service and creative activities. (Photo by Daryl Marshke, Michigan Photography)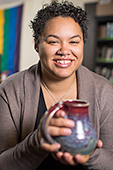 Faculty/Staff Spotlight
"I really enjoy the opportunity to not only provide that for students, but also to educate around what we could be doing better. It gives me the opportunity to provide for others what I wasn't afforded."
Tynishia Walker, on working at the Spectrum Center, where she is education and leadership program manager.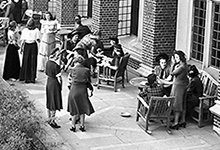 Michigan in the News
National Medal of Arts winner George Shirley, professor emeritus of music, was interviewed about his life, classical music and the importance of music education in schools.
Pamela Ballinger, associate professor of history, says more than 11 million Germans were expelled from other European countries after World War II — far more than the number of migrants in Europe's current crisis.
Bariatric surgery patients have a higher risk of self-harm, and Dr. Amir Ghaferi, assistant professor of surgery, examines whether therapy visits should be mandatory for patients after weight-loss surgery.