DEI training
At U-M, the commitment to diversity, equity and inclusion is central to its mission as an educational institution. This video explores how departments across campus have partnered to provide training and skill development opportunities to help create a community where people's differences contribute to further learning and advancements in all fields of study and patient care.
Summer Youth Employment Program
U-M's Poverty Solutions initiative partnered with the Ginsberg Center and other campus offices to help expand and bring significant resources to the Washtenaw County Summer Youth Employment Project, enabling area youth to gain invaluable experiences in professional work settings as they consider their future careers. In this video, program organizers and participants discuss the program and its benefits.
MLK Symposium keynote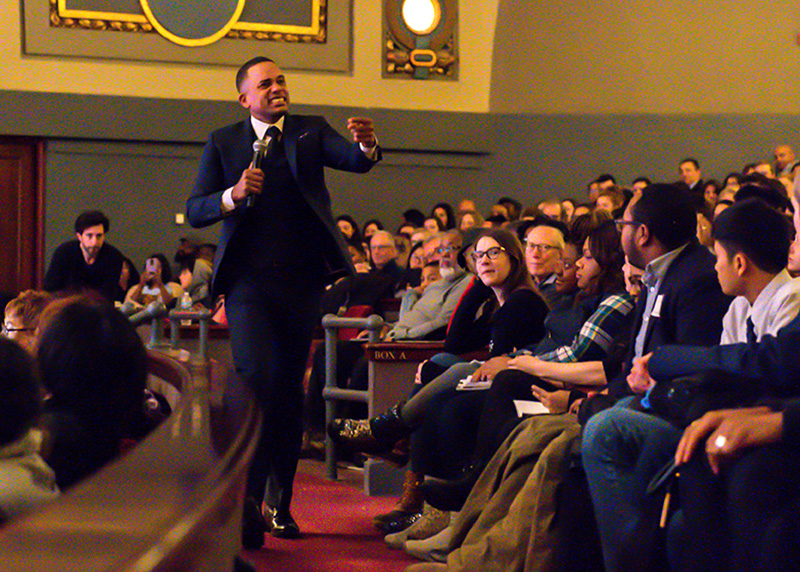 Taking his message into the audience at Hill Auditorium on Monday, author, actor and philanthropist Hill Harper called on the audience to use its collective power to advocate for change in the spirit of the Rev. Martin Luther King. "Activism is critical because, through activism, we become agents of change," said Harper, the keynote memorial speaker at U-M's 2018 Rev. Dr. Martin Luther King Jr. Symposium. (Photo by Daryl Marshke, Michigan Photography)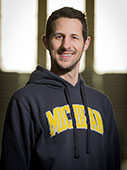 Faculty/Staff Spotlight
"When you join the company, you're a figure skater. When you leave, you're a performer."
Brad Newman, wellness and grants coordinator for Project Healthy Schools, who spent five years performing with Disney on Ice.
Michigan in the News
Max Shtein, professor of materials science and engineering, macromolecular science and engineering, and chemical engineering, and colleagues have taken a cue from the electric eel to create a soft, foldable battery that could one day power devices like pacemakers, sensors and prosthetic organs.
"Think autocorrect, or Google-auto-complete, but at 60 mph. If the two systems, human and vehicle, are not on the same wavelength, then there could be severe consequences," said Anuj Pradhan, assistant research scientist at the U-M Transportation Research Institute, commenting on Nissan's "smart" autonomous driving system that can read a driver's mind.
A column by Jennifer Robertson, professor of anthropology and women's studies, history of art, and art and design, explores Japan's "genderless" subculture, in which, for some men, a male body need not conform to a stereotypical manly appearance.