Citizenship Day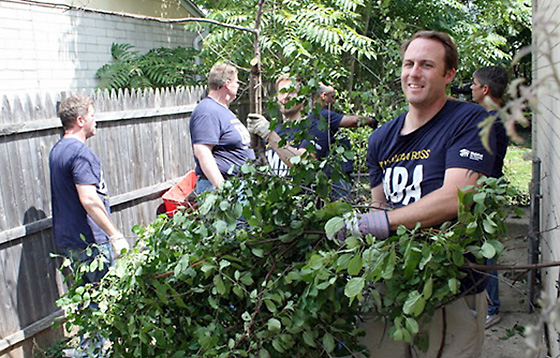 Students from the Stephen M. Ross School of Business' Executive MBA program, some of whom traveled from across the country for their orientation, participated in Citizenship Day on Wednesday. The 105 students volunteered with Habitat for Humanity of Huron Valley, helping 17 low-moderate income families in the West Willow Neighborhood in Ypsilanti. Above, Tom Chepucavage of Los Angeles hauls brush from a yard. Also pictured are, from left, Greg Bauske, Brent Chamberlain, Mike Fairman, Saby Bandyopandhyay and John Fauster, all of Ann Arbor. (Photo courtesy of the Ross School of Business)
A common bond
Universal themes and differences in their communities connect students from the U-M School of Nursing and their counterparts at the Salokaya School of Nursing in Delhi, India. In this video, U-M students and faculty discuss how a weekly videoconference between the two schools helps foster international collaboration.
New life for MABEL
MABEL, the walking and running bipedal robot created at U-M by Jessy Grizzle, Elmer G. Gilbert Distinguished University Professor of Engineering and professor of electrical engineering and computer science, and mechanical engineering, is part of a biomechanics exhibit at the Field Museum in Chicago through Jan. 4. This video explores MABEL's trip to the Windy City and how it is helping teach people about the science of movement.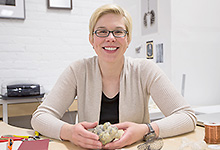 Faculty/Staff Spotlight
"I never thought I would be a teacher. I feel like everything that I thought was so separate is actually integrated."
Anne Mondro, associate professor of art and design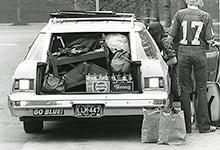 Michigan in the News
"The impact on careers is pretty clear and often striking. We regularly see people who shy away from jobs that would require them to fly and even turn down promotions," said Dr. James Abelson, professor of psychiatry and director of the Anxiety Disorders Treatment Program.
Dr. William Lynch, associate professor of thoracic surgery, and Dr. Robert Bartlett, professor emeritus of surgery, were featured in a story about a U-M clinical trial that aims to keep lungs alive outside of the body for lung transplants.
"For some companies, these inversions are really smart business moves. For others, they're less smart. You don't always know if it's going to work," said James Hines, professor of law and economics, addressing how companies establishing a tax domicile abroad often fail to produce above-average returns for investors.