Need for speed
Athletes of all levels, from marathoners to casual joggers, take their running seriously, and this is the crowd that the School of Kinesiology's Michigan Performance Research Laboratory caters to. In this video, Cristine Agresta, a postdoctoral fellow and physical therapist, and Jessica Deneweth Zendler, the lab's director and an assistant research scientist, explain how, for a fee, the lab evaluates athletes to optimize their athletic performance.
Rivals Challenge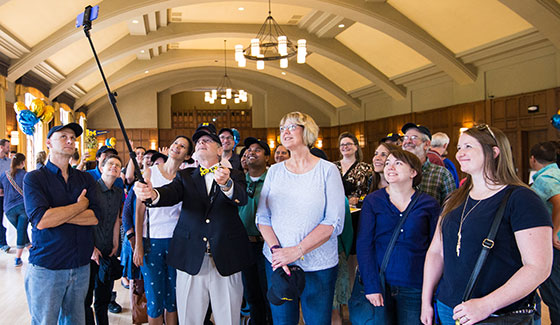 Dr. Robert Winfield, U-M chief health officer and executive director of University Health Service, takes a group selfie at the Rivals Challenge Recognition Celebration on July 8 at the Michigan League. Though U-M fell short in beating Ohio State in the employee exercise challenge, more than 7,000 U-M faculty and staff participated, logging 13.4 million activity minutes and raising $1,600 for Project Healthy Schools. (Photo by Austin Thomason, Michigan Photography)
Public safety: Serving the community
Eddie Washington, executive director of the Division of Public Safety and Security, shares ideas on how a more diverse public safety and security force can better serve a diverse community. This video is part of a series — presented periodically throughout the summer — designed to engage the campus community in the Diversity, Equity and Inclusion initiative President Mark Schlissel announced in November 2015. View the full series on the Diversity, Equity and Inclusion playlist.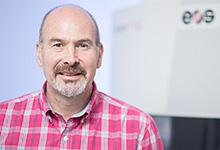 Faculty/Staff Spotlight
"It used to be frustrating to think that if we start doing research on this maybe in three or four years we can have something for them. The fact that you can design something and you have the technology to make it right away is phenomenal."
Scott Hollister, professor of biomedical engineering and mechanical engineering and associate professor of surgery