Free speech teach-outs
For the next several weeks, the Office of Academic Innovation will present a teach-out series focusing on free speech on college campuses, in journalism and in sports. In this video, President Mark Schlissel discusses the importance of exploring the tensions and challenges surrounding free speech in various aspects of society.
Origami noise barrier
Mechanical engineering researchers at U-M have developed a reconfigurable, origami barrier that can be tuned to block traffic noise at different times throughout the day. In this video, Manoj Thota, a graduate student research assistant in mechanical engineering and lead author on the research, and Kon-Well Wang, Stephen P. Timoshenko Collegiate Professor of Mechanical Engineering and professor of mechanical engineering, explain how the system works.
UM-Dearborn's next chancellor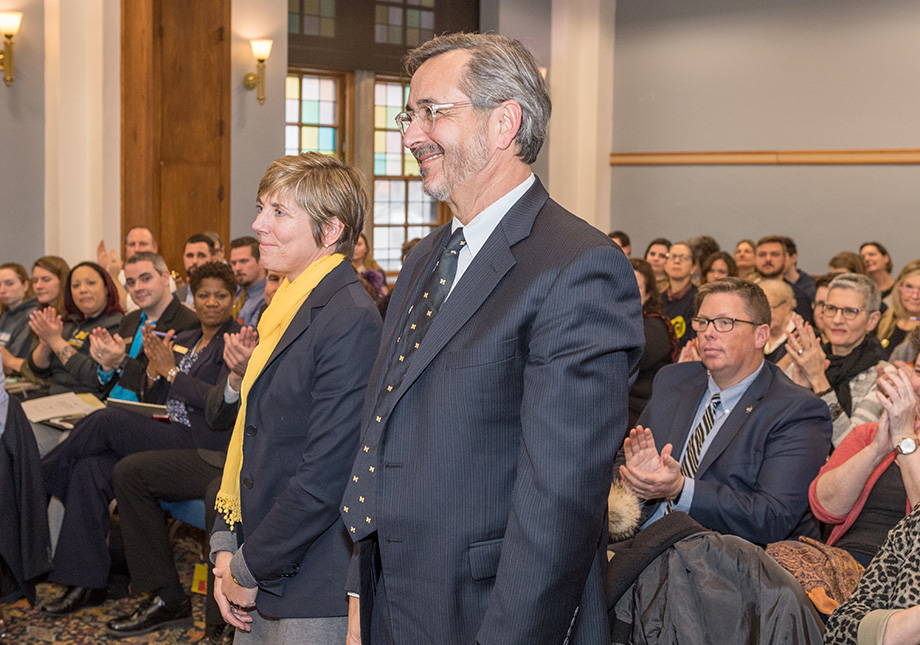 Domenico Grasso and his wife, Susan, are introduced during Thursday's Board of Regents meeting. The regents approved Grasso as the next chancellor for UM-Dearborn, effective Aug. 1. Current Chancellor Daniel Little is stepping down July 31, after guiding the Dearborn campus for the past 18 years. (Photo by Scott C. Soderberg, Michigan Photography)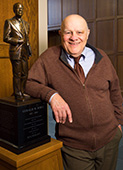 Faculty/Staff Spotlight
"Even in old cases, you can unpack its successes or failures and learn lessons about current policy."
Melvyn Levitsky, clinical professor of public policy in the Gerald R. Ford School of Public Policy, and former U.S. ambassador
Michigan in the News
A story about the recent test performance of "The Gershwin's Porgy and Bess" at U-M featured comments by Mark Clague, associate professor of music, and Naomi André, associate professor of women's studies, Afroamerican and African studies, and at the Residential College.
Levi Thompson, professor of chemical engineering, and mechanical engineering, and director of the Hydrogen Energy Technology Laboratory, was quoted in an article about a company in Washington state that intends to introduce products that may help unlock the hydrogen economy.
Scott DeRue, dean of the Stephen M. Ross School of Business, discussed how the perceived value of an MBA education is changing in the digital era, and how MBA programs are innovating in response to individual and company demands.