Robot companions?
Will advances in artificial intelligence bring us closer to having robots in our homes? In this video, Satinder Baveja, a professor of computer science and engineering who works in artificial intelligence and machine learning, discusses the goals and outlook for research in making robots that think like humans.
Energy efficiency
Five 2013 Dow Sustainability Fellows from U-M have partnered with the City of Ann Arbor to create financial incentives for landlords and renters to increase energy efficiency. This video highlights the collaboration that is having an on-the-ground sustainability impact.
Warm-weather Wolverines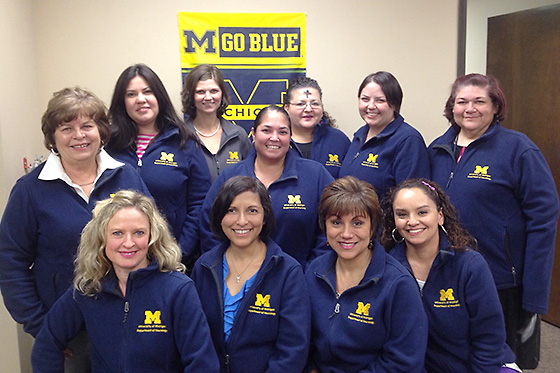 The staff that works to support the Brain Attack Surveillance in Corpus Christi project donned blue fleeces featuring the Block M this year to ward off what was a chilly winter by Texas standards. But this U-M field office is still marked by palm trees and sunshine most of the time. The BASIC researchers work with patients and hospitals to learn why Mexican Americans have a greater burden of stroke than non-Hispanic whites. (Photo by Dr. Lewis Morgenstern)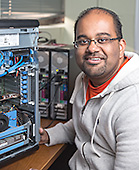 Faculty/Staff Spotlight
"I really enjoy interacting with people. Whether it's classroom work or research needs, I like working with faculty, staff and students."
Rebi Varghese, desktop support specialist with the Department of Civil and Environmental Engineering who also volunteers for the Harvest Mission Community Church in Honduras.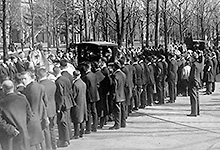 Michigan in the News
"In the '50s, corporations were supposed to take care of society. That was the managerial perspective. In the last few decades, there's been a shift to more of a shareholder perspective. Managers are agents of the shareholders. Government is supposed to take care of the rest," said Aneel Karnani, associate professor of strategy.
Research by Aradhna Krishna, professor of marketing, suggests that food that is either hard or has a rough texture is perceived to have fewer calories.
Arnold Monto, professor of epidemiology, was quoted in a story about the discovery of a new way to prevent flu infections that potentially could be used to fight an epidemic long before a vaccine is ready.