Don't Miss: Jazz poster exhibit celebrates Niklaus Troxler
Like the music of John Coltrane, Charlie Parker and Miles Davis, the appeal of jazz event posters created by Niklaus Troxler is hard to describe, but easy to feel.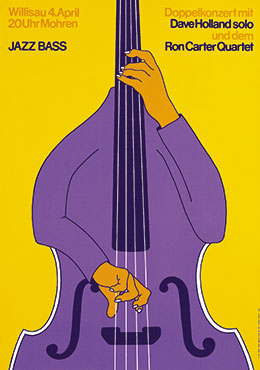 Exhibit co-curator Franc Nunoo-Quarcoo said that before seeing the Swiss graphic designer's work in the 1980s, he knew designs originating from that country often were called bland.
But not this collection. Colors are crayon rich, graphics are bold and so are the concepts: A double bass plays itself.
"He captivates you and makes you feel the music. You feel the colors. You feel the rhythms, the typography; you feel the sound. Troxler takes you to this fantastical world. You're part of the poster, you're a participant in a way, like when listening to jazz," says Nunoo-Quarcoo, professor or art and design at the Penny W. Stamps School of Art & Design.
"Niklaus Troxler: 40 Years of Jazz Posters" is on view through Feb. 20 at Slusser Gallery on U-M's North Campus in the Art & Architecture Building, 2000 Bonisteel Blvd., and Work Gallery, 306 S. State St. The exhibit also is curated by Stamps student Cody Cai. "He's been invaluable," Nunoo-Quarcoo says.
Troxler, an award-winning design consultant, is known for founding the annual Willisau Jazz Festival in 1975. The U-M exhibits display standout jazz posters from among some 500 Troxler has created. They are in museum collections such as the Museum of Modern Art New York, the Museum of Modern Art Toyama, Museum for Art and Industry Hamburg, the German Poster Museum in Essen and the Stedelijk Museum in Amsterdam.