U-M, N.Y. Philharmonic partner on artistic residency, halftime show
The partnership between the New York Philharmonic and the University Musical Society, announced late last year, will kick off with the orchestra's first residency in Ann Arbor Oct. 8-11.
In conjunction with the School of Music, Theatre & Dance, the five-year residency partnership will feature the New York Philharmonic in performances and educational opportunities in 2015, 2017 and 2019.
The partnership is the centerpiece of the UMS residency program, which will bring three different orchestras to Ann Arbor's Hill Auditorium in the next five years. Each residency will feature numerous performances, master classes, lectures and workshops for U-M students, as well as activities for the regional community.
The Philharmonic's first residency will include three performances Oct. 9-11 at Hill Auditorium. The Oct. 9 concert features music director Alan Gilbert conducting "Vivo" by the New York Philharmonic's former composer-in-residence Magnus Lindberg; Beethoven's "Piano Concerto No. 1" with Philharmonic artist-in-association Inon Barnatan as soloist; and Beethoven's "Symphony No. 7."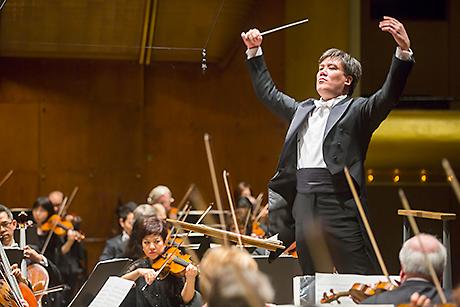 Alan GIlbert directs the New York Philharmonic. (Photo by Chris Lee)
The second concert Oct. 10 features Gilbert leading "LA Variations" by current composer-in-residence Esa-Pekka Salonen, and Richard Strauss' "Ein Heldenleben," featuring concertmaster Frank Huang. On Oct. 11, David Newman leads Leonard Bernstein's score to "On the Waterfront" while the complete film is screened.
In addition, Gilbert will conduct the Philharmonic brass section alongside the Michigan Marching Band for the halftime show at U-M's homecoming football game Oct. 10. More than 1,000 musicians are expected to be part of the halftime show — the first time in which members of a major symphony orchestra have participated.
Orchestra members and management will participate in a wide range of public educational activities in partnership with U-M units and community organizations, including a free "side-by-side" chamber concert that features U-M music students performing alongside Philharmonic musicians Oct. 8 at Rackham Auditorium.
Other activities include:
• A keynote lecture Oct. 8 by Gilbert titled "Orchestras in the 21st Century: A New Paradigm," which explores the challenges faced by orchestras today as they balance tradition, innovation, education and performance in a landscape of changing audience expectations and emerging technologies and media.
• A lecture Oct. 9 on "21st Century Orchestras and Social Impact," by New York Philharmonic President Matthew VanBesien at the Stephen M. Ross School of Business.
• Master classes by Gilbert, Philharmonic musicians and pianist Barnatan.
• Seminars with Philharmonic management.
"UMS has a long history of presenting top orchestras in multi-day residencies going back more than 100 years," said UMS President Ken Fischer.
"What is significant about these residencies is the breadth and depth of their education and community engagement activities. In this case, we have over three-dozen events scheduled that will animate the University of Michigan campus and provoke students into new ways of learning over a week in October."
SMTD Dean Aaron Dworkin said the residency offers students extraordinary opportunities.
"It is a brilliant example of what is possible when a world-class presenting organization like UMS partners with a top-tier performing arts school," he said. "Studying and playing with musicians of the New York Philharmonic's caliber can be truly life-changing for a student.
"All of us at SMTD are so grateful for this perfect storm of artistic collaboration, and for the time that the New York Philharmonic members and staff are taking to share their expertise in such a wide variety of activities."
VanBesien said he is excited for the Philharmonic to join forces with UMS.
"This endeavor allows the orchestra to inspire, instruct and influence the next generation of orchestral musicians," he said.
"We offer our sincere gratitude to Ken Fischer and everyone at UMS, and congratulate the University of Michigan for appointing Aaron Dworkin as the School of Music, Theatre & Dance's new dean.
"We couldn't have asked for more creative or enthusiastic partners. And — although I am an alum of another Big 10 school — I'll be proud to cheer 'Go Blue' on homecoming weekend."