Don't Miss: Contemporary dance and American National Standards Institute CEO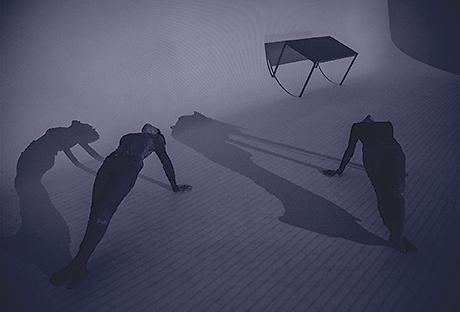 Gu Jiani's contemporary dance piece "Right & Left" is performed from 7-8 p.m. Saturday at the Mendelssohn Theatre at the Michigan League (Photo by Fan Xi)
Contemporary dance performance raises issues of gender, sexuality
Chinese choreographer Gu Jiani fuses a contemporary dance language of precision with shadows and projected lights in the performance "Right & Left." It is presented from 7-8 p.m. Saturday at the Mendelssohn Theatre in the Michigan League.
Performers Gu and Li Nan move and flow in unison on a starkly lit stage, expressing emotions in a shadow dance. A 30-minute Q-and-A will follow the performance.
In conjunction with the dance performance, Emily Wilcox, assistant professor of Asian languages and cultures, LSA, will introduce Gu's work and discuss issues of gender and sexuality in Chinese contemporary dance at 6 p.m. Thursday in the Michigan League Hussey Room.
This presentation is sponsored by the U-M Confucius Institute, the Lieberthal-Rogel Center for Chinese Studies, Institute of Humanities, Institute for Research on Women and Gender, Center for World Performance Studies, Office of Research, and Rackham Graduate School.
American National Standards Institute president to speak on campus
S. Joe Bhatia, president and CEO of the American National Standards Institute (ANSI), is scheduled to address the theme Building Academic Engagement in Standardization: Research, Facilities Management and Standards in the Classroom, in a campus presentation.
Bhatia's talk is at 2 p.m. Friday in the Stephen M. Ross School of Business, Room 2220. It is of interest to academic leaders, education facilities managers, business, law, public policy, science and technology students and faculty from a variety of disciplines.
As the voice of the U.S. standards and conformity assessment system, ANSI empowers its members and constituents to strengthen the U.S. marketplace position in the global economy while helping to assure the safety and health of consumers and the protection of the environment.
More information about the free event is at standards-michigan.plantops.umich.edu/ansi-2015.