Don't Miss: Detroit artist Guyton debuts U-M exhibit
New work by celebrated Detroit artist Tyree Guyton at the University of Michigan builds on his well-known Heidelberg Project by addressing Detroit's social and economic adversities.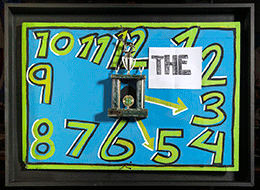 "The Detroit Show" is from the exhibit "What Time Is It? Tyree Guyton, New Work." (Photo by Patrick Young)
"What Time Is It? Tyree Guyton, New Work" is presented Friday through Nov. 6 in GalleryDAAS, Room G648 Haven Hall. The exhibit marks a transition for Guyton as he shifts attention from the Heidelberg Project, to which he has devoted 30 years, to the studio.
The exhibit presents 15 mixed-media wall pieces and a floor installation. Exhibit themes include the passage of time, adapting to change, the plight of the poor and disenfranchised, abuses of political power, race in America, and the paradoxes of organized religion. Gallery hours are 1-5 p.m. Monday through Friday.
The award-winning artist is best known as the creator of the Heidelberg Project, an outdoor art installation in southeast Detroit. A related exhibition, "The Art of Tyree Guyton: A 30-Year Journey," is at the U-M Museum of Art through Jan. 3.
Constitution Day program examines same-sex marriage
"The Same-Sex Marriage Cases: Two Views of the Constitution," will be presented by John J. Bursch at 4-5:30 p.m. Thursday at South Hall, Room 1225, to commemorate Constitution Day.
The Wall Street Journal reported that Bursch argued more than 6 percent of all the cases before the U.S. Supreme Court from March 2011 through 2013, compiling a record the National Law Journal observed "even more veteran high court advocates would envy."
Bursch argued 12 percent of the non-criminal Michigan Supreme Court cases during the 2014 Term, including the case challenging Michigan's Right to Work law. The lecture is sponsored by the U-M Office of the Provost and is free and open to the public.