Don't Miss: Shakespeare in the Arb celebrates 15th anniversary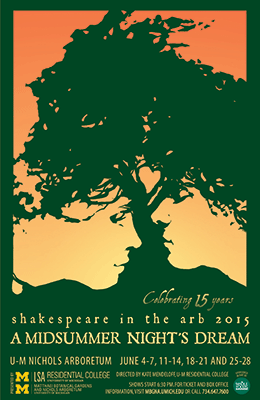 Shakespeare in the Arb was born in the summer of 2001, when Kate Mendeloff, lecturer IV in drama, Residential College, LSA, was asked to direct an outdoor production as part of a three-year, Ford Motor Co. grant for arts in the Nichols Arboretum.
She chose Shakespeare's "A Midsummer Night's Dream" for its structure, as the characters were transformed by the power of the natural world. The production was such a success that Mendeloff remounted it the following summer. Today, "Shakespeare in the Arb" is an Ann Arbor tradition.
To celebrate its 15th anniversary, beginning June 4 there will be four consecutive weekend performances of "A Midsummer Night's Dream." It celebrates love, magic and dreams. It is directed by Mendeloff and performed by U-M students and community players. Shows are from 6:30-9 p.m. Thursday through Saturday until June 28.
For parking, maps and ticket information, go to the MBGNA website at lsa.umich.edu/mbg. Like Shakespeare in the Arb on Facebook for updates including rain postponements.