Don't Miss: World War I posters celebrated in UMMA exhibit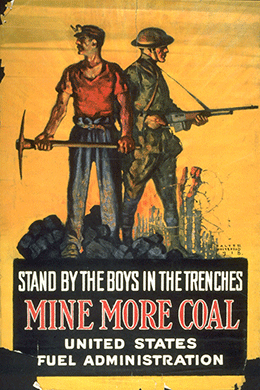 The American government During World War I used posters to rally troops, farmers, housewives, shipbuilders and immigrants to the cause.
The coming together of propaganda, commodity and art is celebrated in the exhibit " Mine More Coal: War Effort and Americanism in World War I Posters." It opens Saturday and continues through Sept. 20 at the U-M Museum of Art.
The focus is posters directed at coal miners. Coal was a central resource for the war, which the United States joined in 1917. Yet, the immigrant workforce was considered unreliable because of increasingly frequent workers' strikes. Posters also addressed anxieties about the definition of American culture and its readiness for war.
Marking the centennial of the Great War (1914-19), the exhibit includes lesser-known works by America's most famous poster artists. They include James Montgomery Flagg, the designer of the Uncle Sam "I Want You" poster, Howard Christy, J.C. Leyendecker and Henry Reuterdahl.
Lead support for this exhibit is provided by the Herbert W. and Susan L. Johe Endowment.