Don't Miss: Exhibit tells of daughter's journey to North Pole
The exhibit "Sophie Calle: North Pole" tells the story of a French conceptual artist and her journey to the North Pole to fulfill her mother's wish.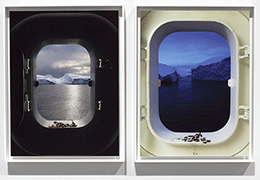 Artist Sophie Calle's journey to fulfill her mother's dream is documented in the exhibit "Sophie Calle: North Pole." (Image courtesy of Steven Probert)
Calle's mother had always dreamed of seeing the North Pole. So after her death, Calle travelled to bury her portrait and jewels on a glacier there. The exhibit, presented Saturday through Aug. 9 at the U-M Museum of Art, consists of video, photographs and a light box. It documents moments of Calle's journey.
The exhibit includes three porcelain plaques on which Calle inscribed a story. Calle wrote that she buried her mother's portrait, necklace and diamond on a glacier. "Now my mother has gone to the Arctic North. Will climate change carry her out to sea as far as the Pole? Will she be dragged down the valley towards the ice cap?" Calle wrote.
The creative process behind the exhibit is characteristic of Calle's practice. She not only shares a story drawn from her own life, but uses that moment to inspire further artistic exploration.
The exhibit is made possible in part by the Robert and Janet Miller Fund.