U-M startup acquired by electrical services company
Topic: Entrepreneurship & Innovation
Electric Field Solutions, a U-M startup that uses technology first developed for measuring electric fields caused by dust storms on the surface of Mars, has been acquired by Premier, a gas and electrical industries service company.
Premier, a Hauppauge, N.Y., unit of the Houston-based oil and gas construction company Willbros Group, bought EFS for an undisclosed amount.
EFS developed the Charge Tracker, a sensor product that can identify stray voltage from a distance of more than 10 feet. EFS uses technology developed at U-M by Nilton Renno, professor of atmospheric, oceanic and space sciences, and his research team.
Renno was a member of NASA's 2007 Phoenix Mars Lander science team and is a member of the Curiosity Rover science team. His group studied the effects of dust ejected from the surface of Mars by the Landers descent engines on their science instruments.
"I knew that we had created something that would be of value here on Earth," Renno said. "I just didn't know what form it would take. Fortunately, I was able to access resources that helped guide me through the process."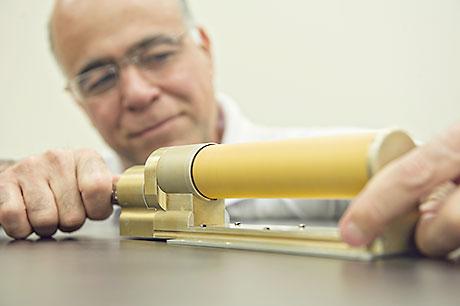 Professor Nilton Renno displays the Charge Tracker, a sensor that uses technology he developed to identify stray voltage from a distance of more than 10 feet. (Photo by Leisa Thompson)
Converting ideas from university research into market-ready opportunities often requires significant resources and experienced mentors, said Ken Nisbet, associate vice president for research — technology transfer. "Our Venture Center has resources and partners to help create and guide promising startup concepts."
Nisbet attributes part of the successful acquisition of EFS by Premier to Tech Transfer Mentor-in-Residence David Hartmann, who assisted Renno.
To augment the customer discovery process, Hartmann worked with Renno and graduate student Harvey Elliott through the National Science Foundation's I-Corp program administered and taught by the College of Engineering's Center for Entrepreneurship. The I-Corps training and mentorship from CFE facilitated hands-on customer discovery opportunities for Renno and Elliott, encouraging them to look beyond their initial technology focus to understand potential market needs.
The EFS project also received funding from Tech Transfer and the Michigan Economic Development Corp. to further the customer discovery process.
Later, once the startup was launched, EFS became a tenant in the Tech Transfer Venture Accelerator, where it continued to receive guidance from the Venture Center. EFS also received funding from Ann Arbor SPARK's microloan program and assistance from other regional partners.
As the Charge Tracker's technical capabilities progressed, the Venture Center team worked with community partners including Ann Arbor SPARK, the MEDC and the Small Business Development Center to help EFS expand its market potential by analyzing a list of potential customers.
From this analysis, Renno and Hartmann decided to pursue a relationship with Premier based on their interest and match with EFS's capabilities. This led eventually to the acquisition, a development that will accelerate the market adoption of the Charge Tracker technology.
"EFS is a great example of the expertise, resources and persistence necessary for success," Hartmann said. "We were able to help Dr. Renno further develop a science instrument, commercialize it targeting a market need, and eventually find a great partnered company to accelerate and broaden its success."