Don't Miss: Hong Kong protests are subject of documentary, talk
The new generation of Hong Kong democracy activists is the focus of the documentary film "Lessons in Dissent," which has been called a kaleidoscopic, visceral experience.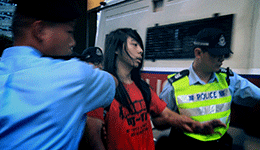 Director Matthew Torne will discuss his documentary "Lessons in Dissent" Feb. 12. (Image courtesy of Matthew Torne)
Film director Matthew Torne will present a talk on the film at 3:30 p.m. Feb. 12 in the Educational Conference Center, Room 1840, School of Social Work. The film will be screened at 6 p.m. Feb. 13, in Stern Auditorium at the U-M Museum of Art.
Torne moved from Beijing to Hong Kong in 2003 amid the chaos of the SARS outbreak and the turmoil of the Article 23 controversy. He immediately fell in love with Hong Kong and has been studying its politics ever since.
In 2010, Torne completed a master's degree at Oxford University on Hong Kong's post-1997 democratic development. He also worked as an associate producer on "Enemies of the People," a Sundance film festival-winning documentary about the Khmer Rouge. "Lessons in Dissent" took three years to make. It premiered at the 2014 Hong Kong International Film Festival.
Torne's talk is presented as part of the Lieberthal-Rogel Center for Chinese Studies Occasional Lecture Series.