Don't Miss: 'Drowning in a Sea of Information' exhibit
Texts, tweets, emails and more social media demand more and more of our attention and action. The information keeps coming in waves — or is it a tsunami?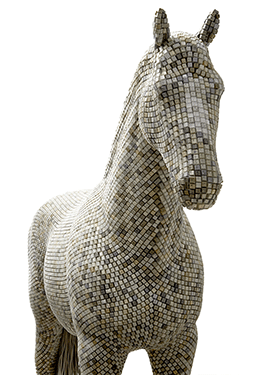 "Hedonism(y) Trojaner" by Babis Panagiotidis, a Trojan horse covered in computer keyboard keys, is from the exhibit "Drowning in a Sea of Information."
From TVs in the grocery store to audio-video news feeds spewing from gas station pumps, the onslaught of information is omnipresent and automatic. So when is there time to contemplate and process the information that we already have taken in if we are perpetually taking in more?
In the exhibit "Drowning in a Sea of Information," artists explore the consequences of information overload. The exhibit is presented through Dec. 19 at the School of Art & Design's Work: Ann Arbor studio, 306 S. State St.
Works include a wool and wire sculptural work depicting an iPhone. Artist Gary Schmitt titled the work "Hello." The artist admits to struggling with the amount of information he receives and is responsible for. "The speed is constantly on the verge of overwhelming me. The forms I use reflect this with a very narrow focus and contain emotional content representing conflict, tension and struggle," Schmitt says.
The exhibit is curated by Seder Burns, lecturer in art and design at the Penny W. Stamps School of Art & Design.
Work: Ann Arbor is open noon-7 p.m. Monday through Saturday.