1,000 Pitches winners part of national movement
Topic: Entrepreneurship & Innovation
The world's largest student pitch competition is helping to spread the spirit of entrepreneurship across U-M and beyond. The 1,000 Pitches contest, which began at U-M seven years ago, has grown to six campuses across the country, and this year it gathered more than 7,500 ideas.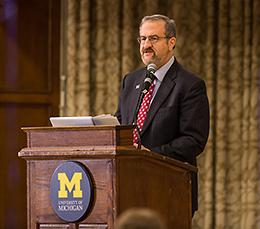 President Mark Schlissel congratulates the winners of the 1,000 Pitches contest. (Photo by Austin Thomason, Michigan Photography)
U-M's winners were announced Monday night at an awards ceremony at the Michigan Union.
"Making a difference always begins with an individual or group of individuals having an idea, and I applaud your initiative," President Mark Schlissel said. "You are showing that innovation and creativity are not just alive and well, but thriving at the University of Michigan."
Other universities that took part this year are Pennsylvania State University, the University of Pittsburgh, Virginia Tech, the University of Southern California and the University of Arizona. Each university chose its own set of winners.
"We've created a movement, and we're creating a network of entrepreneurs across the nation," said sophomore Yianni Kontorousis, 1,000 Pitches director with the MPowered Entrepreneurship student organization that runs the contest.  
U-M students submitted more than 4,300 ideas in nine categories. Winners are:
+ more information
• In Research, Praveen Loganathan, a sophomore in the Stephen M. Ross School of Business, for Home-Based Hydrogen Fueling Stations. Loganathan is interested in studying whether homes could serve as fueling stations for future hydrogen cars.
• In Web and Software, Alex Cox, a sophomore studying neuroscience in LSA. Cox pitched Doctor Tracker, a text-based service to help people in developing nations find the closest physician.
• In Tech and Hardware, Mac Levin, a freshman at the Ross School, for The Washer/Dryer 3000. Levin pitched a one-stop laundry shop that washes, dries and folds clothes.
• In Health, Arianna Carley, a sophomore studying mechanical engineering at the College of Engineering, for Dynamic Convertible Wheelchair. Carley's device, for which she has a patent pending, is a combined wheelchair and chair lift that would help health workers transport patients from a wheelchair to a bed and vice versa. Carley saw a need while volunteering in a hospital. "After talking to hospital staff, I learned that there was no good solution currently available and decided to formulate my own," Carley said.
• In Environment, Emma Backman, a senior studying materials science and engineering at CoE, for Biodegradable Isolation Gown. Isolation gowns protect both hospital workers and patients from the spread of infectious disease. The material they're made of today takes thousands of years to break down in a landfill, and the U-M Health System, for example, needs 1.6 million of them every year.
• In Education, John Kloosterman, a second-year doctoral student in computer science and engineering at CoE, for Academic Paper Aggregator. Kloosterman pitched a website that would list important papers in various academic fields, helping new graduate students determine which one transformed fields and which were incremental advances.
• In Mobile Apps, Patrick Wilson, a senior studying computer science and engineering at CoE, for WTD, or What To Do. What To Do is a mobile app that suggests productive activities as antidotes to social media time wasting.
• In U-Provements — ideas to improve U-M's campus — Raina Srivastava, a freshman who hasn't declared a major, for VOICE. This app and forum would that let students post 500-word stories about their experiences relating to a particular issue on campus.
• In Consumer Product, Danping "Amy" Zhao, a junior studying communications in LSA, for Self-Defense Phone Case. Zhao's idea is an affordable, sleek and stylish phone case with two cat-ear-shaped points that could be used to jab an assaulter in an emergency.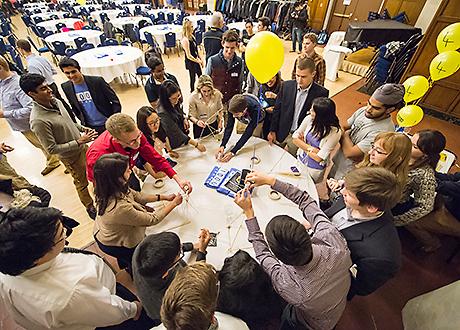 During a workshop at the 1,000 Pitches event, students used masking tape and thin wooden sticks to build the tallest tower that will support a marshmallow at the top. (Photo by Austin Thomason, Michigan Photography)
"It feels really great knowing that other people support my idea," Zhao said. "It gives me a lot of confidence to move forward with a business plan or even think of other entrepreneurial ideas."
The 1,000 Pitches contest is not a traditional business plan competition. Students just need an idea to enter. It can be one they've spent time pursuing, or a brand new one they've just dreamed up.
"It's entirely about one key lesson: talk to others about your ideas!" said Thomas Zurbuchen, special counsel to the provost on entrepreneurial education.
"This is a critical step on the path to innovation. With thousands of members in our creative community willing to share their ideas, our campus becomes a place where these ideas can flourish and grow beyond expectations."