STEM education reform a long-distance endeavor, not a sprint
Changing the face of STEM teaching at U-M will be a continuous journey, but it will alter "the relationship with students in important, fundamental ways," the keynote speaker at the October Provost's Seminar on Teaching told a group of faculty Wednesday.

Robin Wright, senior associate dean for undergraduate initiatives in the College of Biological Sciences at the University of Minnesota, talked about her college's journey to transform science, technology, engineering and mathematics (STEM) education, during the seminar titled "REBUILDing STEM Education at Michigan."
"This is not a journey that we will finish," Wright said. "Every year there will be new students, new technologies, new innovations.
"Building sustainable things take time.
"Take the time to think big and what it would take to get there. What would it look like? What's your vision? But having a vision is not enough."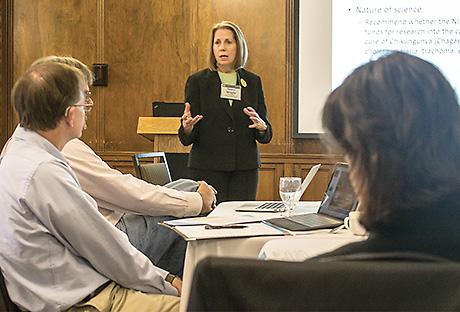 Robin Wright of the University of Minnesota was the keynote speaker at Wednesday's Provost's Seminar on Teaching, and she also presented a workshop titled "Start Where You Are: Incorporating Scientific Teaching Approaches in Your Existing Lectures." (Photo by Pamela Fisher, Center for Research on Learning and Teaching)
Using the analogy of climbing Mount Everest, which gets easier every year because local Sherpas map out the best route in advance, Wright said: "It's not enough to know you want to reach the top of Mount Everest. You have to know the best path. You have to be prepared for student resistance and faculty resistance, until you get over the hump."
Provost's Seminars are organized by the Center for Research on Learning and Teaching, with topics chosen by the Provost's Office, to foster cross-campus discussion about teaching and learning.
+ more information
Since the beginning of the year, a group of faculty has been working on a project called REBUILD (Researching Evidence Based Undergraduate Instructional and Learning Developments) to cast that vision for U-M and begin to change the way courses are taught in these fields.
Supported by a $2 million National Science Foundation grant, the team has begun to transform 21 courses with total enrollment of more than 8,000 students each semester into evidenced-based classes that use data to measure and monitor student success.
The project also encourages engaged learning and use of research to demonstrate that these approaches to teaching result in better student success.
"REBUILD presents a sustainable opportunity for reform in STEM education," said James Holloway, vice provost for global and engaged education. "Now is the time for this kind of action. Now is the time for this kind of reform."
Tim McKay, Arthur F. Thurnau Professor of Physics, professor of astronomy and director of the LSA Honors Program, is leading the project.
"We've been leaders in implementing new methods. We're not fixing a problem, we're responding to external changes. Just because we're teaching well does not mean we can't do better," McKay said, noting that research has offered much evidence about how people learn. He said this understanding about learning in an increasingly digital world calls for reform.
Faculty members who have started to change the culture a few courses at a time also were present at the seminar to share methods, successes and lessons learned.
Some of the approaches shared include:
• John Wolfe, professor of chemistry, discussed a project to engage students in "real-life" research projects in their first year. This project, led by Wolfe and Thomas Schmidt, professor of ecology and evolutionary biology, is yet to launch but represents an effort to engage students in authentic research early on.
• Nicole Michelotti, a REBUILD postdoctoral scholar in physics, described a tournament approach to peer review in quantitative courses that asks students to use a computer program to check other students' homework anonymously, ranking them in a way that allows the software to determine which student has done the best job answering the question or solving the problem.
• Bart Bartlett, associate professor of chemistry, highlighted his use of video to walk students through chemistry problems to let them know where they went wrong. Designed to enhance the current use of Problem Roulette, an online program that offers practice questions, the videos go step-by-step through problems so that students who got a wrong answer can determine how they got off track.
Many participants at the seminar already have adopted engaged-learning practices, and a number are using data to inform their teaching. Faculty members like Monica Valluri, research associate professor in astronomy, came hoping to hear more from other faculty.
"I've been trying a lot of different methods to get students more engaged, and have a lot of experience knowing what doesn't work so well. I'm just trying to pick up ideas from others," Valluri said, adding that she heard one very helpful tip in particular on how to help students navigate complicated material using guided questions to help students examine their misconceptions about science.