Don't Miss: Matthaei presents Spring Plant Sales
Matthaei Botanical Gardens hosts two plant sales this month: The Mother's Day Plant Sale & Fundraiser from 10 a.m.-4:30 p.m. May 10-11, and the Kitchen Favorites Plant Sale & Fundraiser from 10 a.m.-4:30 p.m. May 17-18.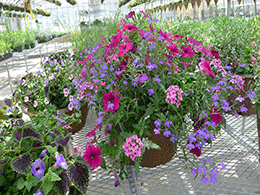 Hanging flower baskets are among plants available at Matthaei Botanical Gardens May 10-11.
Hanging baskets and containers grown and designed by Matthaei-Nichols Arboretum staff and volunteers are available Mother's Day weekend in a variety of colors and textures.
A free Mother's Day Tea Party open to the public is presented from 1-3 p.m. May 11 in the tropical setting of the Matthaei Conservatory. It is hosted by the Friends Membership Program as part of the ongoing Friends 40th Anniversary Celebration. RSVP to membership manager Andy Sell at sella@umich.edu.
Proceeds from the Mother's Day weekend sale support Matthaei-Nichols education programs, conservatory exhibits and events. They range from art exhibits in Matthaei spaces to family programming including Things with Wings, the Solstice Concert and Run for the Arb.
The Kitchen Favorites sale proceeds support the student gardening group Cultivating Community. The sale will include a large selection of heirloom vegetables and herbs grown and sold by the group. All proceeds benefit the Campus Farm and Cultivating Community. Also, see demos and information from the Michigan Gourd Society, and learn about herbs and special recipes from the Herb Study Group.
For more information, go to www.lsa.umich.edu/mbg/happening/springplantsales.asp.