Project to provide new lighting for Burton Memorial Tower
Topic: Arts & Culture, Campus News, State & Community
The iconic Burton Memorial Tower on the University of Michigan's Ann Arbor campus will undergo an interior lighting upgrade this fall, in time to celebrate the university's bicentennial in 2017.
In 1935 Charles Baird, U-M's first athletic director, commissioned a carillon and challenged town and gown to join together to contribute funds for a tower to house the 53 bells as a memorial to former President Leroy Burton. Michigan alumni, faculty, friends of the University Musical Society and members of the community answered. 
 The Burton Tower and Baird Carillon have served ever since as the iconic music box and timepiece on Central Campus for the university and for Ann Arbor.
Since then, the tower has been illuminated by floodlights that are now outdated. The current floodlights will be removed and replaced with a new system that will illuminate the tower from within, with more than 100 LED bulbs that can be programmed in various colors.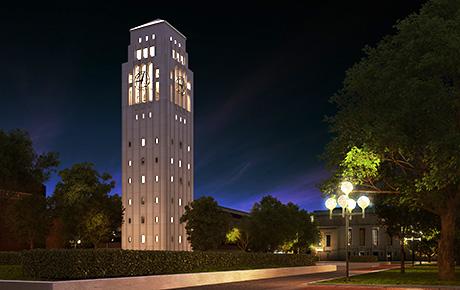 This computer-generated image shows how the new LED system is expected to illuminate Burton Memorial Tower from the inside. (Image courtesy of The Lighting Practice)
The new system will create a subtle white glow from within the tower by highlighting the Baird Carillon bells and the openings at the top. The system also will have the potential to create light shows synchronized with music from the carillon.
A $1 million fund has been created to install, operate and maintain the new lighting. Leadership donors Ron and Eileen Weiser established a $500,000 challenge grant. Their friends Paul Dimond, John Carver and Tim Wadhams solicited gifts of $25,000 each from alumni, faculty and members of the community, matched dollar for dollar by the challenge.
The new light box, carillon and clock tower will continue to serve as the symbol of town and gown joining together for the university's benefit.
University officials met with community members in the neighborhood of Burton Tower to provide information about the project and address any questions.
The Lighting Practice from Philadelphia will serve as the project consultant. The firm has designed lighting for such prominent structures as the Empire State Building in New York City and the U.S. Capitol Dome in Washington, D.C.
The Lighting Practice has partnered with Integrated Design Solutions, a Michigan architectural and engineering firm that will address the infrastructure needed to install and operate the lighting.
The project, which is entirely donor funded, is part of the university's Victors for Michigan campaign, the goal of which is to raise $4 billion, including $1 billion for student support.