Top student ventures highlighted in new report
Topic: Entrepreneurship & Innovation
A high-tech cap that lets you control technologies with your mind.
A rock band school for girls in Detroit.
A biochip that can quickly give doctors vital information with only a drop of blood.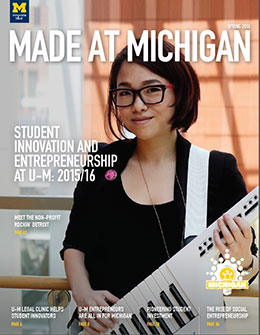 Made at Michigan magazine highlights the accomplishments of student ventures.
These are just three of the more than 80 ventures that University of Michigan students across campus are pushing forward with support from the institution's top-ranked entrepreneurial programs. Details of many more student startups and endeavors are published today in the first-of-its-kind report: Made at Michigan.
The report, available as a print magazine-style publication or a sortable web version, shines a bright spotlight on ventures over a broad range of disciplines, including for-profits, social ventures, and innovative new products and services with market potential.
"In the last two years, we have created a minor in entrepreneurship open to all undergraduate students and added new entrepreneurship experiences and competitions. These programs have fueled the ambition and entrepreneurial spirit of students across campus — with many forming ventures showcased in this report," says President Mark Schlissel.
Entrepreneurship education has been part of the fabric of the university since the nation's first small business management course hit the books in 1927 at what is now the Stephen M. Ross School of Business. Since then, the university's entrepreneurial offerings continue to grow in scope and recognition, mostly driven by student demand.
The university offers more than 120 entrepreneurship- and innovation-related courses to undergraduate and graduate students. In the past four years, enrollment has exceeded 10,000. U-M was also recognized for making the greatest upward leap of any higher education institution in the 2016 Princeton Review and Entrepreneur magazine ranking, and named in the top five for graduate entrepreneurship education.
In addition to the minor program, more than 15 centers and programs focus on entrepreneurship education, student challenges, and community events. There are also over 30 student organizations with an entrepreneurial focus.
The Made at Michigan report is produced by Innovate Blue, along with a network of programs, centers, and institutes that help support U-M's student innovators and entrepreneurs.
"U-M students in all disciplines can benefit from an entrepreneurial education, whether they apply their experience to careers in areas including science, the arts, or public service," says Innovate Blue director Oscar Ybarra. "This report emphasizes the true impact of a university culture that supports entrepreneurship from all angles."
Made at Michigan highlights include pioneering student investment funds at the Zell Lurie Institute at the Ross School, the Law School's Zell Entrepreneurship and Law clinic's impact on student innovation, U-M entrepreneurs' economic impact in the region via the Center for Entrepreneurship, and new programs in social innovation.
Student ventures highlighted in Made at Michigan 2016 include:
Girls Rock Detroit: A community organization dedicated to fostering girls' creative expression, positive self-esteem, and community awareness through rock music education and performance in Detroit.
PreDxion Bio: (preDICtion) A team of engineering and business students developing a near-bedside tool that can, with a single drop of blood, tell doctors the immune system status of critically ill patients.
Kulisha: A global team of students producing low-cost, high-quality, sustainable fish feed made from insects, revolutionizing the aquaculture industry in East Africa.
Neurable: A team of business and engineering students developing a non-invasive system that lets people control software and devices in 3-D by using brain activity. It also has applications in the communication, gaming and home automation markets.
Ballot: A team of business, engineering, and liberal arts students developing a mobile platform for citizens to voice their opinions and concerns on proposed legislation bills that interest them.