Chemistry professor recounts 50 years at the university
After 50 years of teaching at the University of Michigan, Professor Raoul Kopelman calls Michigan home. However, it all began in Israel.
Escaping Nazi persecution, at age 5 he arrived with his parents in Tel Aviv. He received his bachelor's degree in chemical engineering and a master's in physical chemistry, both from the Technion, the Israel Institute of Technology.
In 1957, he came to the United States to pursue his doctorate at Columbia University. He went back and forth doing postdoctoral work and teaching at Harvard, the Technion and Caltech.
Kopelman and his wife, Chava, chose Michigan over multiple other offers, when he accepted a position as assistant professor of chemistry in 1966. Ann Arbor had all the advantages of a big city without its disadvantages.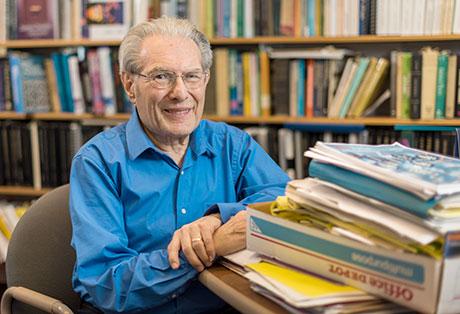 Raoul Kopelman, the Richard Smalley Distinguished University Professor of Chemistry, Physics and Applied Physics, professor of biomedical engineering and professor of biophysics, chose U-M over multiple other offers in 1966. (Photo by Scott C. Soderberg, Michigan Photography)
"The university's diversity of fields and friendly culture promised interdisciplinary collaborations," said Kopelman, the Richard Smalley Distinguished University Professor of Chemistry, Physics and Applied Physics, professor of biomedical engineering and professor of biophysics.
At U-M, Kopelman's research, teaching and mentoring flourished. Four of his former students received the Nobel Prize in chemistry, one of whom inspired his title, Richard Smalley.
Remarkably, Kopelman pioneered nanotechnology so early that academic journals required him to remove the word "nano" from articles; the scientific community hadn't yet accepted the term.
From the beginning, Kopelman envisioned that, "Like the nano-submarine in Isaac Asimov's 'Fantastic Voyage,' a nanoparticle could travel through a patient's body."
His current research stretches nanotech to new frontiers. Implanting nanoparticles that precisely and specifically target and kill dangerous cells, using noninvasive and otherwise harmless red light, instead of high energy lasers, X-rays, or gamma rays.
The weekly Spotlight features faculty and staff members at the university. To nominate a candidate, email the Record staff at urecord@umich.edu.
With collaborators in the Medical School, Kopelman applied this technology to treat cancer, as well as heart arrhythmia, so far in rodents and sheep. Specialized biocompatible nanoparticle contrast agents can also greatly improve precision in body imaging, such as for CT, MRI and photoacoustic imaging, as well as give visual delineation enabling neurosurgeons greater precision and safety.
Kopelman's career thrives in Ann Arbor, and similarly his personal life also centers around the city. His son, Leeron, attended the College of Engineering and in 1987 started a consulting business in town that he's been running since.
Shirli Kopelman, his daughter, is a professor of management and organizations at the Stephen M. Ross School of Business. The two professors often have lunch together on campus.
When asked if he plans to retire, he responded, "I've been asked before." He laughed. "Eventually. Science is too exciting, and there are so many questions to explore that have critical impact on peoples' lives."
Q & A
What moment in the classroom stands out as the most memorable?
When my 100-plus-student Physical Chemistry class was interrupted by protesters calling to cancel class and join a political demonstration "for democracy." I put the suggestion to a democratic vote by the students, who voted to continue with the class.
What can't you live without?
The 3 Cs: chocolate, classical music and chemistry.
Where is your favorite spot on campus?
The School of Public Health lecture hall with its huge, classical organ.
What inspires you?       
The science-related questions of my students.
What are you currently reading?
Children's books, with my granddaughters.
Who had the greatest influence on your career path?
My fifth-grade school teacher, Oved Amitai. He gave me his old German-language booklet on children's chemistry experiments for the home (and backyard!), encouraging me to organize a small group of students to have fun with it. Of the four of us, three became professors teaching physical chemistry.