200 years in the making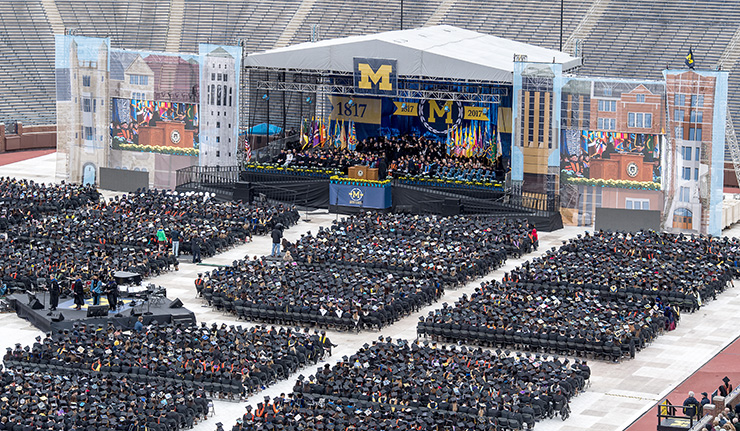 Michigan Stadium took on a different look for Spring Commencement on Saturday as graduates filled the field and faced a new stage highlighting U-M's bicentennial year, a theme that continued throughout the unique ceremony. Click the image to access a gallery of commencement photos.
NGO leadership workshop
The Weiser Center for Europe and Eurasia and William Davidson Institute have partnered with the Pontis Foundation to offer a leadership workshop to leaders of non-governmental organizations in countries experiencing democratic transitions. In this video, Amy Gillett, vice president of education for the WDI, and Ronald Weiser, a U-M regent and patron of the Weiser Center, discuss the partnership's role.
Distinguished Dissertation Awards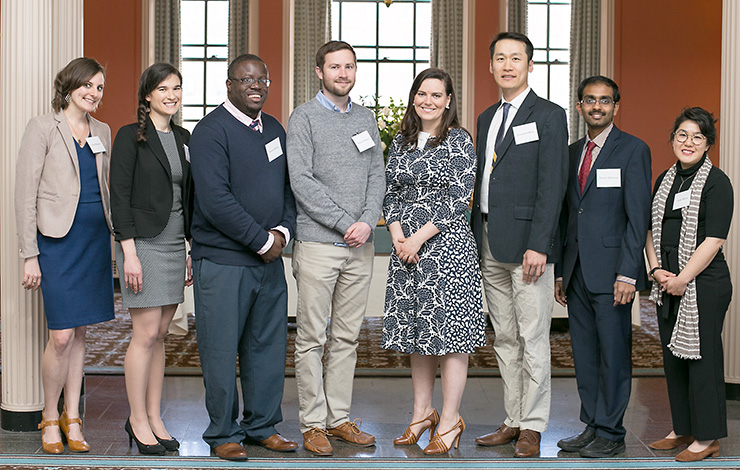 The 2016 ProQuest Distinguished Dissertation Award recipients were honored Tuesday. Awardees receive a $1,000 honorarium recognizing exceptional scholarly work and completion of their doctoral degrees in 2016. The annual competition is co-sponsored by ProQuest and Rackham Graduate School. Awardees, from left, are: Emily Waples, Elizabeth Mann, Austin McCoy, Nielson Baxter, Sara Rimer, Yoonseob Kim, Naveen Narisetty and Cassie Miura. Not pictured: Azadeh Ansari, Emily Maclary. (Photo by Elizabeth Kassab)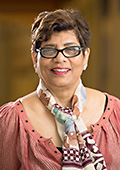 Faculty/Staff Spotlight
"For both those who teach and those who learn, it's about finding a way to teach to act, to stop making them recipients of knowledge but instead owners of knowledge."
Nesha Haniff, lecturer IV in Afroamerican and African studies and women's studies.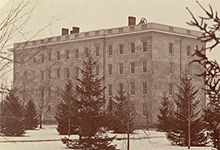 Michigan in the News
Margo Schlanger, professor of law, was quoted in a story about a judge's ruling blocking President Trump's attempt to strip funds from "sanctuary cities" that don't cooperate with U.S. immigration authorities.
Shannon Zachary, head of the Department of Preservation and Conservation at the U-M Library, discussed the best ways to preserve "historical treasures," both old papers and pictures and newer digital photos, videos and other recordings.
"It's fine to be skeptical, but look at the evidence and judge for yourself," said Adam Rountrey, collection manager at the Museum of Paleontology, who along with Daniel Fisher, director of the Museum of Paleontology, made available 3-D images of mastodon fossils they say suggest humans reached the New World more than 100,000 years earlier than previously thought.