Milestone in movement
Across Michigan, children born with Down syndrome are walking three to six months earlier, thanks to researchers at the School of Kinesiology. This video shows how just minutes a day on a tot-sized treadmill can lead to the crucial life milestone, a development that has touched hundreds of children in and outside the state.
Restoring Union glory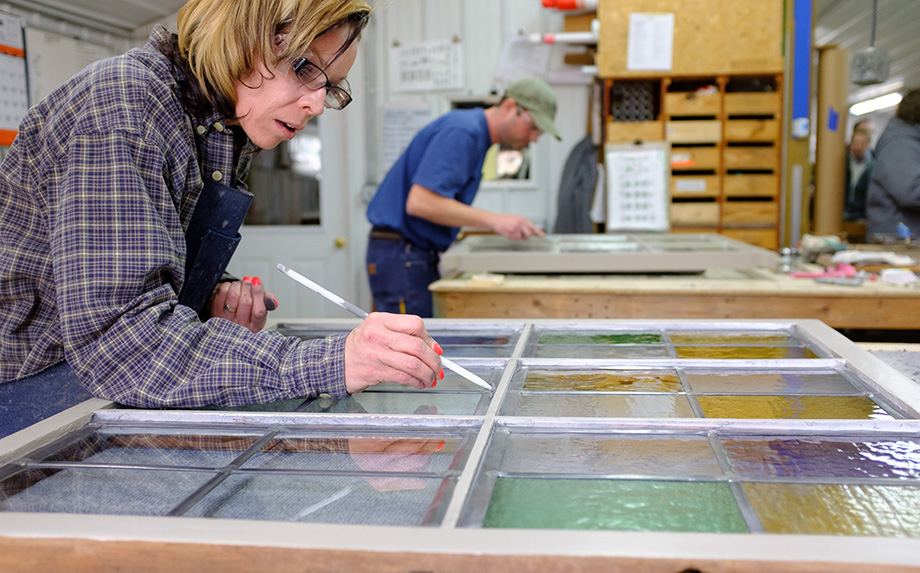 A worker for Full Spectrum Stained Glass puts the finishing touches on a restored window from the Michigan Union. The Colon, Michigan, restoration company has been working since August to painstakingly strip, repair and restore 540 windows that are part of the Union renovation project, which also includes 1,150 individual sashes, 5,218 leaded glass panels and 21,528 individual pieces of glass. (Photo by Mark Gjukich, Technology Solutions)
Prisoner art
The Prison Creative Arts Project presents the 24th Annual Exhibition of Art by Michigan Prisoners, one of the largest prison exhibitions in the world, from March 20 to April 3. In this video, Graham Hamilton, the PCAP arts programming coordinator, discusses the project, which highlights the work of 574 artists from 26 facilities in Michigan.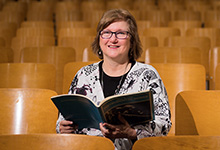 Faculty/Staff Spotlight
"In Flint, you have a whole school district of kids juxtaposed with a beautiful cultural center that they have not had access to and no access to programming during the day. It was important for me to try and change that."
Victoria Bigelow, an evaluation coordinator at the School of Education, uses her skills and passion to help connect Flint's students to the art of music.
Michigan in the News
(Editor's note: This item has been amended from its original version to clarify the faculty member's position.)
Emily Wilcox, assistant professor of modern Chinese studies, addressed Chinese dance history in an article investigating the U.S.-based performing arts group Shen Yun. The group claims to perform ancient Chinese dances to international audiences, but Wilcox disputes that assertion.
"While federal reform efforts are important both for federal prisoners and because of the leadership role the federal government can play, only 12 percent of prisoners are in federal prisons. Truly wide-reaching national reform also requires the federal government to incentivize states and localities to change," co-wrote Jeffrey Morenoff, professor of sociology and public policy and research professor at the Institute for Social Research.
Research by Kyle Sheetz, resident in general surgery, and colleagues found that just because a flagship hospital gets good marks for patient care doesn't mean results will be equally good in affiliated hospitals in the same network: "For simple care in straightforward patients it may not make a difference. But if you're having a heart operation or a colon removed for cancer, you want to talk to your doctor about it and ask the surgeon what kind of experience he has."