Yoga, Zumba and more taking over Big House on Sept. 28
Instead of touchdowns and field goals, look for warrior poses, planks, squats and Zumba-style dance moves Sept. 28 at Michigan Stadium.
University of Michigan faculty and staff are invited to participate in "Be Well in the Big House," a free event sponsored by MHealthy.
+ be well in the big house
The event includes activities both on and off the field. On-field sessions require registration and include:
3 p.m. — Strength training (using body weight)
4 p.m. — Zumba
5 p.m. — Yoga
6 p.m. — Meditation
6:30 p.m. — Meditation
"Last year's Yoga in the Big House event was a huge success, so we wanted to expand this year's event to include more disciplines like strength training, cardio and meditation," says Karen Schmidt, director of MHealthy Programs & Services. "This is a great opportunity to try something new and get moving, stronger or centered in a place that is uniquely Michigan."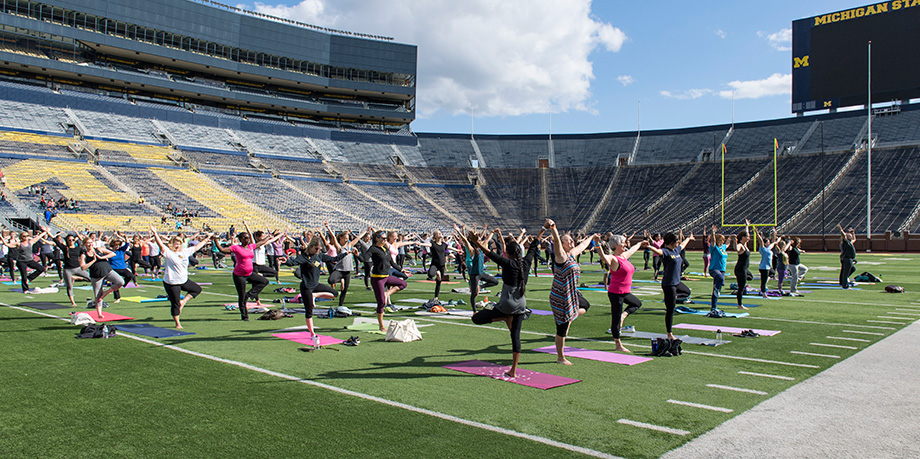 Hundreds turned out to practice yoga on the Michigan Stadium field in 2017. The Sept. 28 "Be Well in the Big House" event will include strength training, Zumba, yoga and meditation. (Photo by Roger Hart, Michigan Photography)
All levels, abilities and those with limited mobility are welcome to attend. Additional MHealthy and Rec Sports instructors will be on the field to help participants with modifications.
Space is limited for this free event. Last year, registration for on-field sessions reached capacity weeks before the event. Attendees should register for only the session they plan to attend.
On the concourse, faculty and staff can sample healthy snacks, talk with health experts, visit a farmers market, join in a tai chi session, pick up their giveaway, enter to win prizes, and more.
"Even if you do not attend an on-field session, there will be plenty of fun activities on the concourse to support you on your well-being journey and help you maintain your physical, social, and mental and emotional well-being," says Schmidt.
For the best experience, on-field participants should bring appropriate footwear, a mat or towel, water bottle, and their U-M employee ID. Anyone in need of additional accommodations to participate in this event can contact MHealthy at 734-647-7888 for assistance.