Staff members honored for contributions to diversity at U-M
To fully grasp the sixth annual Distinguished Diversity Leadership Awards event on Dec. 2, it's best to start at the end, when Laurita Thomas, associate vice president for human resources, exhorted the room to truly celebrate the moment.
The audience rose for a standing ovation, applause, cheers and whistles in recognition of the 2014 honorees.
DDLA team awards
CRLT Players Theatre Program Team
Michigan News Global Communications Team
School of Public Health Office of Academic Affairs Team
UM-Flint Initiatives in Nursing Diversity Staff Team
Women in Plant Services Team
Thomas drew attention to the broad reach across disciplines and sectors of the university represented by the honorees, and the substantial impact they have throughout the institution.
"Because of your courage, we can continue to be a national leader in equity and inclusion. We are the University of Michigan because of who you are. What an inspiration. What a place to be a part of," she said.
The DDLA recognizes individual staff members and teams for their accomplishments and contributions to diversity at U-M, and provides prizes of $1,000 for individuals and $2,500 for teams for professional development activities.
Staff members on all campuses and the U-M Health System are eligible. The DDLA is sponsored jointly by University Human Resources and the Office of the Provost.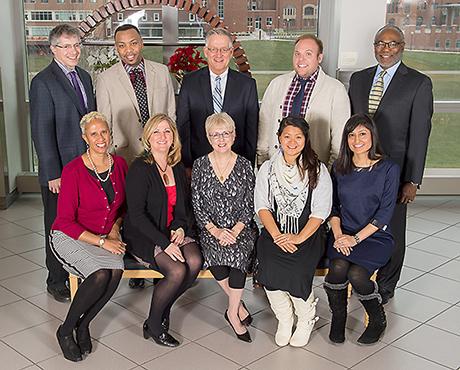 DDLA individual award winners. Back row, from left: Jack Bernard, Office of the General Counsel; Rev. Jamie Hawley, UMHS Spiritual Care Department; Craig Luck, Hospital Operations; Joseph Foster, UHR Childrens Center; Esrold Nurse, LSA Student Academic Affairs. Front row, from left: Darlene Nichols, Library Research; Mary Diskin, Plant Operations; Diane Hall, ITS Infrastructure Services Operations; Linh Nguyen, Multi-Ethnic Student Affairs - Student Life; Pardip Bolina, Center for Global and Intercultural Study. (Photos by Daryl Marshke, Michigan Photography)
In his opening remarks, Robert Sellers, vice provost for equity, inclusion and academic affairs, reflected on his several years at U-M, as a graduate student, faculty member and then associate chair and chair of the Department of Psychology.
As an administrator, he said, "I had an opportunity to really get to interact with staff and to see the real level of dedication, the real level of commitment, the real blood, sweat and tears that went into making this place great.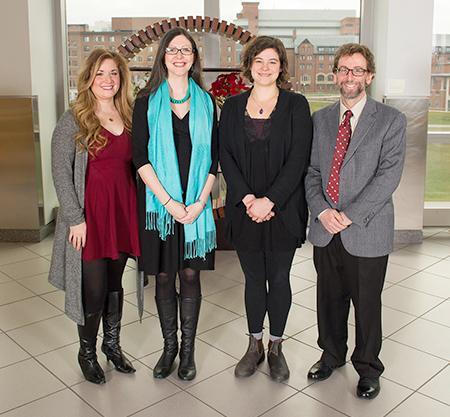 CRLT Players Theatre Program Team. From left: Courtney Riddle, Sara Armstrong, Jessica Von Hertsenberg and Matt Kaplan.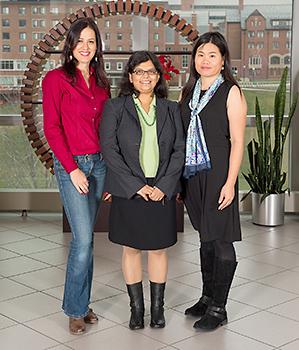 Michigan News Global Communications Team. From left: Fernanda Pires, Mandira Bannerjee and Debing Su.
"Michigan has several slogans, 'Hail to the Victors, Go Blue,' etc. But I think my favorite slogan is one I see sometimes around town on U-M vehicles: 'We make Blue go!' That's really the case."
He said the university demonstrates better than any other place the importance of diversity as a strategy for achieving excellence.
As a researcher, "I used to think that the university's No. 1 mission and enterprise was about problem solving. But now I think it's not simply our mission to solve problems. It's really a focus of trying to understand, and in understanding, it is even more critical to have multiple perspectives, views and approaches. There's nothing we can truly understand from only one perspective."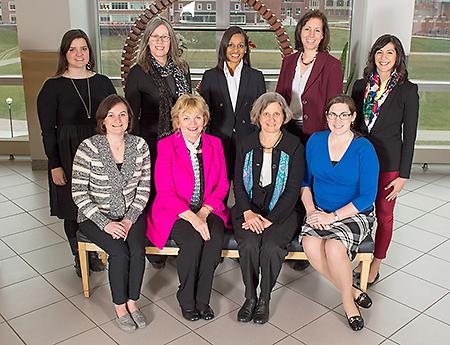 School of Public Health Office of Academic Affairs Team. Back row, from left: Emily Renda, Meghan Genovese, Chanel de Guzman, Shelagh Saenz, Kiran Szekeres. Front row, from left: Alexis Robinson, Nancy Janz, Dina Kurz and Laura Flak. Not present: Adam Ancira-Corrigan, Tara Allendorfer, Beverley Lange, Mary Beth Carroll, Robert Galka and Jane Banaszak-Holl.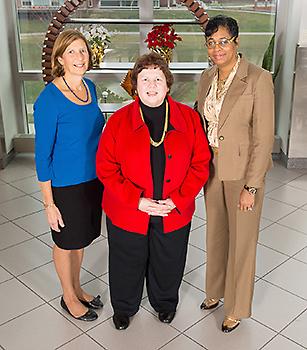 UM-Flint Initiatives in Nursing Diversity Staff Team. From left: Linda Knecht, Marge Andrews and Jeneen Hinkle. Not present: Roneeka Pleasant-Brown, Delma Thomas-Jackson and Annette Patterson.
Event host Anthony Walesby, associate vice provost and senior director of the Office for Institutional Equity, said each year brings wonderful and outstanding nominations for the awards.
"Presented with such amazing levels of excellence, we have a difficult time trying to determine who will receive an award," he said. "I believe you will agree that the 2014 DDLA Nomination Review Committee chose 10 individuals and five teams that have demonstrated extraordinary commitment and dedication to diversity."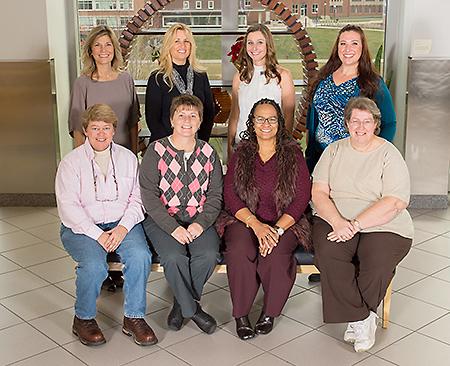 Women in Plant Services Team. Back row: Camie Munsell, Chris Nedrow, Molly Suliman and Hayley Briggs. Front row: Linda Kardia, Cathy Hamilton, Cheryl Mayes and Anna Balhoff.