Maize-and-blue merchandise that promotes the University of Michigan's first 200 years will help support students enrolled in Michigan's third century of teaching and research.
Related Articles
A licensing agreement between the university and Ann Arbor's M Den will see that proceeds from bicentennial clothing, merchandise and gifts go toward need-based undergraduate scholarships administered by the Office of Financial Aid.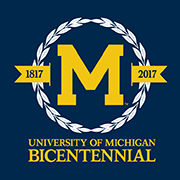 "From the earliest days of planning the bicentennial, we wanted to find a way to assist the students of tomorrow," said Gary D. Krenz, executive director of the Bicentennial Office. "This is a perfect way to celebrate our anniversary and help the next generation of students."
Pam Fowler, director of the Office of Financial Aid, said proceeds will support the Undergraduate Scholarship Fund for students with demonstrated financial need. The fund is one of the university's largest, and typically gives a total of $400,000 to $570,000 to between 50 and 70 students a year. Another $2 million to $3 million a year supplements the university's need-based grant fund, which provides approximately $116 million to 8,000 needy students each year.
"We are pleased and grateful that the committee has chosen to use the proceeds to support students with demonstrated financial need. These donations help up assist these students with college expenses such as tuition, housing and personal costs," Fowler said.
The M Den, the official retailer of the athletic department, has created a Bicentennial Collection of T-shirts, sweatshirts, hats and accessories that feature the bicentennial logo and "Always Leading, Forever Valiant" tagline. The M Den has locations throughout Ann Arbor, and in Livonia and Novi.
"We at The M Den are very happy to help the university community celebrate this bicentennial milestone," said Scott Hirth, one of the owners of The M Den. "Over the next year or so we plan to bring some awesome products to market that will allow all of us that love the university to commemorate this great event, while at the same time helping the students of tomorrow."
Tags: