U-M leaders say posted fliers aren't consistent with university's values
Following the discovery Monday of fliers on campus espousing racist sentiments, U-M leaders have taken steps to denounce the fliers' message and reiterate that such attacks "are inconsistent with the university's values of respect, civility and equality."
"Messages of racial, ethnic or religious discrimination have no place at the University of Michigan. Targeted attacks against groups of people serve only to tear apart our university community," said a university statement signed by President Mark Schlissel, Provost Martha Pollack, Vice President for Student Life Royster Harper, and Rob Sellers, vice provost for equity, inclusion and academic affairs.
The statement, which was posted to the Public Affairs website, said a member of the U-M community found and removed the fliers early Monday morning in Haven and Mason halls. Other fliers subsequently were found elsewhere around campus.
"While we continue to defend any individual's right to free speech on our campus, these types of attacks directed toward any individual or group, based on a belief or characteristic, are inconsistent with the university's values of respect, civility and equality," statement continued.
"We also have a responsibility to create a learning environment that is free of harassment. These are core values and guiding principles that will help us as we strive to live up to our highest ideals."
Meeting with the faculty's Senate Advisory Committee on University Affairs on Monday, Pollack explained fliers are not typically permitted on the outer walls of buildings, but are allowed on public kiosks.
In an email sent to faculty Monday afternoon, Pollack followed up on the university statement.
"Free speech is a fundamental value, as well as a constitutionally protected right," Pollack wrote. "At the same time, the sentiment in the fliers is completely at odds with this university's commitment to inclusion, and we must provide a non-hostile learning environment for our students."
SACUA, the executive committee of the university's faculty governance system, also will take action following the incident. Members voted unanimously to create their own posters quoting past Senate Assembly resolutions expressing support for all members of the campus community.
The group intends to post its fliers on kiosks around campus, and also may send a corresponding email to members of the Faculty Senate.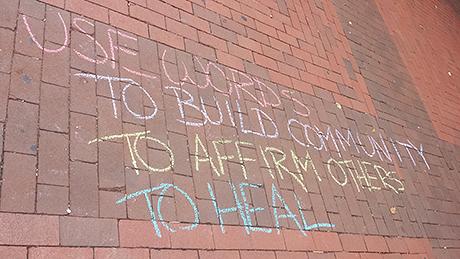 One of many supportive messages that was chalked on the Diag during a Counseling and Psychological Services event Monday. (Photo courtesy of CAPS)
Also late Monday, students gathered in the Angell Hall "Fishbowl" computing center to speak out against the posting of racially charged fliers on campus.
Previously scheduled events Monday reinforced a message of support for all students.
Counseling and Psychological Services conducted a "chalking event" on the Diag, leaving approximately 75 positive messages of support. And students, faculty and staff at the Stephen M. Ross School of Business wore black T-shirts as part of a #Ross4Change effort to show solidarity with those affected by the shootings last week in Tulsa, Okla., and Charlotte, N.C.