The University of Michigan of tomorrow and yesteryear will intersect in very public ways as the bicentennial kicks off in January 2017.
Related Articles
at a glance
President's Bicentennial Colloquium: The Future University Community
10 a.m.-11:30 a.m. Jan. 30
Hill Auditorium
Ticket information

Stumbling Blocks
April 3-10
Various campus locations
The diversity of U-M students, faculty, staff and alumni — then, now and in the future — will be explored in two very different ways: First, in a public discussion by leading jurists from two of the world's largest democracies and, second, through a series of thought-provoking public art installations across campus.
A key feature of the bicentennial is a trio of colloquia hosted by President Mark Schlissel to examine challenges related to the future of U-M and higher education. The purpose: Engage the broader higher education community in discussion and draw meaning from the university's past as its future is imagined.
The first colloquium opens with two of the world's most prominent judges. Justice Sonia Sotomayor — the first Latina appointed to the U.S. Supreme Court — will join Justice Susanne Baer of the Federal Constitutional Court of Germany in a Jan. 30 conversation at Hill Auditorium. Their talk will be open to the public, with details forthcoming about free tickets.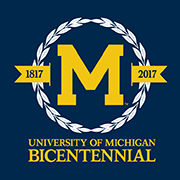 Journalist Michele Norris-Johnson, former host of NPR's All Things Considered, will moderate the discussion. She was the 2013 Winter Commencement speaker and earlier brought to campus The Race Card Project, an initiative she founded to foster conversations about race in America.
Sotomayor, the daughter of Puerto Rican-born immigrants and the first in her family to attend college, graduated from Yale Law School in 1979. Thirty years later, President Barack Obama appointed her to the Supreme Court.
Baer, a 1993 graduate of the U-M Law School, was elected to Germany's supreme court in 2011 and is the first out lesbian, and the first scholar known as a "radical feminist," appointed to the position. At the Law School, she is the William W. Cook Global Law Professor. She also is a professor of public law and gender studies at Humboldt University in Berlin.
Martha S. Jones, a Presidential Bicentennial Professor organizing the colloquium, said Sotomayor and Baer will discuss how their experiences have influenced them as jurists, as well as entertain questions from U-M students. Jones also is an Arthur F. Thurnau Professor, professor of history, and Afroamerican and African studies, LSA; and professor of law and co-director of the Law School's Program in Race, Law & History.
Jones said aspirations for a diverse campus community — topics to be covered by the justices – means understanding missteps from U-M's past. Some of those moments will unfold in April with "Stumbling Blocks," a series of pop-up art installations planned for Central and North campuses.
Seven installations will draw attention to chapters from U-M's history: the Native American land gift of 1817; the role of women; affirmative action; student protest; biomedical research in a global context; national security and war; and the role of staff. The displays are intended to be prominent and provocative, Jones said.
"We will use the landscape and built environment to examine difficult moments in building our community," Jones said. "This project asks us to redefine our community, recalibrate our goals, and set out new aspirations that are informed by the past."
Tags: