The leaders of many of the most prestigious universities in the world will convene during the University of Michigan's bicentennial year to discuss and debate the public mission — and the public's support — of research universities.
Related Articles
At a Glance
President's Bicentennial Colloquium: The Evolving Bargain between Research Universities and Society
1:30-3:30 p.m. June 26
Robertson Auditorium, Stephen M. Ross School of Business
"The conversation will focus on the ever-evolving bargain, or compact, between the research university and society at large. How has it been constituted in the past, where lie its strengths and weaknesses today, and, most significantly, what will it look like as we move deeper into the 21st century?" said Susan E. Alcock, professor of archaeology and classics and special counsel to the president for institutional outreach and engagement.
Joining President Mark Schlissel for a public discussion will be:
• Nick Brown, principal, Linacre College, University of Oxford.
• Louise Richardson, vice chancellor, University of Oxford.
• Christopher L. Eisgruber, president, Princeton University.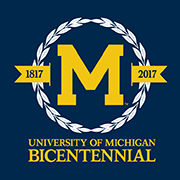 • Drew Gilpin Faust, president, Harvard University.
• David Ibbetson, president, Clare Hall, University of Cambridge.
• Leszek Borysiewicz, vice chancellor, University of Cambridge.
• David W. Pershing, president, University of Utah.
• Peter Salovey, president, Yale University.
• Marc Tessier-Lavigne, president, Stanford University.
• Nicholas B. Dirks, chancellor, University of California, Berkeley
Ruth J. Simmons, former president of Brown University and Smith College, will moderate the discussion. Simmons delivered the keynote address at Schlissel's inauguration in 2014.
"This is an extraordinary event: a public conversation among some of the most eminent academic leaders in the world, discussing matters that are of profound importance to the future of higher education and of society. We anticipate that the format will encourage argument and engagement," said Paul N. Courant, Harold T. Shapiro Collegiate Professor of Public Policy, Arthur F. Thurnau Professor, and professor of economics and information.
Courant and Alcock are Presidential Bicentennial Professors organizing the colloquium, one of three sponsored by the Office of the President in 2017.
The nine presidents and chancellors are trustees of the Tanner Lectures on Human Values. Tanner lectures are presented annually at each of nine universities.
(Editor's note: This article has been updated from its original version.)
Tags: