UMMA technician preserves art for future generations
The deterioration and resulting need for preservation of art motivates and inspires Kate Holoka.
A fascination with Japanese printmaking has led Holoka to create a home studio with a printing press of her own. Her focus is on traditional methods of printmaking, such as engraving copper plates and carving woodblocks.
"I love working in my studio. I like using copper plates because it's possible to create subtle gradations of light and shadow. I also produce monoprints with oil-based inks and lightweight Japanese paper. I try to get studio time in every day," she said.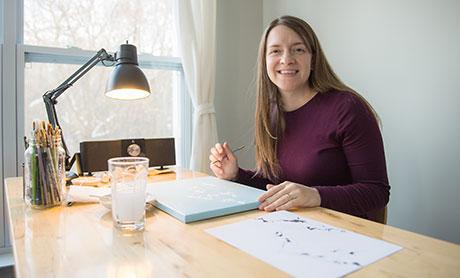 Kate Holoka, collections and exhibitions technician at the U-M Museum of Art, has created a printing press in her home studio. (Photo by Austin Thomason, Michigan Photography)
Holoka's personal passion for art bleeds through into her professional work. As a collections and exhibitions technician at the University of Michigan Museum of Art, she can break her job into two parts. Managing art objects in storage falls under the collections side of the job, while the exhibitions side involves installing new shows in the galleries.
"I really enjoy interacting with art objects, but I also know what a huge responsibility that is," she said. "Even though these objects exist in UMMA's collection, I don't see us as just owners, but instead, stewards. The collection belongs to future generations. And since an art object is at greatest risk of damage when touched, it's my job to make sure everything is treated with scrupulous care to ensure its long-term preservation."
Holoka takes seriously the work she puts into setting up an exhibition. Whether it's the decision on what kind of frame a piece will be in, or the lighting, Holoka pays close attention to what her job does for the art being viewed. The connections between her own artistry and her work are practically unavoidable.
"I enjoy work that involves a lot of process. My job at UMMA and my studio work both appeal to that aspect of my personality. I can spend a lot of time being meticulous, detail oriented, and focused on one thing," she said.
Holoka's attention to the process in both her job and in the making of her prints is very similar. She strives for her art to convey a mood or feeling.
"I hope my art captures the calm and meditative mood I am in while working. I want to embody visually the contemplative aspect of artistic creation through representations of the beauty in the world around us: crests, swells and drifts that imply seascapes, mountains and horizons. I like simple abstract forms, things that seem modest but are actually really time-consuming and challenging to make," she said.
Matting and framing artwork also is a large part of her job.
The weekly Spotlight features faculty and staff members at the university. To nominate a candidate, email the Record staff at urecord@umich.edu.
"There's a lot to consider when it comes to framing. While thinking about modern-day framing trends, it's also important to take into account the art's time period. Ultimately, I want the mat and frame to compliment the piece, while falling into the background. It's important that the display decisions I make don't detract from the art," she says.
Holoka always loved art class as a child but was not exposed to her chosen medium of printmaking until college. After spending time abroad studying printmaking in Kyoto, Japan, during her undergraduate years, she developed an immense appreciation for the Japanese culture itself. Particularly, a tradition called Japanese Tea Ceremony captured her interest.
"It's a discipline that encompasses all of these different aspects of Japanese aesthetics and culture that I love. You are invited to appreciate traditional flower arrangements, ceramics, paintings, calligraphy, architecture, and sometimes special meals in addition to the tea," she said.
Holoka's diligent work with her art and the exhibitions at the museum mirrors the effort she puts into practicing these tea ceremonies.
"It combines all of these great elements of Japanese culture into one event, making a bowl of tea for your guest," she said. "And since every occasion is unique, the experience of sharing that bowl of tea can never be replicated exactly. Even if we met again on a different date, we'd be in different moods, talk about different things, and the world outside will have changed. Tea ceremony can teach you the importance of appreciating that one moment you have together, enjoying a seemingly simple bowl of tea."