U-M students of color host community dialogue with local police
Conversations are the catalyst for an improved social climate.
That was the premise for the second annual Students of Color & Police Dialogue, co-hosted Saturday by Students of Color of Rackham, Graduate Rackham International, Latinx Alliance for Community Action, Support & Advocacy, and the Division of Public Safety and Security.
Other law enforcement agencies, including the Ann Arbor Police Department and FBI, also were represented.
The event served as an opportunity for students and law enforcement officers to freely express concerns they have about the social climate. The goal was to provide a better understanding of the potential concerns, fears and anxieties that exist from the points of view of law enforcement and students.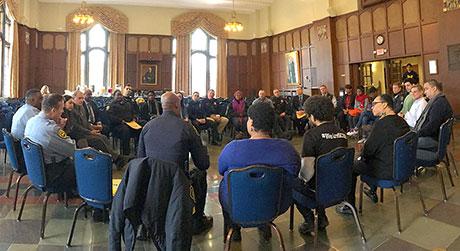 U-M Students and local law enforcement officers talk about the campus and national climate during the second annual Students of Color & Police Dialogue. (Photo by Jeremy Allen, Public Affairs)
Michael Medina, president of Students of Color of Rackham, said this event was extremely important because the relationship between different communities and police seems to be at the forefront of many public and private conversations.
"Both sides want the best relationship possible, but often times we don't start having the conversations about those relationships until after something has happened or we're in conflict," Medina said.
"The idea behind events like this is to help build community and have conversations so that when things do happen — and often times they're inevitable — we at least understand each other as people and understand our points of view a little better so that the truth is a little easier to find in those moments of conflict and doubt."
The dialogue pivoted between the perception of law enforcement, the role of the DPSS community-engagement team, unconscious biases that exist among students and police officers, and how students perceive racism plays a role in policing. Students and officers talked about inherent fears and dangers that come with their identities.
Several officers said that being a law enforcement agent is a dangerous job and they don't always know everything about situations when they're called to a scene, so they have to proceed with caution. Many students said they aren't always made aware of why police are present, which gives them a heightened sense of fear because some police interactions have led to violent endings.
U-M Police Chief Robert Neumann was appreciative to hear from the students and said he left the conversation with a better understanding of the way students feel about interactions with police.
"I'm concerned about the fear that I'm hearing is out there. It's really important that we hold these kinds of events and present these kinds of opportunities for members of our community. Everybody engaged so well and I think everybody felt comfortable sharing, so I'm gratified by that," he said.
"It takes commitment, dedication and effort to develop a spirit of understanding between those paid to keep the community safe and those who we serve and depend on to help us be successful in our roles. … I think our officers will take away a better understanding of what our students' concerns are, and I hope we were able to convey that our officers are here to serve them and protect them in every way possible."
Neumann's message was reiterated by Marlanna Landeros, who coordinates diversity, equity and inclusion and student programs for DPSS.
"Everyone comes together to give different perspectives — the law enforcement perspective, the community perspective, the perspective from students of color, the perspective from different identities — and we can all take and learn from these perspectives to enhance and better the interactions of everyone in the community," she said.
"The next step is asking what we can all do to continue to hear each other and continue the conversation and continue to make improvements.
"We were able to make a space here that created an opening for people to express themselves in whatever ways they wanted to, and there was just such good dialogue because of that. That's a big takeaway and so we'll continue to try to create environments that promote this kind of openness."