Ross social media specialist cooks up a storm
Christopher Ankney can trace his lifelong love of cooking back to afternoons of after-school TV.
"We didn't have cable growing up, and when I got home from school the only thing to watch was cooking shows on PBS. Julia Child and I went through a lot of awkward years together," he says.
Ankney kept cooking as a hobby during his years studying journalism at the University of Toledo. He found inspiration working at a restaurant that specialized in "fresh, delicious, regionally accurate Italian food."
Today, Ankney stays inspired to cook by "the positive feedback loop that is Instagram," where he shares pictures of his most mouth-watering creations — from fresh salsas to savory soups — with friends and family.
"Once you post a meal that gets more than 50 likes, there's no turning back," he jokes.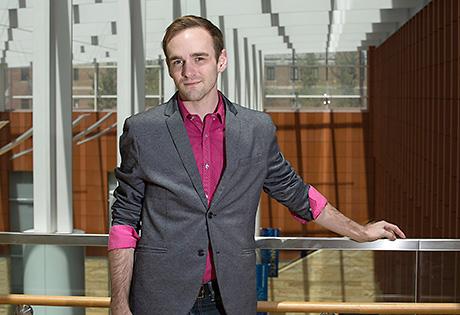 Christopher Ankney says he grew up watching cooking shows on PBS. (Photo by Martin Vloet, Michigan Photography)
And Instagram isn't just for sharing food. As a social media specialist at the Stephen M. Ross School of Business since 2012, Ankney is "the voice of Ross on the social Web," translating research and other achievements of faculty and students into digestible, shareable content.
Across Facebook, Twitter, Instagram and YouTube, Ankney uses that "positive feedback loop" to start conversations with Ross alumni, students and the wider Internet audience. By actively engaging with this community online, Ankney aims to "integrate the Ross social presence into their lives, so that when they tweet or post to Facebook or Instagram, they mention Ross and share their experiences with us," he says.
Ankney says he is inspired by the potential of social media to effect positive change.
"The online communities that I'm a part of and motivate me on a personal level are focused on making the world a better place or, as they call it, 'decreasing world suck.' This ideal is important to me, so I feel a strong connection to Ross' mission of developing leaders who make a positive difference in the world," he says.
Juggling so many unique social media platforms requires Ankney to constantly try new things. Though it's hard to pick a favorite, he has the most fun creating YouTube videos for Ross "that serve a purpose for the audience."
And how does Ankney grab his audience's attention?
The weekly Spotlight features faculty and staff members at the university. To nominate a candidate, email the Record staff at urecord@umich.edu.
"We've shifted a big portion of our video strategy from 'Let's make a video explaining our MBA program' to 'Let's make a video teaching people how to be a better leader,' and we've seen great results," he explains.
Ankney retells one of his favorite examples of a risk-taking approach from another form of media: the HBO television show "Girls."
"Lena Dunham's character was trying to get a freelance piece picked up by a magazine," he recounts. "The editor pointed to the wall where the words 'Your comfort zone' were hanging in a very nice frame, and there was a red circle across the wall, outside of the frame, labeled 'Where the magic happens.' She embraces it, ironically at first, and, after quite an adventure, lands the job."
Above all, that kind of versatile, innovative thinking is crucial to Ross social media campaign successes.
"If you have a formula for anything, get rid of it," Ankney says. "I honestly believe that we're more successful doing something that makes us a little uncomfortable because it's untested and we've never tried it before. Chances are, our competitors aren't doing it yet either."