Public party kicks off Victors for Michigan fundraising campaign
The Community Festival to celebrate the university's $4 billion Victors for Michigan fundraising campaign drew hundreds of enthusiastic students, faculty, staff, alumni and other supporters to Ingalls Mall and Hill Auditorium on Friday.
Free food and beverages under maize-and-white canopies and live performances were part of the excitement.
+ related story
Many also were energized by the campaign's key goals: support for all students academically qualified to attend U-M, engaged learning to support 21st century global involvement and supporting innovation to spark bold ideas to improve the world.
"I wanted to be part of this historic celebration," said Byron Roberts, senior director of advancement at the College of Engineering, dressed for the November chill in a long coat, hat and maize-and-blue scarf. Scores of students milled nearby, facing the performance stage.
"There's a tremendous amount of energy. It's wonderful that they want to engage students, faculty, staff and the public, and that all of them can be part of this campaign right from the beginning."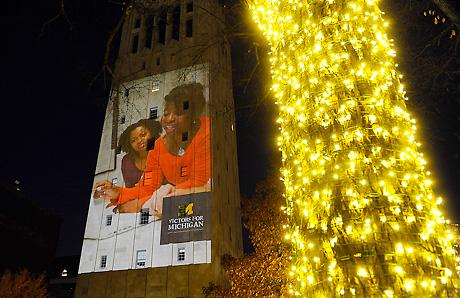 Trees around Ingalls Mall were aglow, and images from the Victors for Michigan campaign were projected onto Burton Tower during Friday night's celebration.  View a page of images from U-M's Victors for Michigan kickoff celebration. Photo by Lon Horwedel, Michigan Photography. 
Nisha Gopal stood before a long, white banner, where festival goers were encouraged to write their name and a campaign message.
"I always love spirit-related events — and the hot chocolate, cider and free stuff," said Gopal, a Canton sophomore and biochemistry major. "I know it's a fundraiser to provide students at the university with more resources," a cause she said is worth supporting.
Crowds who filled Hill Auditorium for the main campaign event were joined by scores of students in maize campaign T-shirts amid a predominant blue lighting theme. Enthusiastic tweets in support of the Victors for Michigan campaign, from university administrators and supporters, were projected in white against a blue background near the yellow Block M on the auditorium's ceiling.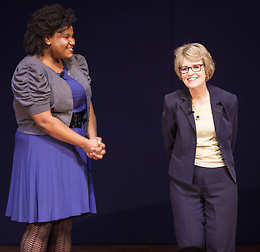 Above, President Mary Sue Coleman speaks to the crowd at Hill Auditorium. With her is undergraduate Melissa Golliday. Below, campaign chair Stephen M. Ross shares a laugh with Willie Filkowski. Photos by Austin Thomason, Michigan Photography.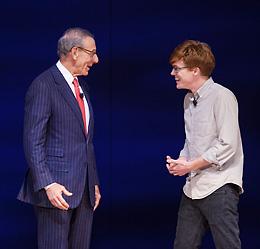 "It's exciting to think of how many people will be affected by the work we do here," President Mary Sue Coleman said, welcoming festival attendees to the celebration in Hill.
Emphasizing the first campaign goal, student support, Regent Julia Donovan Darlow told the crowd that U-M has a responsibility regardless of a student's economic circumstances to provide a world-class education.
Campaign Chair Stephen M. Ross told the audience, "I came to Michigan as a dreamer with bold ideas, wanting to do bold and impactful things."
The Hill program focused on students, with testimonials and video presentations underlying the value of student support, engaged learning and bold ideas — the three key campaign goals.
"I think the event had great energy. For us, the alumni, to see things that are going on now with students is very special," Pankaj Duggal of Washington, D.C., a 1995 Taubman College of Architecture and Regional Planning graduate, said at a party after the main event attendees were treated to cookies and hot chocolate.
"It was just magnificent in terms of messaging. It made me really proud," said Chicago resident Jeff Dunlap, a 1994 LSA alumnus.
Just a half hour into the 5 p.m. opening event on Ingalls Mall, Barbara Gomez, a systems analyst, reported attendees had taken the last of the free medium-sized maize-colored "Victors for Michigan" T-shirts at her table, where shirts in several other sizes had been stacked high.
"Everybody seems to be in a really good mood. People were standing in line at 4:30 asking for shirts," said Gomez.
At dusk, maize-colored lights strung along an open, peaked pavilion frame helped set a party atmosphere for attendees below. The theme was repeated with strings of maize lights wound closely around tree trunks flanking the mall. Blue spotlights panned the sky.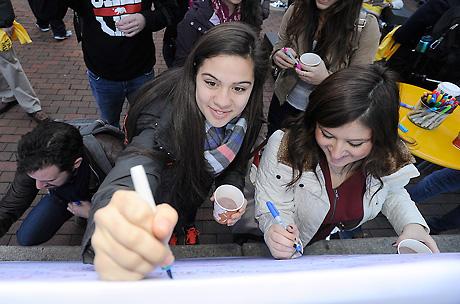 Everyone at the Ingalls Mall party was encouraged to write a celebratory message on a large canvas banner. Photo by Lon Horwedel, Michigan Photography.
"If you look at the perspective of why this is being held, it's a pretty spectacular event," said Bob White, Ann Arbor businessman. "It's the largest public university fundraising kickoff ever. The magnitude of the campaign correlates to the effort of the event itself."
Standing on a cement planter wall, Elizabeth Sickler of Ann Arbor, a database analyst senior with the Business Engagement Center, scanned the crowd, holding a leash attached to her English bulldog, Hank, who wore a maize and blue shirt.
"I'm here because the university has done so much for my life educationally and in terms of employment. And I know that philanthropic support is the only way to insure that this university stays at the caliber it is," said Sickler, who received undergraduate and graduate degrees from U-M — the 14th in her family to earn a U-M degree.
Sophomores Austin Trout of Cincinnati, a business major, and Mitch Alameddine of Northville, a biomolecular sciences major, finished free hot dogs while standing at one of the chrome-based, maize-top pavilion tables.
"It's a good atmosphere. There's a lot of families coming out, and students, and free food," Trout said.
"It's cool to see a lot of these organizations out here doing a lot of cool stuff," Alameddine said.