Provost's seminar centers on engaged learning and impact
At the Provost's Seminar on Teaching, educators from the University of Michigan and across higher education discussed how to demonstrate the impact of engaged learning methods.
+ more information
Faculty and staff from across the campus gathered Tuesday in the Michigan League Ballroom for the seminar, "Teaching at the Bicentennial: Building the Evidence Base for Engaged Learning." The provost's seminars are organized by the Provost's Office and the Center for Research on Learning and Teaching, and are in their 20th year.
CRLT Executive Director Matt Kaplan said promoting student engagement is a core priority and key strength at U-M. Through the Third Century Initiative, which provided funding to develop innovative teaching approaches, more than 120 projects have been supported by the university, Kaplan said.

James Holloway, vice provost for global engagement and interdisciplinary academic affairs, said U-M students are engaged through multiple pathways, including research, entrepreneurship, civic or community-based experiences, creative work, education-abroad opportunities, and internships, clinical experiences and projects.
Through these approaches, students begin to reach the five engaged learning goals: they advance their sense of civic responsibility, develop an understanding of intercultural engagement, improve their ability to collaborate, learn to develop their creativity and mature their sense of agency and their ability to impact the world, Holloway said.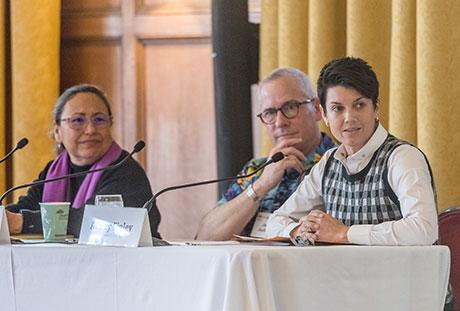 From left, UCLA Professor Sylvia Hurtado; U-M Vice Provost James Holloway, and Ashley Finley, associate vice president of academic affairs at Dominican University of California, participate in a panel discussion at the Provost's Seminar on Teaching. (Photo by Scott C. Soderberg, Michigan Photography)
At the seminar, guests were urged to consider how to build an evidence base to support engaged learning practices.
"How do we know that any of these high-impact, engaged-learning practices actually work?" asked Holloway, an Arthur F. Thurnau Professor and professor of nuclear engineering and radiological sciences in the College of Engineering.
The seminar opened with a panel discussion among Holloway; Sylvia Hurtado, professor at the University of California, Los Angeles; and Ashley Finley, associate vice president of academic affairs at Dominican University of California.
Finley said when it comes to collecting compelling evidence for programs, data and instrumentation don't present problems; educators have lots of data and many measurement instruments. Instead, she said, the question at the end of the day will be, What do educators want to measure?
The panel raised the centrality of psycho-social well-being of students when considering the effect of teaching and learning practices. Hurtado further expanded that concept to mean helping students become more connected to each other and often more connected to a faculty member in order to increase their sense of belonging and self-confidence.
Holloway stressed the equal significance of quantitative and qualitative evidence.
"The claim that the only things that are important are the things you can measure quantitatively is absolutely false," he said, later adding that qualitative approaches can also provide powerful forms of evidence that reveal changes in culture.
Referring to a previous U-M initiative centering on multidisciplinary learning and team teaching, Holloway said the number of courses that are taught by more than one teacher have increased.
"It shifted the institutional culture from one of individual teachers to one of team teachers," he said. "And that's what I would really like to look for in terms of evidence. I'm looking for evidence of cultural shift, and I think that is largely collected through more qualitative modes."
Liz Muller, director of global initiatives at the Stephen M. Ross School of Business, speaks about her unit's use of a cultural intelligence assessment tool for students at the Provost's Seminar on Teaching. (Photo by Scott C. Soderberg, Michigan Photography)
After the panel discussion, seminar guests got the opportunity to attend various sessions to learn more about engaged learning practices and methods of assessment for each of the Transforming Learning for a Third Century (TLTC) learning goals.
In the session on intercultural engagement, Rebecca Hardin, associate professor of natural resources, School of Natural Resources and Environment, discussed a Third Century Initiative called Michigan Sustainability Cases.
Through Michigan Sustainability Cases, students team with practitioners and faculty to produce and assess cases to advance learning on environmental issues.   
Hardin said her team is using several assessment tools each time a case is taught in a classroom. They administer short surveys, conduct focus groups and classroom observations, and have even used videography to see if the cases are facilitating more active participations from students who are usually silent.
At the final lunch, participants relayed insights they gained from the concurrent sessions and heard again from Finley. She asked them to consider how U-M should tell the story of the TLTC initiative. "Telling stories through the use of evidence can be a very compelling way to think about documenting impact," Finley said.