Political science professor teaches science of persuasion
Arthur Lupia uses his expertise in communication and persuasion to enable students, politicians and CEOs to achieve success in a wide range of personal and social endeavors.
Lupia excels in technical subjects, but has always had a deeper desire to serve the public. "I wanted to see if I could use mathematics and statistics to help people work together and to improve quality of life," he says.
As the Hal R. Varian Collegiate Professor of Political Science and professor of political science in LSA, he now helps his students refine their decision-making skills and communicate more effectively. He has been teaching political science classes at the University of Michigan for 16 years.
One of his most sought-after courses is Persuasive Politics, in which students' final grades are based on how well they persuade the class with their term project.
"They have powerful ideas and I work to help them convey them well," Lupia says, adding that he receives two or three letters each week from past students who have been helped or inspired by the course.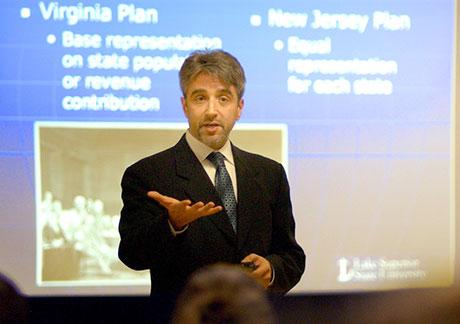 Arthur Lupia is the Hal R. Varian Collegiate Professor of Political Science and professor of political science in LSA. (Photo courtesy of Arthur Lupia)
As a well-known thought leader on the topic of political communication, Lupia advises students and faculty trying to understand each other in the wake of the election.
"If you are trying to convince someone else to understand your point of view, listening is more important than talking," says Lupia, also a research professor at the Institute for Social Research. "You have to be genuinely interested in building narratives that connect to the other person's perspective."
Away from the classroom, Lupia chairs the National Research Council's Roundtable, where the business community, government officials and scholars come together to break down barriers between science and opportunities to improve quality of life.
The weekly Spotlight features faculty and staff members at the university. To nominate a candidate, email the Record staff at urecord@umich.edu.
"I am trying to make science more valuable to more people," he says. "It is difficult to be at the intersection of politics and science, because those sides often don't get along. If you take the right approach, you can show different people new ways of solving important problems."
Through his position, Lupia has worked with many notable figures in politics and science, including the 2016 winner of the Nobel Peace Prize, Colombian President Juan Manuel Santos.
At the same time, Lupia says, he feels honored to work with his students at the university.
"I am grateful every day to work with energetic students from all walks of life and to help them be effective in making a difference on issues that really matter. I don't need coffee, I get my energy from them," he says.
Q&A
What moment in classroom stands out as most memorable?
A group of students described a same-sex couple that was limited in what they could share after one of them died in 9/11. It was several years before legalization, and deeply affected the audience. Standing ovation. Tears everywhere. The students really moved the needle in that class.
What can't you live without?
My family.                        
Where is your favorite spot on campus?
Yost Ice Arena. Skating there on a day where the sun is shining brightly through the windows is heaven on earth.
What inspires you?
My children and my students. I learn so much from them on a daily basis and I am always grateful for the energy that they bring to a room.
What are you currently reading?
I recently finished Peter Novick's "That Noble Dream," about objectivity in the study of history; Ta-Nehisi Coates' "Between the World and Me," which offers his view on race relations; and Peter Thiel's "Zero to One," which is his view of startup culture.
Who had the greatest influence on your career path?
My parents. While I am the first person in my family to attend a four-year university, their examples and life lessons inspired me to serve others as effectively as possible.