Obama makes his case at U-M for increasing the minimum wage
Addressing a U-M crowd full of students preparing for what they hope will be successful careers, President Barack Obama on Wednesday asked them to join his fight to increase the minimum wage because, he said, "It's time to give America a raise."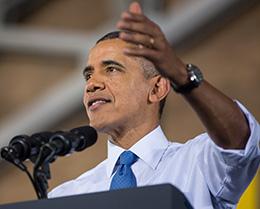 President Obama speaks to the crowd at the Intramural Sports Building. (Photo by Austin Thomason, Michigan Photography)
As Democrats in Congress push for a vote on a plan that would gradually increase the federal minimum wage from $7.25 an hour to $10.10 by 2016, the president urged those cheering him on in the Intramural Sports Building to help in the effort.
"If we're going to do right by our fellow Americans, we need Congress to get on board," Obama said.
"There are always going to be folks who do critical work, who bust their tails every day — airport workers, restaurant workers, hospital workers, retails salespeople — who deserve an honest day's pay for an honest day's work. They're doing necessary jobs. They should be able to make a living."
He also plugged a similar measure underway in Michigan, where the group Raise Michigan is seeking enough signatures by late May to present the Legislature with a proposal to raise the state's minimum wage from $7.40 to $10.10 an hour by 2017.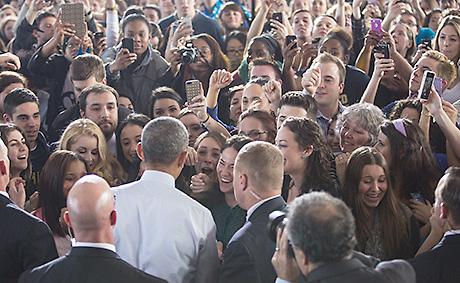 After his speech, the president moved along the crowd, shaking hands and taking photos. Click here for a slideshow of images from Obama's visit. (Photo by Austin Thomason, Michigan Photography)
Obama said the federal increase would help more than just those currently making minimum wage; it will raise the pay of 28 million Americans. He said the average age of a person making minimum wage is 35, many of them women trying to raise a family.
"Nobody who works full time should be raising their family in poverty. But that's exactly what's happening. All across the country, you can be working full time on minimum wage and still be in poverty," he said.
And, he said, promoting higher wages is not just a job for organizers or government officials. "It's also a job for business."
He cited automobile pioneer Henry Ford's groundbreaking decision to more than double workers' wages so they could afford to buy the cars they were making, and he credited companies like Costco, Gap and Ann Arbor's own Zingerman's delicatessen — where the president stopped for a Reuben sandwich before his speech — for recognizing that higher wages can be good for the bottom line.
"Fair wages and higher profits are not mutually exclusive," he declared.
Catherine Yang was one of the students listening to the speech who agreed.
"I think it'll definitely boost productivity in employees and it will ultimately have good effects," said Yang, a sophomore studying business, math and economics.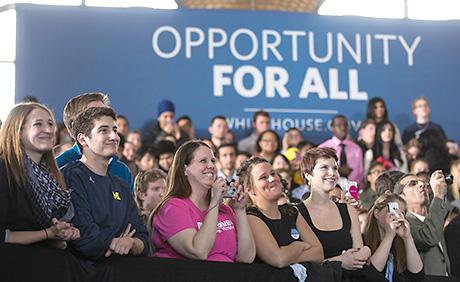 Students made up about two-thirds of the crowd, which cheered and applauded at numerous points during Obama's address. (Photo by Austin Thomason, Michigan Photography)
This was Obama's third presidential visit to U-M. He delivered the 2010 Spring Commencement address and talked about college affordability here in 2012. Although other presidents, including alumnus Gerald Ford, have come to campus three times, Obama is the only one to do so while still in office.
The setting Wednesday afternoon was the intramural gymnasium, about a third of which was cordoned off for the crowd of approximately 1,400. Students had waited overnight Monday and Tuesday morning for the chance to get tickets.
The crowd also consisted of numerous invited guests, university leaders, and candidates and officeholders.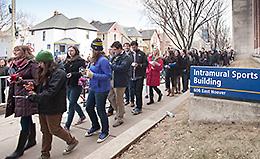 Students who had waited all night earlier this week to get tickets to the speech lined up along East Hoover Street waiting to get in Wednesday. (Photo by Scott C. Soderberg, Michigan Photography)
Obama singled out members of the Wolverine men's basketball team who were there — Glenn Robinson III, Nik Stauskas and Jordan Morgan, along with football player Devin Gardner — and consoled the Wolverines on their NCAA tournament loss. He conceded that his bracket, in which he had picked Michigan State to win the championship, "was a mess."
"I've learned my lesson," he said. "I will not pick against the Wolverines."
He specifically recognized Morgan, not only for his achievements on the basketball court, but also for receiving an undergraduate degree in engineering and pursuing a graduate degree in the same field. "That's the kind of student-athlete we're talking about," Obama said.
In making his argument for higher wages, the president included a number of topics that generated applause, none greater than when he spoke of the need to make college more affordable, and for assistance in helping students repay college loans in a manner that is not unduly burdensome.
Looking at the basketball players, he joked that, "Stauskas has got a contract coming up so he doesn't need to worry about these things." When the audience groaned at that line, he quickly followed up by assuring them he wasn't encouraging the All-American and Big Ten Player of the Year to turn pro right away.
"I'm saying later. I'm not telling him to leave," Obama said. "My point is we've gotta make sure that everybody can afford to do the things that may not pay huge sums of money but are really valuable to society."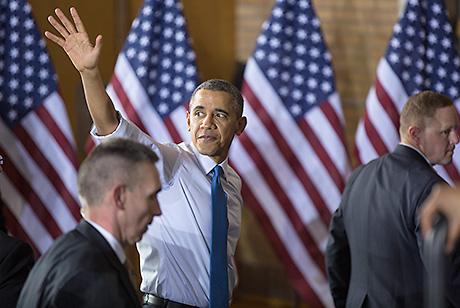 President Obama waves to the crowd as he leaves the gymnasium after his speech. (Photo by Austin Thomason, Michigan Photography)